DVDs from TCM Shop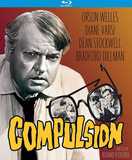 Compulsion Two wealthy law-school students go on trial for murder in... MORE&nbsp> $22.46 Regularly $29.95 Buy Now
NOTES
DVDs from TCM Shop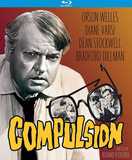 Compulsion Two wealthy law-school... MORE&nbsp> $22.46
Regularly $29.95 buy now
Compulsion was based on the notorious 1924 case of Nathan Leopold (1904-1971) and Richard Loeb (1905-1936), who were eighteen-year-old law students at the University of Chicago when they killed fourteen-year-old Robert Franks for thrills. Renowned attorney Clarence Darrow defended them, and his closing argument lasted for two days. Several verbatim passages from Darrow's closing were included in the film. Leopold, on whom the character "Judd Steiner" was based, was freed on parole in 1958 after serving almost 34 years in prison. According to an October 1959 LA Mirror News article, in 1959, Leopold sued author Meyer Levin, Darryl F. Zanuck and Twentieth Century-Fox for $1,405,000 in damages, claiming that the film was an invasion of his privacy. According to an April 1968 Variety news item, Leopold won a summary judgment in 1964, but it was overturned in 1968 when the court ruled that the case was in the public domain. Leopold died of natural causes in 1971, but Loeb was killed in a prison knife fight in 1936.
Author Levin also wrote a play based on his novel which opened in New York on October 25, 1957. According to studio publicity contained in the film's production files at the AMPAS Library, Levin sold the literary rights to Zanuck under the proviso that Zanuck wait to produce the film until the play's Broadway run was completed. Zanuck turned the production reins over to his son Richard because he was busy working on Roots of Heaven (see below). Compulsion marked Richard Zanuck's first effort as a producer. Although a December 1958 Hollywood Reporter news item stated that Darryl Zanuck was to supervise the final editing, the extent of his contribution to the released film has not been determined.
Dean Stockwell reprised his Broadway role of "Judd Steiner" for the film. According to an April 1958 Hollywood Reporter news item, Roddy McDowall was originally slated to play "Artie." According to studio publicity, director Richard Fleischer tried to create an impression that something was wrong or out of balance in the scenes in which the two murderers appeared by tilting the camera or throwing the composition off balance. After completing the film, Diane Varsi abruptly left Hollywood to retire in Vermont. Varsi did not appear onscreen again until 1967. A modern source adds that Welles, Dillman and Stockwell shared the Best Actor award at Cannes. Voltaire Perkins, who played the judge in the film, was a practicing attorney as well as an actor. He was best known for his role as the presiding judge on Divorce Court, the popular, long-running, daytime television program that began in the late 1950s.
Several other films have used the Leopold-Loeb case for inspiration: the 1948 Warner Bros. production Rope, directed by Alfred Hitchock and starring Dick Hogan and John Dall (see AFI Catalog of Feature Films, 1941-50); the 1992 Alta Films release Swoon, directed by Tom Kalin and starring Craig Chester; and the 2002 Warner Bros. release Murder By Numbers, directed by Barbet Schroeder and starring Sandra Bullock and Ben Chaplin.