DVDs from TCM Shop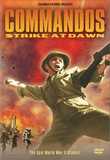 Commandos Strike At Dawn A Norwegian refugee leads the... MORE&nbsp> $17.95 Regularly $20.95 Buy Now
NOTES
DVDs from TCM Shop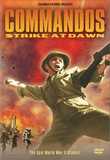 Commandos Strike At Dawn A Norwegian refugee leads the... MORE&nbsp> $17.95
Regularly $20.95 buy now
The working title of this film was The Commandos Come at Dawn. The picture opens with the following dedication and prologue: "dedicated to the officers and men of the armed forces of Canada, Great Britain and Fighting Norway who participated in the filming of the picture. For long past the kingdom of Norway had been a domain of peace. Content with their pattern of honesty and industry they were a people who feared naught and envied nobody. So it was in the summer of 1939..."
Preproduction news items in Hollywood Reporter note that at one time Columbia negotiated with Jean Hersholt to appear in the film. Although a news item places Edmund Gwenn in the cast, he does not appear in the released film. According to unidentified contemporary sources in the film's production files at the AMPAS Library, the Canadian government was instrumental in the production of the film. The picture, which was shot predominantly on Vancouver Island, British Columbia, featured actual commando trainees from the Canadian Scottish, Sault Ste. Marie, Rocky Mountain Rangers and Royal Rifles divisions of the Canadian Army. A quartet of underground warfare experts from Canada's Norwegian Flying School served as technical directors on the film, according to another unidentified contemporary source. Director John Farrow had been a lieutenant in the Royal Canadian Navy until a war injury forced his retirement early in the war. A news item in PM (Journal) adds that the Canadian government loaned planes, pilots and warships to the production. Commandos Strike at Dawn marked the film debut of actor George Macready.
After the film was completed, it was selected by the U.S. government to be rushed to theaters in North Africa. Twenty home front organizations and 2,000 defense workers from Lockheed Aircraft attended the Los Angeles premiere, according to a Hollywood Reporter news item. The picture was nominated for an Academy Award for Best Score, and also marked Lillian Gish's first screen appearance since the 1933 Paramount picture His Double Life (see AFI Catalog of Feature Films, 1931-40; F3.1924). According to a Hollywood Reporter news item, Gish's performance in Commandos Strike at Dawn won her a contract from producer Lester Cowan.