DVDs from TCM Shop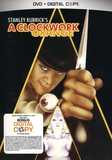 A Clockwork Orange Scientists use mind-control... MORE&nbsp> $9.95 Regularly $14.98 Buy Now blu-ray
NOTES
DVDs from TCM Shop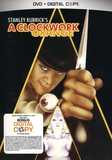 A Clockwork Orange Scientists use mind-control... MORE&nbsp> $9.95
Regularly $14.98 buy now
Onscreen credits include a written acknowledgment to Braun AG Frankfurt, Dolby Laboratories Inc., Kontakt Werkstaetten, Ryman Conran Limited, Steinheimer Leuchtenindustrie and Temde AG. A Clockwork Orange was based on the Anthony Burgess novel of the same title, which was published in Great Britain in 1962. The British publication included 21 chapters, while the New York publisher left out the last chapter for the American publication, consequently removing the ending in which "Alex," although able to return to his violent actions without the institutionally induced severe queasiness, grows bored with his brutal habits and has a moral transformation. According to Burgess, in a March 26, 1987 Rolling Stone interview, American publishers thought that Burgess "sold out" in the last chapter and therefore deleted it. Director Stanley Kubrick based his film on the American version of the novel.
Burgess sold the film rights to the novel for $500 soon after its publication, according to a May 29, 1972 Variety article. The film was originally projected as a vehicle for the rock-n-roll musical group The Rolling Stones, with Ken Russell set to direct. According to the 1971 Filmfacts review, Burgess first conceived of turning the book into a movie in 1964, and Mick Jagger had expressed interest in playing Alex; however, Burgess claimed, the British censors warned that the film would not be passed.
Burgess was not involved in the making of the final production of A Clockwork Orange, nor did he receive any profit from it, other than his initial $500 payment for the rights. He created the language of "Nadsat," a mixture of Russian, cockney slang and invented words and phrasing, for the novel's characters, which Kubrick adapted for the film version, adding working-class English accents for Alex and his "droogs." Burgess claimed this dialect was created to make the violence in the novel more symbolic than realistic. According to the author, in a February 13, 1972 Los Angeles Times article, the scene in which the writer's wife is beaten and raped was loosely based on his own wife's experience of being beaten and robbed by three GI deserters during the 1942 London blackout.
According to a February 13, 1972 Los Angeles Times article, Burgess choose the title "A Clockwork Orange" after having heard an aging cockney call someone "queer as a clockwork orange" to describe his craziness. Burgess explained that man is similar to an orange, "a fruit, capable of color, fragrance and sweetness; to meddle with him, condition him, is to turn him into a mechanical creation." Star Malcolm McDowell provides voice-over narration through out the film as the character "Alex." McDowell, in a January 30, 1972 New York Times article, claimed that when faced with shooting the sequence in which Alex beats the writer and rapes his wife, Kubrick asked him to sing and dance to a familiar song to improvise the scene. McDowell chose "Singin' in the Rain," the only song he knew by heart. Over the closing credits the song is reprised by Gene Kelly, who recorded it for the 1952 film Singin' in the Rain (see below). The end credits state that the portions of A Clockwork Orange shot on location in England were by Hawks Films Limited. According to the December 21, 1971 Los Angeles Times review of the film, Kubrick did not use sound stages and built only two sets, including the milk bar, for the film. Christiane Kubrick, who contributed special paintings and sculpture for the film, was Stanley Kubrick's wife.
Kubrick had not made a film since 2001: A Space Odyssey (1968, see below) and his next film, Barry Lyndon, was not released until 1975. Clockwork Orange's release was met with mixed reviews, some lauding its uncompromised portrait of man, while others suggested, as a February 13, 1972 New York Times article did, that the film's unrepentant violence was fascist. Dozens of letters to the editor printed in both British and American newspapers weighed the film's merits, including a letter from Kubrick in the February 27, 1972 issue of New York Times, in which he refuted the fascism charge. In a January 31, 1972 Hollywood Reporter article, a psychologist praised the film for portraying man's unconscious motivations in a "masterful" way.
New York Times lauded Kubrick in a July 15, 1979 article for using music in A Clockwork Orange as a distancing device to separate the viewer from the action. Kubrick often employed the technique for satirical effect, for example, in his use of "Pomp and Circumstance" for a prisoner inspection sequence. Other newspapers claimed the film began the stylization of violence, a template expanded upon by other filmmakers throughout the decade.
On April 23, 1972, New York Times reported that thirty American newspapers had instituted a new policy declining any advertising from films receiving an "X" rating by the MPAA. According to a September 3, 1972 New York Times article, the MPAA condemned the use of their rating system as means of excluding advertisers and mentioned A Clockwork Orange as an example of a "legitimate motion picture" undeserving of such treatment. Among those declining advertising was the Detroit News, which published an explanation on March 19, 1972, stating that it refused to assist a "sick motion picture industry using pornography and an appeal to prurience to bolster income." In a June 18, 1972 New York Times article, Jack Valenti, MPAA president, reminded the public that the rating system was created to assist parents only in making informed decisions about their children's viewing.
On August 25, 1972, New York Times stated that A Clockwork Orange's rating would change from "X" to "R" after Kubrick substituted less explicit footage in two sexually charged sequences, Alex having intercourse with two women in his room and a scene shown to Alex during his "treatment" in which soldiers gang rape a woman. A June 22, 1973 New York Times article reported that the United States Supreme Court handed down a ruling that day which set new guidelines on obscenity, enabling states to ban published written materials, plays and films that were offensive to local standards despite acceptance elsewhere, further complicating the exhibition of A Clockwork Orange, despite its rating change. Editorials debating the MPAA code, using A Clockwork Orange as a case in point continued in New York Times until the end of the 1970s.
In the summer of 1973, British press, including Daily Mail, Daily Express and News of the World, attributed the murder of a tramp by sixteen-year-old Richard Palmer to Palmer having been influenced by the book and movie A Clockwork Orange. After other violent criminals used the book and film as part of their defense in the British criminal courts, Kubrick banned additional British screenings of A Clockwork Orange in 1974. A December 7, 1999 The Times (London) article stated that Kubrick's ban was due to his concern over violence, but he insisted that the picture's focus was the dangerous extremes society will go to to fight crime and added that several states in the United States had legalized medical castration for certain offenders. Despite the ban, many British citizens later saw the film on videocassette, while other countries continued theatrical screenings. Before his death in 1999, Kubrick removed the ban and the film was re-released theatrically in Great Britain in 2000, according to a March 5, 2000 The Times (London) article.
Despite its detractors, A Clockwork Orange set box-office records and, according to a March 23, 1972 Hollywood Reporter article, grossed over $3.5 million. A January 24, 1972 LAHExam noted that the film was the first feature film released in Mexico to include explicit sex scenes and subsequently caused record attendance upon its opening there in 1972. The film had been banned in South Africa until 1984 when, according to an February 18, 1984 Screen International article, the censors finally released the film.
A Clockwork Orange received the following Academy Award nominations: Best Picture, Best Director, Best Adapted Screenplay and Best Film Editing. The film won Best Picture and Best Director awards from the New York Film Critics and McDowell was nominated for Best Actor. The National Society of Film Critics nominated the film in the following categories: Best Motion Picture, Best Actor and Best Director. A Clockwork Orange was included in many "Ten Best" lists for 1972 including: New York Times, Los Angeles Times, Time and Newsweek.
The film also garnered many other awards throughout the world including a Belgian film critics' top honor and Best Foreign Film by the Venice Film Festival. The film also won the Hugo Award for best science fiction film of 1971 by the World Science Fiction Convention. AFI named A Clockwork Orange as one of the hundred greatest American movies of all times, ranking the film in forty-sixth place.
The key art of Alex with false eyelashes on one eye, staring out from under his black bowler hat and clutching a dagger with an eyeball dangling from his cuff became an iconic image of evil for decades, while Alex and his droogs's all white costumes with cod pieces, canes and bowlers have been used many times to refer to and parody the popular film.