DVDs from TCM Shop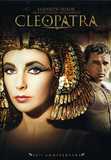 Cleopatra The legendary Egyptian queen... MORE&nbsp> $11.21 Regularly $14.98 Buy Now blu-ray
USER REVIEWS
See Detailed Ratings
Acting of Lead Performers

Acting of Supporting Cast

Director

Music Score

Title Sequence

Screenplay

Cinematography

Historical Importance

Would You Recommend?

0 Member Ratings
Rate the acting of the Lead Performers

Rate the acting of the Supporting Cast

Rate the Director

Rating of the Music Score

Rating of the Title Sequence

Screenplay

Creatively uses the camera to tell the story

Importance in Cinema history

Would you recommend for fans of this genre
Submit Ratings
Cancel
Write a Review
Read Reviews
NO REVIEWS AVAILABLE
The title has not been reviewed. Be the first to write a review by clicking here to start.
Say What?!

It's hard to believe that Joseph L. Mankiewicz was actually responsible for this terrifying disaster!

Pretense, incense, and nonsense

This movie has to say the least a checkered misbegotten past. Big budget epic, flawed but has value, but given time and expense it is rather ho hum. 1934 version does more at half the length.Good points, the first half of the movie is generally good. Rex Harrison is a believable Caesar, even about the right age. His scenes are fine. Ms. Taylor is stunning, beautiful, and does convey Cleopatra's intelligence, haughtiness, and charm. Fine scenery and costuming. Odd choices and good choices. Roddy McDowell is excellent as Augustus/Octavian the right amount of ruthlessness and priggishness. Richard Burton somewhat fails in a part he should have reveled in. His masterful voice is not even heard in some version of the famous funeral oration. Many of the supporting cast are dull or uneven.The movie is worth viewing once or twice in full. But really is not a satisfying epic like Spartacus or Ben Hur. Still like Cleopatra in Shakespeare's play it has its enduring charms.

Guess Who & What

Hauntess A. Cliche

6/5/16

Why it's Burton & Taylor in Hollywood Egyptian costumery & scenery recreating their relationship that only swingers appreciate. Dad took us to see this long movie in 1963 & it was sure something to look at.

Too Many Historical Errors

I agree with most of the other reviewers that this film was an epic film with its share of pageantry and romance, as it should be since it is about 'Rome' whose emotional appeal was the originator of the term, 'romance'. However, I think they could have created the same romantic effect without straying so far from history. I really feel deceived in that my entire life I thought the life and times of Cleopatra in her interpersonal relationships with the Roman Empire was as it is depicted in this film. In fact, this film is full of untruths. Here are just a few examples: 1. In this film, Octavian's right hand man "Agrippa", was portrayed as a 50-ish year old adviser by Andrew Keir when in reality he and Octavian were both 22 year old men at the time of the battle of Actium in 31 B.C., a battle in which Agrippa, ( Marcus Vipsanius Agrippa), did successfully plan and execute. Why not portray him and Octavian as they truly were? I heard the reason was that it would be unbelievable that two 22 year old boys could defeat Mark Antony. However, that was the truth and would have been a better story, especially with a handsome charismatic character playing Marcus Agrippa. 2. There was no mention at all of Octavian's other friend and adviser, Lucius Cilnius Maecenas, known to us in history as 'Maecenas' who in these early years was as close and important to Octavian as was Agrippa. The 2005 and 2007 HBO production, "Rome" more correctly portrays these important players.3. The depiction of the city of Rome itself as a marble city was most misleading. In fact, at the time of the story, from approx. 44--30 B.C. Rome was a hodgepodge of street & bldgs.

cleopatra

Wonder who the asp handler was on this film?

CLEOPATRANIZING

In a word Yaaaaaaaawn. One of the Dullest movies Ive ever seen. This was obviously created to showcase the talent? of Elizabeth Taylor and IT DID. Never was a fan of hers. She always played Elizabeth Taylor. The film drags on and on, snore. Rex Harrison aka, Dr. Doolittle or as in this case Dr. Do Nothing. He seems content to walk through his part, as if it were a rehearsal. To be fare Elizabeth Taylor was a beautiful woman or should I say product of the old Hollywood system, which by the time this dud was made, was in its death throws, and cost some where in the, then neighborhood of 50 million dollars and bankrupt the studio.

Cleopatra

It was the most expensive movie ever made coming in at $44 million and it didn't start making a buck until 40 years later. It was 4 hours of Hollywood soap and off screen Elizabeth Taylor and Richard Burton were making more news. The "Cleopatra" production began in England then later went to Rome. The story of the Romans and the woman of Egypt as Alexandria was where Cleopatra operated from. The Cleopatra saga mostly went from 48 B.C. to 30 B.C. when finally Cleopatra and her Roman lover Mark Antony committed suicide. Julius Caeser was involved too as a Cleopatra lover and he was played well by Rex Harrison here. A sight to behold was Cleopatra's entry into Rome with the huge crowd and Caeser and Mark Antony waiting. Such pageantry like that isn't seen much anymore. Also involved was Octavian, effectively played by Roddy Mcdowall who probably should have had an Oscar nomination, as the Roman officer opposing Mark Antony. Joseph L.Mankiewitz wrote and directed this overweight production which shutdown Twentieth Century Fox studio for some time until it could be finished. Now compare "Cleopatra" at $44 million in the early 60s with typical movies that might cost $150 million now...."Cleopatra" was costlier but it did have its entertaining side with 4 Academy Awards.

The Real Deal

I was fortunate enough to live in Hollywood toward the end of the "Golden Age." Oh how lucky I was! I remember premieres at the Pantages and Graumann's Chinese. Anything being produced these days is a mere shadow of what Hollywood is all about. Cleopatra is, without a doubt, the finest example of Hollywood at it's best. The cast was stellar, the story superb and the production was astounding. There was no CGI here kiddies. It was the real deal. The mere scope of the film is extraordinary. Even with it's running time, I personally was enthralled through the entire film. Elizabeth Taylor gave the performance of her career. Her delivery was masterful! Especially with lines like, "I asked it of Caesar, I demand it of you." It still makes my toes curl. Rex Harrison was marvelous to the point of inducing tears when he is assassinated. The humanity he showed as Caesar gave a believable tilt to a character so lost in history that he has become a stereotype. Burton as Antony was breathtaking. The magic between he and Taylor was tangible. If anyone ever asks what was all the fuss about Hollywood, show them Cleopatra's entrance to Rome and then explain NOTHING was computer generated. Not only that, it told an engrossing story. Something sadly lacking these days.

Was and still is a drop -dead gorgeous film

I was 9 years old when Cleopatra premiered in the summer of 1963. All l can remember was that you couldn't go anywhere without it being publicized, talked about, can't wait to see, etc. & etc. The Cleopatra merchandise and style was everywhere. I wish I had bought the Elizabeth Taylor as Cleopatra paper dolls collection. I miight be rich now. I do have a brochure from the original release of the film and was fortunate enough to meet her many years later in Beverly Hills. Cleopatra was made at a time when quality and excess meant something. Forget the private lives of its stars and concentrate on the beauty of the film for never again will you ever see it made like that. Truly, one of the most beautiful films ever made. It won the Oscars to prove it. It most definitely earned its place in Hollywood history.

The Best of It's time!

Although history is changing the way people think of Cleopatra today. This movie is the best for what was believed the truth of Egyptian Queen in this movie. Very well acted by Harris, Burton and Taylor. The spectacle of what Hollywood does the best led this movie to be my very favorite of all time. The movie moved me to study all I could of this woman and how she ruled Egypt! To learn more of the truth that is still being unearthed today. She was a very brilliant woman that most thought of as was a brazen hussy. The truth coming out is that she was one of the most learned of world leaders at that time. She was callus to those who new her the best. And very innocent and charming to those she loved. The truth is Egypt always came first! Liz Taylor played this part so well it remains in your mind for years. Out of all of the movies made at that time. I feel it is the best right down the line. Great Actors, script, scene design and production! I would recommend this movie to others to see what Hollywood does the very best of!!!

Cleopatra (1963) Cinema at it finest!

Cleopatra is a stunningly cinematic film. Elizabeth Taylor and Richard Burton are brilliant in their roles as Cleopatra and Marc Antony and their off-screen love affair blows up onto the screen with sizzling passion. Rex Harrison delivers a perfect performance as Caesar and Roddy McDowell gives an incredibly powerful performance in the role of Octavian. An outstanding supporting cast adds to the overall wonderful acting in this film. Elizabeth is seductively beautiful (applying her own makeup herself) and her fabulous and sexy wardrobe adds to her sultry performance as the seductive Queen. This and her ability to perfect her role as Cleopatra proves there was no other actress worthy of playing this role. Richard Burton with his fierce on-screen presence portrays Marc Antony to perfection and his rugged handsome good looks gives even more life to his role. Wardrobe and sets are fabulous as seen especially during Cleopatra's entrance into Rome. Despite the many production delays and overall subsequent excessive cost this film is a cinematic beauty with splendid pageantry and is a feast for the eyes. Add to this a wonderful cast and the result is a film definitely not to be missed and once seen you'll want to watch it over and over again!

Cleopatra (1963)

Magnificently overproduced. It cost a lot of money to make it, but at least it shows. Terribly overlong, extremely overblown. Some scenes are truly spectacular, like Cleopatra's grand arrival in Rome. It is breathtaking to say the least. There is an unquestionable chemistry between Elizabeth Taylor and Richard Burton. It is indeed entertaining.

Elizabeth Taylor IS Cleopatra!

CLEOPATRA is a tour de force in the world of cinema! This chef d'oeuvre is marvelous as it appeals to all the six senses. The dialogue, the art direction, the acting, the musical score, and the film's script itself, just to name some of the many qualities of this film, give the audience a glorious glimpse into what is cinematique grandeur. CLEOPATRA is over-the-top! It has to be because of the very nature of its tragique heroine, Cleopatra, and the great actress who portrays her, Elizabeth Taylor! A work of art such as the film CLEOPATRA is, can never be equalled again. Thank you to everyone involved in the creation of this masterpiece that is CLEOPATRA! And I long to see the director's cut.John-Niles of California

Rex's show

This is Rex Harrison's best performance.

Average Epic

Despite its star power and lavish production, to me "Cleopatra" is just another historical epic and cannot compare with other similar films of its time like "Ben Hur" and "Spartacus".I am a fan of the major stars (Burton, Taylor and Harrison) but I think they were miscast in "Cleopatra". I have heard the stories about the long production delays due to Taylor's illness, the high production costs and the somewhat poor reception when it premiered. I also heard that "Cleopatra" nearly bankrupted 20th Century Fox, and that it's original running time was almost 6 hours. I have seen it only about 4 times (all on TV) and I would never pay admission to see it in a theater. Again I say that "Cleopatra" is just a mediocre film, and not one of the better ones for anyone involved.

Moments of brilliance

This film was widely criticized at the time of its release in 1963, mostly due to the offscreen relationship of Elizabeth Taylor and Richard Burton. You can't have fame and success too. That didn't stop fans from seeing the film; it played for over year in one theatre in New York. One of the problems in making its fortune was its length. It was only shown twice daily. In any event, Elizabeth Taylor has a few great moments with Rex Harrison, who is consistently excellent throughout. Scenes with Richard Burton, oddly, are a little flat. I have seen this film in the cinema 32 times, and on television dozens of times as well. It is an important film in the history of American cinema.

Underrated Masterpiece

Great cast and director bring you wonderful epic movie.
*We protect your personal infortmation and will not provide it to anyone without your consent. For a complete explanation, please refer to TCM's Privacy Policy. By submitting your contribution, you agree to TCM's Terms of Use.