DVDs from TCM Shop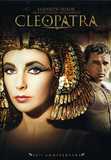 Cleopatra The legendary Egyptian queen... MORE&nbsp> $11.21 Regularly $14.98 Buy Now blu-ray
Trivia
A clerical error on the part of the Academy cost Roddy McDowall an Academy Award nomination for Best Supporting Actor.
Adjusting for inflation, this is the most expensive movie ever made to date (mid-1999). Its budget of $44 million is equivalent to 270 million 1999 dollars.
'Taylor, Elizabeth' had a motion picture record 65 costume changes for this film. The figure is exceeded by 'Collins, Joan' ' 85 costume changes in the TV movie, "Sins" (1988). Coincidentally, Collins was set to star as Cleopatra before Taylor was signed.
In 1958 'Collins, Joan' was cast in the title role but after several delays she became unavailable. Collins had previously starred in a similar role in Land of the Pharaohs (1955). After Collins' departure, Audrey Hepburn was considered as a replacement by producer Walter Wanger. Wanger then offered the role to 'Taylor, Elizabeth' . He called her on the set of her latest film, Suddenly, Last Summer (1959) and related the offer through Taylor's then husband Eddie Fisher who had answered the phone. As a joke, Taylor replied "Sure, tell him I'll do it for a million dollars." This then unheard-of sum was accepted and in October 1959 Taylor became the first Hollywood star to receive $1 million for a single picture.
Soon after shooting began in England, Taylor became ill and could not work. As her presence was required for almost every scene production soon closed down. Eventually Director Rouben Mamoulian resigned on January 3rd 1961. He was followed by stars Peter Finch and Stephen Boyd who had to honor prior commitments.