DVDs from TCM Shop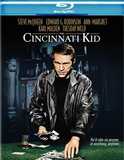 The Cincinnati Kid Card sharps try to deal with personal problems during a big... MORE&nbsp> $11.95 Regularly $19.98 Buy Now
Home Video Reviews
A western with cards instead of bullets,
The Cincinnati Kid
is a highlight of mid-1960s Hollywood studio movie-making. Leading men don't come cooler than Steve McQueen, old pros don't come more professional than Edward G. Robinson and starlets don't come more delectable than Ann-Margret and Tuesday Weld. They're all here, at their best, in the flavorful 1930s-set story of a hotshot stud poker player taking on "The Man," the reigning champ whose position at the top of life's pecking order he so covets.
The Cincinnati Kid
seemed destined for disaster, not popularity in its initial release and enduring quality 40 years later. Its very chequered production put it through all sorts of changes: director (Sam Peckinpah to Norman Jewison), location (the St. Louis of Richard Jessup's novel to New Orleans), one male lead (Spencer Tracy to Robinson), one female lead (Sharon Tate to Weld) and film process (black-and-white to color). In addition to credited screenwriters Terry Southern (
Dr. Strangelove
) and Ring Lardner, Jr. (one of the blacklisted Hollywood Ten, making a return to the screen), screenplay drafts were also reportedly written by Paddy Chayefsky (
Network
) and Charles Eastman (
Little Fauss and Big Halsy
). I pity those who've given the movie a knee-jerk rejection because an "outlaw" director got canned and a more mundane director replaced him (though Jewison's best, this and
In the Heat of the Night
among them, rank with any of Peckinpah's). Producer Martin Ransohoff fired Peckinpah after a few days of shooting (in black-and-white), and there was a possibly trumped-up scandal over the shooting of a nude scene that contributed to Peckinpah not making another feature until 1969's
The Wild Bunch
. But anyone who blames Jewison's finished film for that is missing out on a sharp, smart movie (and, of course, Peckinpah and McQueen eventually worked together in 1972's
Junior Bonner
and
The Getaway
).
Eric Stoner, a/k/a The Kid, adds a bittersweet edge to the men of action McQueen had played in his breakthrough roles in such physical movies as
The Magnificent Seven
and
The Great Escape
. The scrape The Kid gets into at the beginning of
The Cincinnati Kid
, when he has a switchblade pulled on him by an inferior player he's just beaten, was reportedly written into the movie at the actor's insistence, but this is still a more contemplative McQueen hero than usual, and the restraint serves the movie well. Minimalism in performance is what McQueen was all about, and the fact that he can still be a man of action here without shooting a gun or jumping a motorcycle adds another element to his onscreen persona. As with Robert Mitchum in Nicholas Ray's
The Lusty Men
, Kirk Douglas in
Lonely Are the Brave
or McQueen himself in
Tom Horn
, the combination of virile leading man and quiet, contemplative story leads to a melancholy you don't often get in these actors' films.
As with many actual westerns, much is made of honor in
The Cincinnati Kid
. To The Kid, beating Robinson's Lancey Howard isn't just a matter of outfoxing him at cards. It also means assuming his position of dignity and fulfilling his destiny. It means being "The Man." Being "The Man" doesn't just mean being top dog, it also means carrying the burden of being everyone's target. Whether The Kid is ready to mentally mature into being "The Man" is a big issue here, in his and everyone else's head. Unlike Paul Newman's Fast Eddie Felson in
The Hustler
, the movie's obvious precursor, The Kid is not a classless jerk. He's a natural whose talent is matched only by his confidence. Part of what makes the movie so interesting is that it doesn't set up The Kid for a fist-pumping winner-takes-all victory, nor does it maneuver him into a tragic come-uppance. It's not that simple. The Kid makes wise moves at the card table, and an unwise move or two away from it (like betraying Weld's Christian by sleeping with Ann-Margret's Melba). And, true to the script's complexities, as the story works towards the final hand of the showdown between The Kid and Lancey, the results are unpredictable and the resolution somewhat open-ended.
Jewison and the writers fill in a contentious world of gamblers and gaming around the kid, where psychological one-upsmanship and beating the other fellow are the way of the world, whether it's in poker, betting, cockfights, chess or pitching pennies. They populate this world with a very distinctive mix of new faces like McQueen, Ann-Margret, Weld and Rip Torn (as a conniving socialite with a grudge against Lancey), such older pros as Robinson, Karl Malden, Joan Blondell and Cab Calloway and a truckload of valuable character actors. At a time when character actors with great faces were starting to be seen more on television than in movies,
The Cincinnati Kid
harkens back to the decade in which it's set for its appreciation of a memorable face and a well-turned bit part. Such character-acting scene-stealers as Burt Mustin, Dub Taylor, Jeff Corey, Jack Weston, Milton Selzer, Robert DoQui and Theo Marcuse all pop up in the movie, and add to its color.
Jewison's audio commentary on the DVD of
The Cincinnati Kid
goes into detail about how he shaped the movie in the two weeks between being hired and restarting filming. Switching to color, bringing in Southern to punch up the dialogue and shooting exteriors in New Orleans were part of that shaping. An amusing bit of information Jewison imparts involves card expert Jay Ose, the technical advisor seen on the included vintage promo short
The Cincinnati Kid Plays According to Hoyle
. It turns out Ose provided the hands of not only Malden during close-ups of cards being dealt, but also, thanks to nail polish and powder, of Blondell, too.
Jewison mentions one struggle he lost to MGM brass, in which he was forced to tack on a final image to the movie that puts a sunnier twist on his intended resolution. Apparently, Jewison is unaware that by happy accident, presumably, that's the ending that was on most, if not all, VHS versions of the movie. For once, maybe the completeness of a DVD has a bad side to it, too, as the full version here includes that last shot Jewison dislikes.
The disc's extras also include intentional and unintentional levity. The unintentional is the movie's trailer, in which the voice-over narration starts with the dreaded phrase "In a world," a full 25 years before it became a raging Hollywood cliche. The intentional comes during the scene-specific second audio commentary featuring poker pro Phil Gordon and Dave Foley. When I saw them listed on the disc case, I assumed the second was
not
Dave Foley from
Kids in the Hall
and
News Radio
, but it is. Apparently, he's a regular on the celebrity poker cable series Gordon is on (and makes no claims to being an expert himself, just to adding comic relief). This commentary offers interesting observations about the onscreen poker games but, amazingly, in its 47 minutes Foley never once mentions the
Kids in the Hall
sketch that references
The Cincinnati Kid
. The odds that Foley would actually be on an audio commentary for the movie, and then forget to even mention that sketch, have to be even greater than the odds of Lancey drawing a straight flush.
To order
The Cincinnati Kid
, click
here
. To order the Blu-ray, click
here
.
by Paul Sherman