DVDs from TCM Shop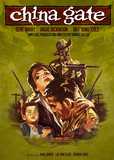 China Gate Near the end of the French... MORE&nbsp> $18.71 Regularly $24.95 Buy Now
Home Video Reviews
There was, and will be, only one Sam Fuller. He had one of the most fascinating of Hollywood careers - a 50-plus-year self-mythologizing rampage that began as scriptsmith work in the mid'30s at the age of 24, evolving into one of the most distinctive auteurs America has ever produced, writing/directing some 25 movies and having a hand in writing 25 more, manufacturing himself in his later years into a crusty man's-man Hollywood gadfly in the process, readily available for manic interviews and iconic appearances in young auteurs' self-conscious films, from Godard to Wim Wenders, Aki Kaurismaki and Alexander Rockwell. But scope is one thing; what Fuller had was raucous personality and zeal and distinctively unsubtle energy that belonged to him alone, and the unschooled blast of attitude and iconic tension you get from a Fuller film cannot be had anywhere else. Thus, of course, he's something of an acquired taste; what makes him tick (usually lauded as "sensationalist," a term otherwise employed as a slam) is not what you recognize as sophisticated filmmaking in other directors' work. I sympathize - I'll confess to often wishing as I watch a Fuller film (even something as lovably outlandish as
The Naked Kiss
) for more nuance, more grace, more trust in the intelligent viewer to grasp a point without needing to be pounded by it.
But being put off by Fuller's smacked-face style means missing the brute power of his metaphors, the audacity of his dialogue with society, and the headlong beauty of his passion, which knew no mainstream bounds. "Taste" is not a quality you concern yourself with in Fullerland, because if you do, you miss the good stuff, including, from this former reporter and WWII-vet-with-a-camera, a knack for chomping on political pickles before anyone else in Hollywood even knew what was going on. Fuller's Korean War saga
The Steel Helmet
was released in 1951 less than four months after American troops crossed the 38th parallel (and years before the next film about that war), but that's nothing compared to
China Gate
(1957), the first American film about the Vietnam War, made when the territory was still "French Indochina," and released during the war's early French phase
before the French had even lost and withdrawn
. A long unavailable CinemaScope entry in the expansive Fuller canon,
China Gate
is decidedly anti-Communist - the opening dedication is "to the French." Fuller was no right-winger, just a gung-ho '50s patriot, and what might seem like a pro-colonialist position at first is, in typical Fuller fashion, muddied thoroughly by ambiguity, moral corruption, bigotry and the equalizing pressures of war itself. ("It's a follow-the-leader game," someone says deep into the film about war, "that grabs the imagination of every child. So you behave like children.")
Shot entirely in California,
China Gate
marks its historical moment in an unnamed war-torn city with a narrator intoning, "All the animals have been eaten." Then we glimpse a Vietnamese boy with a puppy hidden in his jacket. "All but one," says the narrator. Amid a flurry of real Vietnam-war footage - another first - Fuller's movie launches its tale, about hot Eurasian demimondaine/smuggler Lucky Legs (Angie Dickinson, with a dash of requisite Asian eye make-up) who longs to get her young son out of Asia and to America before it's too late, and so she strikes the deal when French forces enlist her to guide a group of covert multinational mercenaries through the jungle to blow-up a Vietcong arms depot. The head of the group, a racist American named Brock (a seething Gene Barry) presents a problem - he's Lucky's son's father, and the bitterness and miscegenous loathing is still thick in the air.
Fuller's war movies are uniquely dense with context - in
China Gate
the international characters all have nightmarish stories that reveal their nations' recent calamities, and whole knots of global history gets churned up just in the campfire dialogue. A cool and convincing Nat King Cole, at one point looking quite comfortable opening up with a machine gun, represents the cast's sole man of integrity, and so of course he has to fight the battle against prejudice all by himself. But only in a Fuller film would a Hungarian mercenary come close to a summary execution by a rabid American officer - for possibly divulging their position by sleepwalking in the jungle, which as apt a metaphor for the state of Communist Hungary as any in 1957. Eventually, the ersatz platoon reaches their mountainous destination, and Lucky uses her sexual wiles - implicitly for the umpteenth time, a despairing undercurrent of abuse and exploitation Fuller is not so delicate about - to woo Communist guerrilla Lee Van Cleef (who despite having narrow eyes doesn't scan as remotely Asian).
Fuller was also an inventive visualist, and there's not a dull shot in this bloodthirsty terrarium of a movie, which also benefits not necessarily from how adept Dickinson and Barry were as actors, but how fascinating they were as people - Dickinson with her uncorked and defiant sexuality, and Barry with his unrestrained sweaty menace. Fuller liked to key his films' various materials up into a manic riot, evoking a telling sense of social instability and chaos (while Hollywood's strategy otherwise was to do whatever it could to instill order and calm).
China Gate
, available on DVD for the first time from Olive Films, is vintage Fuller in this sense, a fuming, overwrought plunge into a sociopolitical morass no one else cared about at the time, and which was destined to only get far worse.
By Michael Atkinson