DVDs from TCM Shop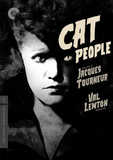 Cat People A newlywed fears that an... MORE&nbsp> $22.95 Regularly $29.95 Buy Now blu-ray
FULL SYNOPSIS
While sketching a panther at the zoo one day, fashion illustrator Irene Dubrovna meets Oliver Reed, a maritime engineer, and invites him to her apartment. There, she tells Oliver that she feels strangely calmed by the cries of the lions in the zoo and relates the legend of King John of Serbia, who banished the witches from her home village long ago. Oliver, enchanted by the exotic Irene, buys her a kitten as a gift. When the kitten shrinks in fear from Irene, however, Oliver and Irene return it to the pet shop, where Irene's presence drives the caged animals mad. Later, when Oliver tells Irene that he loves her, she voices her apprehension that feelings of love and passion will unleash a beast within her. Oliver dismisses her fears as fairy tales and convinces her to marry him. When, at their wedding celebration, she is greeted as "sister" by a strange, cat-like woman, Irene begs Oliver for patience in consummating their marriage.

One month later, Irene laments her feelings of aberrance and Oliver insists that she seek help from Dr. Louis Judd, a psychiatrist. Under Judd's hypnotic spell, Irene tells of the cat women in her Serbian village, whose passion turns them into bloodthirsty panthers. After her session with Judd, Irene returns home, where she finds Oliver visiting with Alice Moore, a woman who works in his office. When she learns that Oliver has confided her fears to Alice, Irene feels betrayed and later that night, unable to sleep, she paces in front of the panther's cage at the zoo. Upon discovering that Irene has not been keeping her appointments with Judd, Oliver accuses her of not wanting to be helped and warns her that they are drifting apart. After Oliver's accusations arouse jealousy in Irene, he angrily storms out of the house, Irene then calls the office and when Alice answers, Irene decides to go there. At a restaurant around the corner from the office building, Irene sees Oliver seated with Alice. After Alice leaves the restaurant and begins to walk home alone, she senses that she is being followed. Upon hearing a low growl and a rustling of the trees, Alice boards a bus, and later, at the zoo, several sheep are found slain. Leading away from their dead bodies are the paw marks of a large cat, which gradually change into human footprints. Disheveled and sobbing, Irene returns home and dreams that Judd is King John. The next day, she visits the zoo and steals the key to the panther's cage.

Later, Irene, Alice and Oliver attend an exhibit of ship models and Irene becomes separated from the others. After leaving the exhibit and returning to her apartment house, Alice decides go swimming in the basement pool. Irene follows her home, and as Alice enters the shadowy basement, she hears a low growl and sees the shadow of a cat. Jumping into the water, Alice calls for help and Irene turns on the lights, claiming to be looking for Oliver. After Irene leaves, Alice picks up her robe and discovers that it has been ripped to shreds. When Alice tells Judd her suspicions that jealousy has transformed Irene into a cat, he discounts her accusations until she shows him the robe. Soon after the pool incident, Oliver informs Irene that he has fallen in love with Alice and she orders him out of the house.

Later that night, Judd, Alice and Oliver confer and decide to commit Irene, but when she fails to show up for their meeting, Alice and Oliver return to their office while Judd slips back into the apartment. At the office, Alice and Oliver are menaced by a prowling panther, but Oliver vanquishes the beast with a T-bar in the shape of a cross. Irene then returns to her apartment, where she is greeted by Judd. To prove that Irene's fears are not founded in reality, Judd kisses her and then watches in horror as she changes into a cat and attacks him. Returning to the apartment, Oliver and Alice hear Judd's screams and run up the stairs, passing Irene, who is hiding in the shadows. Wounded by Judd's walking stick, Irene is drawn to the zoo's panther cage and unlocks it with her key. After the beast lunges at her, it runs into the street and is hit by a car. Alice and Oliver then run to the zoo, where they find Irene's dead body lying next to the open cage.