DVDs from TCM Shop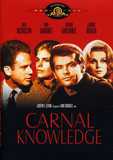 Carnal Knowledge Onetime college friends cope... MORE&nbsp> $11.21 Regularly $14.98 Buy Now
NOTES
During the opening credits, a discussion is heard between characters "Sandy" and "Jonathan" about their recent dates, which includes Jonathan's question, "Would you rather be in love, or be loved?" The image of a female ice skater, dressed in pure white and perfectly executing complex moves, first appears when Jonathan and Sandy meet in the 1950s. The image then reappears in the film as Jonathan discusses his sexual desire. The series of stills of "Jonathan's" past lovers in the slide show sequence were shot by Mary Ellen Mark, a prominent photographer whose still photographic work was first seen on the 1969 film Alice's Restaurant. In addition to studio work at Panorama Studios, Vancouver, BC, Carnal Knowledge was also shot in New York City.
Upon the film's release, many reviewers noted the abrasive sexual content. On September 18, 1971 New Republic reported that newspapers in 14 cities had refused to advertise the film, objecting to its title. By February 7, 1972 Variety reported that after a January 1972 opening of the film in Rome, Carnal Knowledge had been banned in most of Italy for alleged obscenity. An February 11, 1972 Daily Variety article noted that the ban was then removed.
In July 1972 a Playboy article stated that a movie house operator in Albany, GA was convicted of distributing obscene material when he showed the film. A July 19, 1973 Hollywood Reporter article stated that the lower court obscenity conviction was upheld in Georgia's highest courts. After appeals to the U.S. Supreme Court by the DGA and MPAA, among others, to reverse the ruling on the film, a June 25, 1974 WSJ article noted that the court upheld their decision to allow local juries to apply local rather than national standards regarding obscenity, but suggested that local courts do not have "absolute freedom." A June 25, 1974 Hollywood Reporter article added that the Supreme Court ruled that Carnal Knowledge was not obscene because it did not display human genitals or actual scenes of intercourse. According to a September 9, 1974 Box Office article, the film finally reopened later that month in Albany, GA.
Ann-Margret was nominated for Best Actress in a Supporting Role by the Academy Awards and the New York Film Critics for her performance in the film. The film garnered much critical attention. Some castigated the film for having a "repellent," "stereotypical" and "pessimistic" vision of love, while others praised Carnal Knowledge for its frank handling of the "chauvinistic nature of American men." The film was included in New York Times, Cue and Chicago Sun-Times "Ten Best" lists for 1971.
As noted in a October 26, 1969 New York Times article, Carnal Knowledge was based the unproduced play by Jules Feiffer, who wrote the film's screenplay. Although the play was never staged on Broadway, over fifteen years later it was produced at the Pasadena Playhouse (4 November-11 December 1988), in Dallas, Texas and off-Broadway.