DVDs from TCM Shop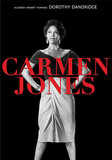 Carmen Jones A sultry factory worker... MORE&nbsp> $5.15 Regularly $9.98 Buy Now blu-ray
NOTES
DVDs from TCM Shop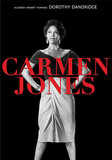 Carmen Jones A sultry factory worker... MORE&nbsp> $5.15
Regularly $9.98 buy now
The film's opening title card reads: "Oscar Hammerstein's Carmen Jones." On June 26, 1952, Hollywood Reporter announced that theatrical producer Billy Rose had acquired the screen rights to Hammerstein's work and intended to make the film with an all-black cast. The news items also stated that Rose intended to "handle his own financing and release, with the premiere engagement of the film to take place at the Ziegfeld Theatre, where he will make his headquarters." According to a July 9, 1952 Hollywood Reporter news item, Rose signed Elia Kazan to direct the picture. Rose apparently abandoned his plans and sold the rights, as a December 23, 1953 Hollywood Reporter news item announced that Otto Preminger and Twentieth Century-Fox would be filming the project.
Although an March 11, 1954 Hollywood Reporter news item stated that Hammerstein would be collaborating on the film's screenplay with an as-yet unnamed writer, only Harry Kleiner is credited onscreen as the screenwriter. According to Preminger's autobiography, he and Kleiner, who had been Preminger's student at Yale University, decided not to use the text of Hammerstein's musical, or the libretto of Bizet's opera as a basis for the script, but to go back to Prosper Mrime's short story, while retaining Bizet's music and Hammerstein's lyrics. Preminger states that he first took the project to friends at United Artists, but they turned him down because they felt they could not risk backing an all-black film.
According to the Twentieth Century-Fox Records of the Legal Department at the UCLA Arts-Special Collections Library, Fox entered into a distribution deal with Preminger's Carlyle Productions in which Fox agreed to advance the film's negative costs, up to $825,000. Fox production head Darryl F. Zanuck was to have final script and cut approval. Legal records also state that Hammerstein, at the behest of Zanuck, submitted the script to Walter White, the executive secretary of the N.A.A.C.P., for comment. White praised the screenplay, but added that he was opposed to an "all-Negro" show in principle, because of his organization's ongoing fight for integration. Although a December 23, 1953 Daily Variety news item stated that Preminger planned to shoot the film in Hollywood, Chicago and South Carolina, studio records indicate that the picture was shot entirely on the RKO lot.
According to legal records, Katherine Hilgenberg was originally hired as the singing voice of "Carmen." Marilyn Horne, whose first name was misspelled in the onscreen credits, sang the part, however. Brock Peters (1927-2005), whose surname was misspelled "Broc" in the oncredits, was first considered for the role of "Husky Miller," according to legal records. The film marked the motion picture debut of the actor, who is perhaps best known for his role as the falsely accused "Tom Robinson" in To Kill a Mockingbird (see AFI Catalog of Feature Films, 1961-70).
On May 29, 1953 Hollywood Reporter noted that Dorothy Dandridge, Joyce Bryant and Elizabeth Foster were being considered for the title role. According to a October 24, 1954 New York Times article, Preminger was reluctant to cast Dandridge because she seemed "too sweet, too regal." Dandridge convinced Preminger to hire her by dressing in flashy clothing and visiting the director, arguing, "Look, I know I can do it. I understand this type of woman. She's primitive, honest, independent, and real-that's why other women envy her." In the same article, Harry Belafonte, when asked if Carmen Jones would lead to a greater utilization of black talent in films, replied, "Not really...but I think it will provide some help symbolically. It proves there's no corner of human drama that Negroes cannot play. However, I don't think Hollywood, as a whole, is geared to pioneering of this sort."
Hollywood Reporter production charts and news items include the following actors and dancers in the cast, althought their appearance in the final picture has not been confirmed: Mme. Sul-te-Wan, Archie Savage, Carmen De Lavallade, June Eckstine, Max Roach, Sam McDaniels, Don Derricks, James Green, Don Blackman, Lonny Malone, Reuben Wilson, Jane Hanibal, Ramona Bruce, Vera Frances, Madie Comfort, Lawrence La Marr, Charles Fleming, Ruby Berkeley Goodwin, James Craig, Otis Greene, Orchid Oliver, Michael Wallace, Donna Rae Brown, Pat Taylor, Christyne Lawson, Ercelle Anderson, Gloria Jones, Pat Sides, Pola Dukes, James Truitte, Alvin Ailey, Clyde Webb, Archie Allison, Graham Johnson, Daniel Lloyd and Charles Carter. Modern sources credit John De Cuir as co-art director and Dimitri Tiomkin as co-music director.
A December 1, 1957 New York Times article commented that the film titles designed by Saul Bass, which featured a sinuous animated flame flickering around a rose, introduced design, color and animation to the display of film credits. According to Hollywood Reporter news items, Bass was awarded a special citation from the Los Angeles Art Directors Club and a gold medal from the New York Art Directors Guild for his work on Carmen Jones. Dandridge received an Academy Award nomination as Best Actress and was also nominated by BAFTA for Best Foreign Actress. Herschel Burke Gilbert was nominated for an Academy Award for Best Music, Scoring of a Musical Picture, and the film won a Golden Globe for Best Motion Picture-Musical/Comedy. In 1992, Carmen Jones was selected for the National Film Registry at the Library of Congress.
According to Hollywood Reporter news items, the film at first had problems being exhibited in Europe because Preminger had not cleared the European rights to Bizet's music before production on the picture began. On November 15, 1954, Hollywood Reporter noted that the rights to Bizet's score were in the public domain in the United States but were still privately owned in Europe. When Preminger received an invitation to screen the picture at the 1955 Cannes Film Festival, he planned to show it aboard an American aircraft carrier, which would constitute "extra-territorial grounds" so that he would not be "breaching technicalities" prohibiting showings on the Continent, according to a April 20, 1955 Hollywood Reporter news item. By April 26, 1955, however, a special, out-of-competition screening was arranged so that it could be held on the main festival grounds.
Many films have been based on or inspired by the story and opera of Carmen, including two 1913 three-reel versions, one with Marion Leonard made by the Monopol Film Co., the other with Marguerite Snow, made by the Thanhouser Corp.; two 1915 versions, a Fox Film Corp. production, directed by Raoul Walsh and starring Theda Bara, and a Jesse L. Lasky production, directed by Cecil B. DeMille and starring Geraldine Farrar (see AFI Catalog of Feature Films, 1911-20); Gypsy Blood, directed in 1918 by Ernst Lubitsch and starring Pola Negri; Loves of Carmen, produced by Fox Film Corp. in 1927, directed by Raoul Walsh and starring Dolores del Rio (see AFI Catalog of Feature Films, 1921-30); the 1948 Columbia film The Loves of Carmen, directed by Charles Vidor and starring Rita Hayworth (see AFI Catalog of Feature Films, 1941-50); a 1983 film produced in Spain entitled Carmen, directed by Carlos Saura; a 1983 France/Switzerland production entitled Prenom Carmen, directed by Jean-Luc Godard; Bizet's Carmen, a 1984 France/Italy production, directed by Francesco Rosi; and a 2001 MTV television production entitled MTV's Hip Hopera: Carmen, starring Mekhi Phifer and Beyonc Knowles and directed by Robert Townsend.