DVDs from TCM Shop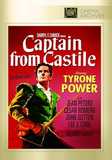 Captain from Castile The invasion of Mexico by... MORE&nbsp> $14.95 Regularly $19.98 Buy Now
OVERVIEW
Brief Synopsis
The invasion of Mexico by Cortez, as seen by a young Spanish officer fleeing the Inquisition.
Near Jaen, Spain, in the year 1518, young nobleman Pedro de Vargas is riding through the countryside when he encounters Diego de Silva in pursuit of a runaway slave. Pedro offers to help search for the runaway, and while scouring the hills, he is attacked by the slave, Coatl. As soon as Coatl recognizes Pedro as an old friend, however, he desists, then shows Pedro the scars he bears from the cruel de Silva's whip and declares that he would choose death over surrender. After helping Coatl escape, Pedro rescues tavern girl Catana Pérez from the unwanted attentions of two of de Silva's men and gives her a ride back to the Rosario Inn, where she works. There Pedro meets Juan García, who regales him with fantastic tales of his travels to the Indies and kingdoms filled with mountains of gold. Juan accompanies Pedro back to Jaen, where Pedro tells his family about the new land. Pedro is interrupted by the appearance of de Silva, a champion of the Inquisition. When Pedro's father, Don Francisco, denounces the Inquisition as evil, de Silva insults Pedro by insinuating that he shared a dalliance with Catana. Later that evening, Pedro visits his sweetheart, Luisa de Carvajal, to pledge his love. After Pedro leaves the Caravajal house, Catana and her brother Manuel warn him that his father, mother and young sister Mercedes have been charged with heresy and imprisoned to face the Inquisition and that he is to be next. Desperate, Pedro turns to Luisa' s father, the Marquis de Carvajal, for advice. When the Marquis, who believes the Inquisition to be just, counsels Pedro to give himself up, Pedro angrily insults him and then leaves. Afterward, Pedro is captured and brought before de Silva, whom he defiantly accuses of cowardice. When Francisco refuses to confess to heresy, Pedro watches helplessly as de Silva condemns Mercedes to torture that results in her death. Juan, who has infiltrated the prison walls to put his mother, a victim of the Inquisition, out of her misery, later slips into Pedro's cell, arms him with a sword and offers to help him and his parents escape. Before Pedro can depart, however, de Silva enters the cell to torment him. Brandishing his sword, Pedro duels de Silva, and after disarming him, forces him to renounce God, then plunges his blade into de Silva's chest. Juan, Pedro and his parents then join Catana and Manuel, who are waiting with horses outside to aid in their escape. To deceive the pursuing soldiers, the group divides. Juan, Pedro and Catana ride into the hills while the de Vargas follow Manuel to the coast, where a ship awaits to take them to Italy. The next day, the Marquis informs Luisa that Pedro has attacked de Silva in cold blood and tells her that he has pledged her hand in marriage to de Silva, who will recover from his wounds. In the mountains, meanwhile, Catana watches jealously as Pedro fondles the handkerchief that Luisa gave him at their last meeting. When Juan learns that Hernán Cortéz is mounting an armada in Cuba to explore the Indies, he urges Pedro to enlist rather than sail to Italy to meet his parents. Eager to join the expedition to the new world and a new life, Catana convinces Pedro to join them. At Havana harbor, as Pedro enlists in Cortéz' army, Cortéz overhears him give his family name and introduces himself as an old friend of his father. Cortéz then presents Pedro to Juan Escudero and Diego Cermeño, representatives of the Cuban governor, and to the company's chaplain, Father Bartolomé. Believing that he has killed de Silva, Pedro confesses his crime to the priest, who then shows Pedro an order for his arrest. After declaring that he is not in sympathy with the Inquisition, the priest tears up the document, but does not tell him that de Silva is alive, and gives Pedro a penance to perform for his his sin: a vow to pray for de Silva's salvation.
Upon reaching Villa Rica on the East coast of Mexico, the expedition is met by representatives from the Aztec emperor, Montezuma, who offer Cortéz gold to proceed no farther and return to his own country. When Escudero reminds Cortéz that they have come to trade and not to colonize, Cortéz voices his determination to conquer the land at any cost. Catana, who has fallen deeply in love with Pedro, bargains with Botello, a charlatan and seer, for a magic totem to make Pedro return her love. After Botello gives her a magic ring in exchange for an extra portion of meat, Pedro passionately dances with her, proclaims his love and insists they marry that night. When Cortéz advances on Cempoala, Montezuma sends more gifts and requests that he turn back. After Cortéz assigns Pedro to guard the treasure, Pedro leaves his post one night to save the drunken Juan from being shot. During his absence, a bag of gems is stolen and Cortéz gives Pedro one day to recover them or face death by hanging. Pedro tracks the thieves, Cermeño and Escudero, to a galleon on the harbor, from which they are planning to sail to Cuba and enlist the aid of the governor in defeating Cortéz. After he is discovered and taken prisoner, Pedro is helped to escape by the ship's captain. Gravely wounded during the escape, Pedro is in danger of bleeding to death when Botello cauterizes his wound and saves him. With the jewels returned, Cortéz promotes Pedro to captain, then orders the destruction of all the ships to prevent further communication with Cuba. The expedition continues to the outskirts of Cholulu, where another ambassador, a nephew of Montezuma, comes with a large army bearing more gifts and a warning that the Gods are predicting war if Cortéz remains. In reply, Cortéz blasts an idol atop a temple with his cannon and declares that he cannot leave because he has no ships. Informed that eighteen ships have just arrived in Villa Rica, Cortéz pretends that they are enforcements, although he realizes that they have been sent from Cuba to attack him. After ordering half his troops to hold off the Aztecs, Cortéz leads the other half in a siege against the Cubans. Before leaving, Cortéz takes five Aztecs hostage and puts Pedro in charge of them. One night, as Pedro passes the building housing the hostages, Coatl, who has returned to his people, steps out of the shadows. After chastising Pedro for invading his country, Coatl tells Pedro that he would give his life for him, but if Pedro harms his people, he will fight him. Afterward, Catana tells Juan that she is carrying Pedro's child. Some time later, Cortéz returns from defeating the Cubans, bringing with him de Silva, the head of the Inquisition. When de Silva accuses Juan of killing his own mother, Juan explains that he was trying to spare her from being burned at the stake. Cortéz orders Juan's arrest, and de Silva informs Pedro, who has promised Father Bartolomé to keep his vow, that he has married Luisa and bears a grievance against him. To forestall a confrontation, Cortéz places de Silva under Pedro's protection. When de Silva is found strangled, Pedro, although innocent, is arrested. On the night that he is to hang, Catana visits Pedro in his cell and he instructs her to join his parents in Italy. Meanwhile, Coatl confesses to Father Bartolomé that he killed de Silva. To spare Pedro from suffering and dishonorable death, Catana stabs him just as the priest arrives with news that Pedro is a free man. Pedro survives, however, and soon takes his place at Cortéz' side. As the troops prepare to advance against Montezuma, Father Bartolomé exhorts them to go forward not as conquerors, but as men of God because all men are created according to God's plan. As Pedro rides off, Catana and their newborn son march behind, proud participants in the opening of the new world.
Cast & Crew
SEE ALL CAST AND CREW
Additional Details
MPAA Ratings:
Premiere Info:
New York and Los Angeles openings: 25 Dec 1947
Release Date:
1948
Production Date:
EB and Karl

Color/B&W:
Color (Technicolor)
Distributions Co:
Twentieth Century-Fox Film Corp.
Sound:
Mono
Production Co:
Twentieth Century-Fox Film Corp.
Duration(mins):

140-141

Country:
United States
Duration(feet):

12,669

Duration(reels):

16
Leonard Maltin Ratings & Review
LEONARD MALTIN MOVIE RATING
LEONARD MALTIN MOVIE REVIEW:
User Ratings & Review
This title has not been reviewed. Be the FIRST to write a review by CLICKING HERE >
User Ratings & Review
User Reviews:
Recommend:

Cinema History:

Cinematography:

Lead Performers:

Supporting Cast:

Director:

Screen Play:

Music Score:

Title Sequence:
User Ratings:
Kind of a yawner

Dennis Lynch 2018-11-01

I just finished watching this, for the first time in 40 years. I'd not seen it in color before.While the film has some great technicolor and... MORE>