DVDs from TCM Shop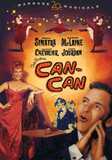 Can-Can An ambitious judge tries to... MORE&nbsp> $11.95 Regularly $19.98 Buy Now
NOTES
DVDs from TCM Shop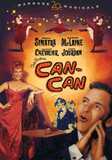 Can-Can An ambitious judge tries to... MORE&nbsp> $11.95
Regularly $19.98 buy now
The film's title card reads: "Jack Cummings production of Cole Porter's Can-Can." The film version eliminated seven songs from the stage version and added three Porter songs from earlier Broadway shows, "Let's Do It," "Just One of Those Things" and "You Do Something to Me." According to a July 27, 1954 Hollywood Reporter news item, both M-G-M and Columbia were bidding on the rights to the play. In August 1954, according to a Los Angeles Times news item, Darryl Zanuck had just purchased the rights, intending to cast Jeanmarie and Gwen Verdon (who appeared as "Claudine" in the Broadway production) in the leads. Hollywood Reporter news items yield the following information about the production: In May 1955, Nunnally Johnson was writing a version of the screenplay, but dropped out of the project after Twentieth Century-Fox set back the start of production to 1956. An April 1955 Daily Variety news item adds that Johnson was to write, produce and direct the film, and that Cary Grant and Jeanmarie were tentatively set to star. February and March 1956 news items note that Claude Binyon was writing a script and that Henry Ephron was to produce and Dick Powell to direct the film, which was to be shot in Paris.
In April 1956, Henry King was announced to replace Powell as director. By October 1958, a Daily Variety news item noted that discussions were underway with Vincente Minnelli to direct and Marilyn Monroe to star. Studio publicity materials contained in the film's production file at the AMPAS Library add that Martine Carol was being considered for a top role. July 1959 Hollywood Reporter news items noted that Louis Jourdan initially refused the role of "Philippe," but later consented to play the part after Charles Lederer was hired to polish the script. The exent of Lederer's contribution to the released film has not been determined, however.
A May 1960 American Cinematographer article noted that the "Garden of Eden" musical number in the film took six weeks to rehearse and five days to shoot because of the complex lighting needed to capture the dancers' movements. As noted in a September 1959 Hollywood Citizen-News article, Nikita Kruschev, the Soviet Premier who was on a trip to the United States, was brought to the film's set to view a special Saturday performance and later described the can-can dance scene as "immoral."
Although Maurice Chevalier had appeared in several American co-productions from the late 1940s throughout the 1950s, all of those films were shot in Europe. Can-Can was the first film he made in the United States since his 1935 20th Century Pictures release Folies Bergre de Paris (see AFI Catalog of Feature Films, 1931-40). Although dancer Juliet Prowse made a brief appearance in the 1955 picture Gentlemen Marry Brunettes (see below), Can-Can marked her first major film role. Can-Can was nominated for Academy Awards for Best Costume Design and Best Music Scoring. According to a January 1960 news item, the Carthay Theater in Los Angeles was leased for two years for an exclusive run of Can-Can. The picture was not successful, however, so it played there for only a few weeks.