DVDs from TCM Shop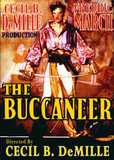 The Buccaneer French pirate Jean Lafitte... MORE&nbsp> $18.71 Regularly $24.95 Buy Now
NOTES
Early titles for this film were Lafitte the Pirate and The Baratarians. The film's opening credits appear on a simulated parchment scroll being removed from a treasure chest. The film's opening narrative includes the "immortal words" that George Byron wrote about Jean Lafitte, the "Last of the Buccaneers"-"He left a Corsair's name/to other times/Linked with one virtue and a thousand crimes." This film was promoted as Cecil B. DeMille's 25th anniversary film and marked his 64th personal production. According to a news item in Hollywood Reporter on May 28, 1934, Charles Laughton was originally slated to star in this film. On December 4, 1935, Hollywood Reporter reported that British writer C. S. Forrester was set to write the script for the film, although he receives no credit on the film or in any reviews. A February 11, 1937 news item in Hollywood Reporter stated that DeMille visited New Orleans with his technical staff to research the life of Lafitte. On June 5, 1937, Hollywood Reporter reported that William de Mille returned to Hollywood after an absence of several years and conferred with Cecil DeMille on the film's script. Shooting began on DeMille's 56th birthday, August 12, 1937. According to Hollywood Reporter, 350 guests attended DeMille's birthday party in the Paramount commissary. Creole food was served and the cake was sent by the Governor of Louisiana.
The preview length for this film was 115 min. The premiere at the New Orleans Saenger Theatre drew a crowd of 15,000 people. Traffic was so heavy, authorities made announcements over local radio stations asking that no one attempt to go downtown for the second showing. The onscreen credits acknowledge the assistance of the Louisiana State Museum. An early pictorial review in Motion Picture Herald listed Preston Sturges among the several writers who "checked in" early on in the writing stages of the film; however, it is unclear whether he actually contributed to the final script. Locations for the film include the Mississippi bayous near New Iberia, LA and Catalina Island and Baldwin Oaks, CA, where 450 actors recreated the Battle of New Orleans. According to press material, Barataria was recreated on a seven-acre settlement at White's Landing, Catalina. The Battle of New Orleans was staged using parapets of cotton bales, furniture and sandbags on four acres of the Baldwin Oaks area because of its resemblance to Chalmette Field, east of New Orleans, where the original battle was fought on January 8, 1815. A news item in Hollywood Reporter on August 24, 1937 reported that fifty actors hired to play pirates, of the 450 encamped at Catalina, left their tents in search of hotel rooms and, finding no vacancies, were barred from returning to camp and were forced to sleep on the beach. The following day, they had to present DeMille with a formal apology in order to readmitted to the camp. According to a Daily Variety news item, assistant director Richard Harlan testified at a National Labor Relations Board investigation that he directed three weeks of battle scenes off Catalina; the investigation was concerned with the question of whether assistant directors were ever called on to direct scenes.
Press material includes the following information on the production: the interior of Lafitte's home was furnished with pieces of the famous Mario Ramirez collection of silver valued at $250,000. Dan Sayre Groesbeck made 173 sketches to create a visual impression of costumes and sets for DeMille; and sculptor Dwight Franklin made miniature wax figures of all the principal characters. Groesbeck also painted the brooch miniature of "Mrs. de Remy." Paramount chartered and re-designed two square-rigged warships and three gunboats from the period of 1814. Editors Anne Bauchens and Hans Lubitsch worked throughout the film's shooting and for three months following. The 700 stills and 3,000 negatives shot totaled nearly ten times that of the average film production at the time, and the cast and crew totaled almost 10,000. Sixty-three functional cast iron cannons were manufactured by Paramount's property shop for the film. The character of "Dominique You" was based on the real-life cannoneer of Napoleon. Numerous contemporary reviews applauded Tamiroff's comic performance as superior to that of March, who was reportedly paid $150,000 in cash for the role. After seeing her in a foreign film, DeMille hand-picked Hungarian actress Franciska Gaal for her American debut as "Gretchen." According to the file on the film in the Paramount Script Collection, a short personality sketch tentatively titled "Star Bright" was written for Gaal depicting DeMille calling her in Budapest, her trip to the United States, her preparing for the role and shooting a couple of scenes, as well as DeMille introducing her to American audiences at her debut and Gaal asking to stay in America.
Early scripts list Porter Hall in the role of "Mouse" and Barton MacLane as "Gramby," although they were later replaced. Judith Allen and Richard Loo were cast in August 1937, according to Hollywood Reporter, but their appearance in the final film has not been confirmed. In the middle of shooting, actor Hugh Sothern was given a contract by Paramount. A modern source credits William LeBaron as executive producer on the film. Cinematographer Victor Milner was nominated for an Academy Award for his work on the picture. Cecil B. DeMille remade The Buccaneer in 1959 with Anthony Quinn directing and Yul Brynner, Claire Bloom, Charlton Heston and Charles Boyer starring. The 1959 version was DeMille's last film.