DVDs from TCM Shop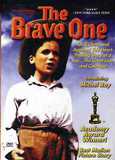 The Brave One A Mexican boy saves his pet... MORE&nbsp> $7.95 Regularly $9.99 Buy Now blu-ray
NOTES
DVDs from TCM Shop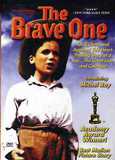 The Brave One A Mexican boy saves his pet... MORE&nbsp> $7.95
Regularly $9.99 buy now
The working title of this film was The Boy and the Bull. Clarence Eurist's opening credit reads: "Production supervisor and assistant director." The film ends with the following written statement: "We cannot sufficiently express our gratitude to the Government and the people of the Republic of Mexico, without whose courtesy and kindliness this motion picture could never have been made. Salud amigos! King Brothers Productions."
In August 1953, Variety announced that The Boy and the Bull would be shot in Barcelona, in English, Spanish and German, with Kurt Neumann directing and RKO releasing. A November 1954 article in Daily Variety noted that co-producer Maurice King was scouting locations in Portugal, and in December 1954, Hollywood Reporter reported that the film would begin in Madrid on February 7, 1955. On January 20, 1955, however, a Hollywood Reporter article stated that the production had been moved to Mexico due to expensive "production problems" in Spain, and was set to start on March 1, 1955 with Irving Rapper directing.
According to a May 27, 1955 Hollywood Reporter article, Nassour Pictures won a Title Registration Bureau arbitration to prevent King Brothers from using the title The Boy and the Bull, because of its similarity to Emilio and the Bull, which Nassour planned to produced for United Artists "shortly." [That film was never made.] By August 1, 1955, it was announced in Hollywood Reporter that the title had been changed to The Brave One.
As noted in studio press materials, the film was based on a true incident that occurred on April 12, 1936, during which a notably brave bull was pardoned to its young owner. The film was shot on location entirely in Mexico, including at Estudios Churubusco and various Mexico City sites. A December 29, 1955 Hollywood Reporter news item reports the final budget as two million dollars. Press materials state that all the actors in the film, except Michel Ray and Joi Lansing, were Mexico natives. Some reviews noted the fact that Ray, who was born in Zurich, Switzerland, did not look particularly Mexican. Although an Hollywood Reporter news item in January 1955 stated that Lupe Calderona, a female matador, would appear in the picture, she was not in the released film. Hollywood Reporter news items add Rosita Puentas, Carlos Beckeril and Pedro Galvan to the cast, but their appearance in the final film has not been confirmed. According to a February 14, 1956 Hollywood Reporter news item, actor-announcer Art Gilmore was hired to narrate the picture's television and theatrical trailers. Studio press materials note that in conjunction with the film's release, Decca records produced an album of music "taken directly from the soundtrack."
After being released in London, Rome, Paris, Mexico City, Madrid and Rome in June 1956, The Brave One played at the Edinburgh Film Festival on August 19, 1956. It had its official American opening in October 1956. Upon its release, The Brave One was widely praised. The Los Angeles Herald Express reviewer called it "a tribute to where [it] was filmed and a tribute to what Hollywood moviemaking stands for." The Hollywood Reporter review stated, "The Brave One is one of the finest, most absorbing and most thoroughly enjoyable pictures made in this or any other year."
Despite its successful reception, the film was also the subject of much controversy. First, as noted in a February 1957 Hollywood Reporter article, Nassour Pictures sued RKO and King Brothers for $750,000 for "misappropriating" the film from their recently completed picture, Emilio and the Bull. The second controversy concerns the film's story credit. During the Academy Awards ceremony in March 1957, credited story writer "Robert Rich" won the Oscar for Best Motion Picture Story. "Rich" was, in fact, a pseudonym for blacklisted writer Dalton Trumbo, who, under a February 6, 1957 Academy bylaw declaring Communist Party members ineligible for Oscars, could not publicly accept his honor. Instead, Jesse Lasky, Jr., head of the Writers Guild of America (WGA), accepted the award, stating, according to a modern source, that Rich was in the hospital where his wife was giving birth.
Soon after, the WGA admitted that they had no member named Robert Rich. Numerous press stories circulated questioning the writer's identity (modern sources suggest that Trumbo himself fueled the press fury), spurred on by the discovery that the King Brothers had a nephew of the same name, and by Frank King's physical description of Rich. As noted in an April Los Angeles Times article, King claimed to have met Rich in Munich in 1952. Reporters and industry members hazarded many guesses as to Rich's identity, including Trumbo and fellow blacklisted writer Albert Maltz and Paul Jarrico. Meanwhile, many other writers claimed credit, including Paul Rader, who in a April 3, 1957 Hollywood Reporter article stated that he wrote the film and sold it to Nassour six years earlier.
On April 15, 1957, Life reported that Fred Zinnemann credited documentarian Robert Flaherty with the original idea, which Orson Welles then bought in 1944 and tried to produce. In the same article, Willis O'Brien alleged that The Brave One's story should be credited to him, because years earlier he sold the Emilio story to Jesse Lasky, Jr., who then sold it to Nassour.
On April 8, 1957, Daily Variety reported that the Academy had issued a statement declaring that if "Rich" was not found, the award could be given to the runner-up. The organization stated in a April 12, 1957 Hollywood Reporter item that if Rich did not appear in person at Academy headquarters, the 1956 Oscar would be rescinded.
In July 1958, the controversy intensified when Mrs. Carmen Duval sued King Brothers for $300,000, stating that her late husband, Juan Duval, wrote the script. That suit, as noted in a July 2, 1962 Daily Variety news item, was eventually settled out of court. On July 25, 1957, the Los Angeles Mirror noted that a writer named Philip Creed also alleged to be the writer.
Soon after, Pierre Boulle won the 1957 Best Screenplay Adaptation Oscar for The Bridge on the River Kwai (see below), which was widely known to have been written by blacklisted writers Michael Wilson and Carl Foreman. The following year, blacklisted writer Nedrick Young won for co-writing The Defiant Ones (see below) under the pseudonym Nathan E. Douglas. On January 14, 1959, Film Daily announced that the Academy Board of Governors had repealed the blacklist bylaw. Immediately afterward, on January 17, 1959, Los Angeles Times announced that Trumbo acknowledged that he was Robert Rich. As a result, the WGA, as a February 4, 1959 Hollywood Citizen-News article reported, launched an official search for Rich, spurring Trumbo, Duval and writers John Fante and Norman Foster to petition for recognition of credits for various films. In 1975, the Academy issued an Oscar to Trumbo bearing his name as the film's writer. Trumbo died of cancer a year later. On August 4, 2000, Hollywood Reporter reported that the WGA had officially restored credits to numerous films, including naming Trumbo as the story writer of The Brave One. Universal's 1960 Spartacus marked the first film after the blacklist for which Trumbo received onscreen credit. (For more information, see the entry for Spartacus, below.)
In 1958, RKO turned over The Brave One, as part of a block of films, to Universal for distribution. In response, according to a November 4, 1958 Daily Variety article, King Brothers sued RKO and Universal for six million dollars, declaring that the sale of the film lessened its value "because of decreased competition."
In addition to the Academy Award for Best Motion Picture Story, The Brave One received nominations for Film Editing (Merrill G. White) and Sound Recording (John Myers). It was also nominated for a Golden Globe Award as Best Film Promoting International Understanding and won the Le Grand Prix Femina Belge, which honored the American film shown in Brussels that contained the "highest artistic and moral qualities."