DVDs from TCM Shop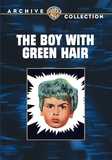 The Boy with Green Hair An orphaned boy mystically... MORE&nbsp> $15.95 Regularly $17.99 Buy Now
NOTES
DVDs from TCM Shop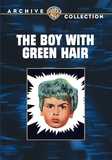 The Boy with Green Hair An orphaned boy mystically... MORE&nbsp> $15.95
Regularly $17.99 buy now
In the opening credits, Dean Stockwell's character name is listed as "The Boy." eden ahbez' name is spelled entirely in lower case letters onscreen; according to modern sources, the composer preferred this spelling for religious reasons. "Nature Boy" was the only song he is known to have written. In addition to the indicated flashbacks, the film also used voice-over narration delivered by Stockwell. In mid-November 1947, Adrian Scott, who had just produced RKO's successful social film Crossfire , was announced as this picture's producer. By late November 1947, however, Scott and his frequent collaborator Edward Dmytryk were fired by RKO for violating the morality clause of their contract because they had refused to "name names" during hearings of the House Committee on Un-American Activities (HUAC). Scott and Dmytryk became the first two members of the "Hollywood Ten," a group of filmmakers charged with contempt of Congress and subsequently blacklisted by the movie industry because of reputed connections to the Communist Party. In 1951, Scott was sentenced to a year of imprisonment after Dmytryk finally identified him as a Communist. Director Joseph Losey was also blacklisted in 1951, and this film is frequently cited as contributing to his image as a Communist subversive. For more information on the HUAC hearings, see entry for Crossfire.
Los Angeles Times reported in its This Week section that after RKO bought Betsy Beaton's story, it shelved the project for almost a year because of story problems. In a modern interview, Losey, who made his feature-directing debut with this film, recalled that he and Scott worked on the script with the screenwriters. Losey added that the original story was a fantasy about racial discrimination, but that its thrust was changed because he and his collaborators felt that a film about peace would be more timely and important. RKO production head Dore Schary said in a January 1948 New York Times article that, contrary to declarations by "the leftists" and pressures from the right, the story was to be made as a "pro-peace picture" with "no change in subject-matter." According to Hollywood Reporter, after Scott's departure from the project, the script was completely revamped for producer Stephen Ames. Hollywood Reporter notes that The Boy with Green Hair was made as part of RKO's "experiment" with modestly budgeted quality pictures, the first of which was the highly successful Crossfire. In the modern interview, Losey stated that when Scott was still involved in the project, he wanted to shoot it in 16mm color stock to save money. Because Ames was a major stockholder in Technicolor, Losey added, he could obtain 35mm color stock cheaply, thereby making it possible to produce the picture in Technicolor on a relatively modest budget. (Contemporary sources give the film's budget as between $850,000 and $900,000.) Losey also claimed that Ames's status at Technicolor helped to overcome some of the company's artistic restrictions, such as not using dark browns or low-key lighting while shooting.
RKO borrowed Stockwell from M-G-M for this production. Albert Sharpe, who played "Finian" in the Broadway production of Finian's Rainbow, was to make his screen debut in the picture, according to Hollywood Reporter. Losey recalled in the modern interview that the part of Gramp was written with Sharpe in mind, but that RKO insisted that O'Brien, who was a contract star, be cast. Rusty Tamblyn and Dale Robertson made their screen debuts in the production. The CBCS lists Robertson's first name with its original spelling, "Dayle." In the CBCS, Peter Brocco is credited in the role of "Mr. Hammond #1," but it unclear whether he actually appeared in the film, as Charles Arnt is also listed as "Mr. Hammond." Losey stated that he used two cameras to shoot the hair cutting scene and had Stockwell wear three different wigs during the sequence. According to Los Angeles Times, Stockwell wore wigs throughout the picture because the studio feared that he would be ridiculed in his private life if his hair were dyed green. New York Times notes that to save money, primary sets from I Remember Mama (see below) were used.
According to the Variety review, Howard Hughes, who acquired RKO in the spring of 1948, demanded that this film be re-edited to remove the "tolerance theme," which he felt detracted from the entertainment value of the picture. A Daily Variety news item claims that Floyd Odlum, who was the chairman of RKO's board, actually ordered the re-editing and insisted that the only acceptable "message" was one for "preparedness." According to a August 3, 1948 Daily Variety article, new footage was to be shot to stress the fantasy elements of the picture. On August 30, 1948, Daily Variety announced that after RKO executive vice-president Ned Depinet and two members of the RKO board viewed the revised picture, Depinet decided to restore the original cut. The disputed footage, which cost $150,000 to produce, included new background music as well as new scenes. Losey added in the modern interview that "a few extra lines off screen were stuck in in an attempt to soften the message." Despite Schary's desire to release the film in mid-1948, Hughes delayed the release for six months, according to Losey. (Protesting Hughes's interference with this and other films, Schary left RKO in July 1948.) Daily Variety also notes that "Nature Boy," which is sung by an offscreen group, cost RKO $10,000 and was almost cut from the picture. As used, "Nature Boy," which was popularized by Nat King Cole in 1947, is an early example of a credit sequence theme song. The Irish folk song "Tail o' Me Coat" is performed by Pat O'Brien and Walter Catlett as part of a brief fantasy sequence.