DVDs from TCM Shop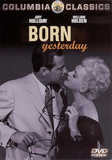 Born Yesterday A newspaper reporter takes on... MORE&nbsp> $9.65 Regularly $14.99 Buy Now
NOTES
According to a Hollywood Reporter news item, Judy Holliday initially refused to reprise her popular Broadway role for this film. In September 1947, a Hollywood Reporter news item announced that Rita Hayworth would star in the film. A late April 1949 Hollywood Reporter news item reported that Gloria Grahame was to be borrowed from RKO for the lead, and that Jean Arthur and Lana Turner had also been considered for the part. A October 16, 1947 Hollywood Reporter news item stated that Columbia was negotiating with Paul Douglas to reprise his Broadway role. According to modern sources, Garson Kanin convinced Columbia studio head Harry Cohn to cast Holliday by first writing with his wife, Ruth Gordon, a part in the 1949 M-G-M film Adam's Rib particularly for her. Her performance in Adam's Rib garnered her critical acclaim and convinced Cohn of her comedic abilities. One scene which was singled out for praise by contemporary and modern critics involved a gin rummy game between "Billie" and "Harry" in which Billie quickly wins, despite enthusiastically humming the song "I Can't Give You Anything But Love, Baby" and constantly rearranging her hand. In another popular scene, when Harry tries to impress Billie with his knowledge and her ignorance of words, he asks her to define "peninsula," and she retorts by calling it "the new wonder drug."
Larry Oliver and Frank Otto also reprised their Broadway roles. A September 20, 1950 article in Los Angeles Daily News reported that before filming began, the cast perfected their comic timing during six performances in front of live audiences of studio employees. Although CBCS credits John L. Morley and Ram Singh as "Natives," no natives appeared in the viewed print. Exterior scenes were shot on location in Washington, D.C.
On December 1, 1950, William H. Mooring, motion picture editor of the Catholic newspaper Tidings and syndicated columnist for numerous Catholic papers, labeled the film "clever film satire strictly from [Karl] Marx." His accusations were countered by, among others, conservative columnist Louella Parsons, reviewer William R. Weaver of Motion Picture Herald and Kenneth Clark of the MPPA, who stated "we feel very deeply and sincerely the picture gives warmth and positive support to the democratic ideals, principles and institutions of America." On March 26, 1951, Hollywood Reporter reported that the film was picketed by the Anti-Communist Committee of the Catholic War Veterans because Holliday and Kanin were affiliated with organizations on the Attorney-General's list of subversive groups. Holliday won an Academy Award for Best Actress for her portrayal of "Billie Dawn." The film also received Oscar nominations for Best Picture, Best Director, Best Screenplay and Best Costume Design (black and white). Kanin's play also served as the basis for the 1992 film Born Yesterday, directed by Luis Mandoki, and starring Melanie Griffith, John Goodman and Don Johnson.