DVDs from TCM Shop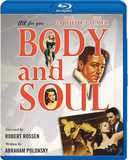 Body and Soul A young boxer slugs his way out of the slums only to fall... MORE&nbsp> $20.97 Regularly $29.95 Buy Now
NOTES
DVDs from TCM Shop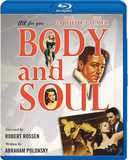 Body and Soul A young boxer slugs his way... MORE&nbsp> $20.97
Regularly $29.95 buy now
The working title of this film was The Burning Journey. According to the Hollywood Reporter review, the picture was based on an original story by Barney Ross, which star John Garfield had purchased in 1945. The reviewer commented that Ross's story was "practically thrown out the window." Ross's contribution to the final film, if any, has not been determined. [For information on the 1957, Andre DeToth-directed film Monkey on My Back, which was based on Ross's life, please consult the entry below.]
Although some modern sources identify Garfield's character, "Charley Davis," as Jewish, in the film his character is never identified as such. The neighborhood in which Charley and his mother "Anna Davis" live is multi-ethnic, but at one point in the film, the grocer says that while Nazis are "killing Jews in Europe," the neighborhood is betting on Charley, of whom they are proud.
Body and Soul marked Garfield's first independent picture, and according to modern sources, he was greatly involved in all aspects of the production. Contemporary news items in Hollywood Reporter add the following information about the production: Professional boxers Mickey Walker, Benny Leonard and Jack Dempsey were sought for roles, and actors Caryl Lincoln, Ethelreda Leopold, Forbes Murray and Al Eben were cast, but their appearance in the released film has not been confirmed. Frank Gaskin Fields was hired to write two songs and background music for the film, but his contribution to the final film also has not been confirmed. Three film crews were sent to fight arenas in twenty-six cities around the country to shoot boxing footage for the picture.
Cinematographer James Wong Howe used eight cameras to film the fight sequences: three placed on cranes for bird's-eye shots of the ring, three mounted on dollies and two hand-held cameras to provide a newsreel effect. Some location filming was done in New York City. Modern sources add that Garfield took sparring lessions from boxer Mushy Callahan to prepare for his role and performed all his own fight scenes. Garfield was knocked out and injured during the filming of one of his fight scenes, according to modern sources.
An early December 1946 Hollywood Reporter news item noted that production on the film was held up for two weeks due to censorship problems. Information contained in the MPAA/PCA Collection at the AMPAS Library indicates that early drafts of the script were deemed "unacceptable" under the provisions of the Production Code due to, among other things, excessive violence and the inclusion of a suicide, which was later removed from the script. A letter contained in the PCA file, dated January 4, 1947, indicates that the Breen Office demanded an entire sequence in which a white boxer fights an African American boxer be cut from the script. The stated reason for the deletion was that the Production Code did "not permit any scenes showing the social intermingling of white and colored people or of a boxing contest between two people of these opposite colors."
The film garnered much critical praise, with the boxing sequences receiving particular notice. The Daily Variety review commented that "seldom has the camera caught such exciting ring sequences," while the New Yorker reviewer proclaimed the fight scenes "marvellously realistic." The casting of African American actor Canada Lee, who had been a middleweight boxing champion in the 1930s, was also lauded. Reviewers noted the timeliness of the film's subject matter. In appraising the picture's earning potential, the Variety review commented that the "widely-ballyhooed N.Y. State Boxing Commission probe of bribery last winter, gives 'Body' a strong box office chance." In September 1947, according to a Hollywood Reporter article, Charles Johnston, president of the Boxing Managers' Guild, petitioned Enterprise Pictures, Inc. to withdraw the film from distribution, claiming that it was "slanderous" in its depiction of boxing managers, and that it characterized managers as "thieves, gangsters, fixers, contrivers [and] doublecrossers." According to the Hollywood Reporter article, David L. Loew, president of Enterprise, refused to withdraw the film or make any changes to it.
According to a 1953 Daily Variety article, Bank of America, a Roberts Productions creditor, assumed control of this and Roberts' next film, Force of Evil (see below), after Roberts failed to repay outstanding loans. According to Daily Variety, Roberts borrowed $1,000,000 from Bank of America to make this film. In October 1947, shortly after the release of this film, Garfield was accused by California State Senator Jack Tenny of being a Communist sympathizer. Garfield later refused to supply the House Committee on Un-American Activities (HUAC) with a list of suspected Communists, and was subsequently blacklisted. Director Robert Rossen, actors Anne Revere and Canada Lee, and screenwriter Abraham Polonsky were also blacklisted in the 1950s for their political views. (For more information on the HUAC hearings, see the entry below for Crossfire).
Francis Lyon and Robert Parrish received an Academy Award for Best Editing for their work on the picture. Garfield was nominated for Best Actor, and Polonsky was nominated for Best Original Screenplay. Some modern critics describe Body and Soul as the quintessential boxing film. Garfield reprised his screen role in a Lux Radio Theatre broadcast version of the story, which aired on November 15, 1948. In 1981, George Bowers directed Leon Isaac Kennedy, Jayne Kennedy and Muhammed Ali in Body and Soul, a Golan-Globus Productions film that was loosely based on Polonsky's screenplay.