DVDs from TCM Shop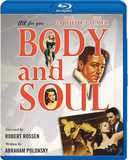 Body and Soul A young boxer slugs his way out of the slums only to fall... MORE&nbsp> $20.97 Regularly $29.95 Buy Now
Home Video Reviews
The impassioned populist idealism of the 1930s was nowhere more trenchantly and lastingly championed than in the politics-heavy stage productions of The Group Theater, especially in Clifford Odets's blazingly topical plays
Waiting for Lefty, Awake and Sing
and
Golden Boy
. Only those with a will to myopia could fail to see that the latter wasn't merely about a talented musician and boxer who chased money instead of art until it destroyed him. By extension, it was about America's (and Odets's) fight to wrest their souls from the almighty dollar. It was a struggle that John Garfield (1913-1952) found himself in the thick of until his premature death of chronic heart trouble at the age of 39. Like
Golden Boy
(1939), Garfield's
Body and Soul
(1947), made by his own production company, Enterprise, is routinely and short-sightedly listed among the great boxing movies. But both films are much more thematically ambitious. Both are about integrity's fight against heavy odds.
Garfield, born Julius Garfinkle on Manhattan's Lower East Side, came by his tough-guy persona honestly. As a boy, he was passed to relatives in Brooklyn after his mother died, then moved to the Bronx when his father remarried. His street cred was enhanced by skirmishes with police during his teen years as a street gang member. To the trained actors of The Group collective, he brought an eruption of fresh energy, rough-edged authenticity, and an impossible-to-miss New York accent. Like that other New York street kid star, Jimmy Cagney, he came out swinging.
Body and Soul
- Johnny Green's title song remains a classic - also testifies to Garfield's persistence. Garfield, a Group Theater member who knew Odets from their Bronx days and appeared in
Waiting for Lefty
and
Awake and Sing
, was envisioned by Odets as the lead in
Golden Boy
. But Luther Adler got the part, with Garfield assigned a supporting role. In 1939, when Columbia filmed
Golden Boy
, Warners, to whom Garfield was under contract, refused to loan him to Columbia. So the role went to William Holden - his breakthrough.
By 1947, dark-haired, rugged, sexy Garfield was at the top of the heap, having starred in such diverse hits as
Destination Tokyo
(1943),
The Postman Always Rings Twice
(1946) and
Gentleman's Agreement
(1947), the last attacking anti-Semitism. So back he climbed into the Hollywood ring with
Body and Soul
. Under Robert Rossen's direction, with a script by Abraham Polonsky, it crackles with tabloid energy as Garfield's Charley Taylor, traumatized by the shooting death of his father in the family's candy store, is determined to punch his way out of the tenement he shares with his mother (a sterling Anne Revere) and KO his way to the top despite her strong objections. If Garfield wasn't such a raging force of nature, Revere's stoical mother would dominate the film. Her moral compass never swerves. "Fight for something, not for money," she says, sternly. But Charley explodes when a welfare worker visits with questions. No handouts for him, he yells, chasing the welfare worker away. Then he fights for money.
And not just for purses. He quickly learns that the real money in boxing lies with gambling, and hands himself over from a local promoter, Quinn (William Conrad), to a bigger operator, Roberts (Lloyd Gough). Sometimes he wins. Sometimes he takes a dive. Either way, the money flows in. He becomes champ, KOing en route the ex-champ Ben Chapin (Canada Lee). He wasn't told that Chapin had sustained a blood clot near his brain in his previous fight, and shouldn't have been facing Charley at all. Later, feeling guilty and ashamed, he hires Chapin as a sparring partner at his training camp, with dire results. The film in fact is framed as a story that begins when Charley is awakened by a nightmare while asleep on the porch in his camp, drives off in his roadster to the city, and muffles his anguish with drink, getting little sleep on the eve of his championship fight against a brash challenger. That climactic fight scene, when he climbs into the ring for the big fight, having been ordered to throw it, brings the story back to the present.
The black and white film deals in blacks and whites, theme-wise. Charley's ultimate fight is to regain his soul and integrity after carelessly exchanging both for fame and money because he didn't think he had a choice. He gets plenty of help, almost too much, in this regard. Apart from Revere's moral beacon - she's a rock against which wave after wave of corruption splashes ineffectually - Charley has two other would-be moral guardians - Joseph Pevney as his boyhood pal, Shorty, who also sides with the angels, and Lilli Palmer as his love interest. The ever-charming Palmer, retaining a trace of the accent of her native Germany, surpasses the limited contours of the role of the woman who loves Charley no matter what, but is given little to do besides hanging out with Charley's mother, hoping he'll come to his senses.
Conrad brings something almost entertainingly greasy to the role of the small-time promoter, Quinn. Hazel Brooks leaves no intention unturned, and no siren song unsung, as Quinn's mistress, trying to make her own leap into the big time on Charley's broad shoulders. Director Rossen deals in haymakers, not subtleties. His heavy directorial hand is aided mightily by cinematographer James Wong Howe, who wore roller skates during the fight scenes and had an assistant push him around to impart fluidity. Robert Parrish's editing achieves fluidity in the fight montages. More than once, one feels Howe and Parrish do more than Rossen to project the gritty street poetry in Abraham Polonsky's screenplay.
But Garfield's magnetism and ability to project openness, decency and idealism, however tarnished, elevate
Body and Soul
to the level of its lofty ambitions. Garfield paved the way for fellow New Yorkers Robert De Niro and Al Pacino, and, before them, outsider icons James Dean and Marlon Brando. And he was brave, putting his convictions on the line by hiring Canada Lee, then in disfavor owing to the witch hunts of the House Un-American Committee. Garfield and his left-leaning colleagues, many from his Group Theater days, were raked over the coals by HUAC.
Body and Soul
cast and crew members Garfield, Revere, Lee, Gough, Art Smith, Shimon Ruskin, and Howe ran afoul of HUAC and were blacklisted or greylisted, as was producer Bob Roberts. Rossen named names, as the committee demanded, and was unscathed. Garfield declared that he never was a Communist, but refused to name names (if he had, his wife, Roberta Seidman, would have been one of them). Still, his brushes with HUAC hurt his career, to say nothing of his scarlet-fever-damaged heart.
Body and Soul
is one of a dozen films that attest to his impact. He deserves to be more widely remembered.
For more information about
Body and Soul
, visit
Olive Films
.
by Jay Carr