DVDs from TCM Shop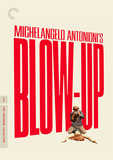 Blow-Up A photographer discovers a... MORE&nbsp> $22.46 Regularly $29.95 Buy Now blu-ray
USER REVIEWS
See Detailed Ratings
Acting of Lead Performers

Acting of Supporting Cast

Director

Music Score

Title Sequence

Screenplay

Cinematography

Historical Importance

Would You Recommend?

0 Member Ratings
Rate the acting of the Lead Performers

Rate the acting of the Supporting Cast

Rate the Director

Rating of the Music Score

Rating of the Title Sequence

Screenplay

Creatively uses the camera to tell the story

Importance in Cinema history

Would you recommend for fans of this genre
Submit Ratings
Cancel
Write a Review
Read Reviews
NO REVIEWS AVAILABLE
The title has not been reviewed. Be the first to write a review by clicking here to start.
A Trippy Murder

Before Haight Ashbury, Woodstock, before Ken Kesey parked the Merry Pranksters' bus for good, surreal tricksters as if from a dream open and close Blowup, a murder mystery set in Swinging London as Beatlemania morphed into Sgt. Pepper. David Hemmings is an in-demand mod snapper cruising London in his Rolls Royce, a young hottie at the top of fashion photography, blazing across the London scene like a comet. Women chase him, beg him, submit to him, merely to be photographed by him. Then, while happening upon a temptress Vanessa Redgrave in a park, Hemmings accidentally photographs a dead body. You can feel the fear immediately as Hemmings develops the negatives of his discovery in one of the finest suspense scenes of the era. Then you wish you lived in his flat.Michaelangelo Antonioni changed film with his first English language production Blowup, bravely tossing non sequitor acid trip curveballs at the audience regularly. Did you see that? What about THAT? What is even going on? Believed to be the first British released film to show full frontal nudity, a heaving bosom here and there is nothing compared to the strangeness throughout. Hemmings performance amidst the bending reality stays ramrod straight, the chaos of sex parties and long nights swirling into and out of the mystery. Redgrave is ice cold as the femme literally fatale. Frankly, there is not enough of her in Blowup. By the end, the audience gets a real, lasting taste of what the swinging 1960's must have felt like to those who lived through it. The famous Yardbirds scene bursts Herbie Hancock's perfectly deployed jazz soundtrack wide open with crunching guitars, zombie concertgoers, then a riot. There's an invisible tennis match. Or was it a garden party? Hemmings stands in a field silently questioning whether any of it even happened. The viewer can't wait to see the film again. Like the best trips of the era, you just want to repeat it, even if it means discovering a murder.

Blow-Up! 50th Anniversary!

It means so much to see that there are other people that feel the same way about Blow-Up as I do. I was beginning to become convinced that I was the only one that cared for what is my favorite film of all-time. I am only 18 and deeply regret that I have never had the opportunity to see Blow-Up in theaters.I spent $170 to own this film on dvd. Please release the film in owner of its anniversary.

To TCM, & company that owns this film

"Blow-Up" will be 50 this year, so PLEEEASE bring this film back to theaters! Show it in October or November. We weren't alive in the 60's, so we'd love to see it on the full screen! Please also do an interview show w/ actors & production people, & anyone in culture & entertainment who loves this film, & interview the Yardbirds' drummer too. Maybe you could do an event in London & L.A. Thank you.

To Mr. Hemming's family

Since this film will be 50 later this year, this is a good time for you to interact with his fans, through the TCM site. Please fill in more information about his life and all of his work & hobbies. Please also tell us which books & articles & websites we should read about him, & if he's mentioned in anyone else's books. Internet searches can be overwhelming because we don't know what to read first, or which articles he approved of or not. Please know that, to us, he's an important actor, even if he wasn't concerned about that. Thank you.

blow up

Like all of Antonioni's work, it's too artsy fartsy for its own good (as a general rule, any movie where mimes figure prominently should be viewed most skeptically) but this story of a rich, hip, alienated fashion photographer who is starting to actually care about something other than himself, babes, and La Dolce Vita, only to lapse back into indifference at film's end is a quietly powerful indictment of the stoned out 60s. If you can suspend your disbelief (i.e. don't question how a dead body can lie on the grass of a London public park all day and not be noticed) and not be bothered by the rampant sexism (the women are either stupid, immoral, or ineffectual) you might actually, as I did, start to care about the main character's glimmerings of conscience, a task made easier by David Hemmings' great performance. So, even though he's not anywhere close to my favorite director, I'm gonna give this Antonioni film an A minus. P.S. Those wonderful, windy, empty scenes in the park seem to have inspired the later, similar scenes in De Palma's classic of murder and sleaze, "Blow Out." Obviously, considering De Palma's title, he was influenced by this film.

A Sixties Classic

Though sometimes slow-moving, this an interesting film of England in the sixties. It also has a scene featuring the English rock/blues band, The Yardbirds!

Blow-Up

Antonioni's "Blow-Up" is a foreign classic where a photographer in London uncovers a murder with his photographs in a park. As he blows-up his negatives and puts his discoveries together he thinks a murder did happen...or did it. Here is a personal film that normally Europeans do better than Americans because they don't have the budgets we do. This is an art film of good quality as we move around with this photographer in his effort to find the truth on his photos. Vanessa Redgrave and David Hemmings did this before they did "Camelot" and their experience here helped them for bigger films.

Blow-Up

play blow-up more take away all other movies and just play blow-up. thank you

Play blow-up more often

Play Blow-Up more often it is the greatest movie of all-time and can not be found anywhere. I can not wait until December 14 comes a rollin'.

Blow-Up

this movie is the greatest of all time.

Blow Up is a masterpiece

I saw this movie on TCM over the summer and I have been unable to get it out of my mind since. The plot is so genius and the feel is so real. It accurately captures the day in the life for Thomas and so much more. The characters are so real in every way and the culture just creates a wonderful feeling. One of the best scenes is simply a concert scene with the Yardbirds. Jeff Beck becomes aggravated and smashes his guitar on stage and throws it into the crowd. The whole thing just screams authenticity.

Blow-up

Sorry, blue-collar guys, but their aren't any actual explosions in Antonioni's "Blow-up." Hemmings cynical photographer is approached by Redgrave to return photo's of her in the park with a man who later ends up dead. The film isn't about Redgrave's involvement with the deeased and missing man, but about alienation in swinging sixties London. The colours and photography are beautiful and Antonioni uses the canvas to satirize the time with a thriller-approach. Antonioni's first English-language film is a psychedelic, haunting, well-paced masterpiece that garnered him two Oscar nominations. I give it a 5/5.

Blowup is Brilliant!

Superb direction, a wonderful cast, and a marvelous mystery. Add a look at the Mod scene of mid-1960's London, the icing on top of Antonioni's "cake," and you have one of a legendary director's best films.

THE 1960's Movie

What we have here is probably the most emblematic of all films made during or about the 1960s. It asks that favorite question of the "psychedelic 60s": "What is reality?" and gives no answer... except uncertainty. It is no accident that the main character, Thomas, is a photographer because the key question behind everything here is can you believe all that your eyes tell you? Or is there something else lurking beneath the surface? Or is that simply a matter of what you choose to believe?The narrative here is elliptical; the plot is secondary to the philosophical questions posed by the story. Don't get bored or put off if things don't seem to make any sense at first -- that's part of the point.One would expect a movie about a photographer to be beautifully photographed and this movie is. Antonioni and cinemaphotographer Carlo DiPalma deserve kudos for that. The colors, however, have not remained so vivid over time as they were in the original print. That's too bad because their vividness contributed to the hallucinatory atmosphere of the film overall.Nevertheless, if you want to see a movie about what the 1960s and "Swinging London" were all about as cultural phenomena, this is IT.

An Atmospheric Masterpiece

I wasn't bored at all. This movie perfectly captures the look and feel of the mid-sixties, when sexual liberation and the Free Love movement hit. I was there, and there has never been a better time to be alive as a young adult. Thomas's romp with "The Blonde" and "The Brunette" is so perfectly and tastefully done! I never experienced the ennui and detachment though that is projected by the film. The inconclusive ending is perfect since everything in the movie leads to it.

A minor masterpiece, but butchered.

This movie would be so much more comprehensible today if the producers of the current version had not opted to leave out the first scene. There is nothing particularly objectionable here to censor: just Thomas in the flophouse pretending to be one of the poor people there and photographing them when they are not looking. It establishes some of his motivations for future actions. The truly incomprehensible thing here is the motivation of the current DVD (I assume) producers for butchering the beginning of a great film in this way. I certainly hope that TCM had nothing to do with it, since they are usually a class act!

AN ODD FILM,INDEED...........

Blow-Up,is quite an odd film indeed.David Hemmings believes that he's caught someone in the act of trying to kill someone,by means of photography.HOWEVER...........I would be less than honest if I were to say that this was one of the reasons why I continue to view this film. The Who had been around for only a few years,when they were approached to appear in this film.They had at that time,a reputation for destroying their gear on stage.It was an act that would keep them in debt for years,until Pete Townshend put Tommy together,& cleared the wreckage away.The band declined to appear in this film.It was The Yardbirds who turned up instead.YES.......The Yardbirds had varing degrees of success,YET,they were on their last legs when they appeared in this film.YES...............that's Jeff Beck & Jimmy Page that you'll see in this film. Not long after this film was produced,Jeff Beck was kicked out of the band for not turning up at a gig.So Jimmy Page carried on.This would continue till Sept.1968,when the original members of the band decided to call it a day.Page soon got a new group of musicians together,calling themselves The New Yardbirds.After a concert tour commitment was completed,the band changed it's name to Led Zeppelin.The rest is history. Consider the times this film was produced,and you've got the makings of a very interesting,as well as odd film ,INDEED.As far as the ending goes............I DON'T GET IT.I've seen this many times,& I STILL DON'T GET IT.

Major Snoozefest

Make sure you have a book or magazine handy if you choose to watch this movie. It moves at a ridiculously slooooooowwwww and boooooring pace. Plot line sounds good, but at the end, you'll feel cheated that you wasted your time. (Although I thought the pantomined tennis game in the final 5 minutes was the most entertaining part of the entire movie!)

Up all night still loving

I can't think of a film where women are so beautifully photograped as"Blow Up." Those 2 gorgeous lovelies visiting David Hemming's place.Oh the looks of longing on their 1965 - 1966 faces. There's a real innocence there with how badly they want to be models. What a weird tennis match. Antonioni is such a brilliant painter with his camera. The scene with the painter & his girlfriend (beautiful Sarah Miles) such amazing shots.Makes me really long to be older in the 60's & in London. I was in New London & only 1-2 years old. Great acting by David Hemmings & VanessaRedgrave. I truly can't say enough about how I love this grat work of art!!!

Blow Up

Every now and then a movie comes along that is so idiotic that it drives would-be intellectuals to try and make something of it. Such a film is Blow Up. They love to say, "Oh you didn't get it. Well that's because you're not as smart as me." It is a slow moving film that has no ending. Most likely the writers ran out of thoughts or the director ran out of film or money. After watching the movie any one with an ounce of sense will say, "What the heck is that and why did I waist my time watching it."

Amazing Antonioni milestone

Amazing is the only word that can describe this brilliantly understated '60s mystery film set in London and directed by Michelangelo Antonioni, who died a few years ago. Its rich with symbolism, and has a bunch of meanings - but its a lot of fun and great to watch. The only thing TCM could do is play it more often. So it has some nudity, who cares? If it was shown more regularly it might get more of an audience.

Truly A Brilliant Dream / Nightmare ?

The scene in the park is one of the most beautiful scenes ever captured on film.I love this movie. David Hemmings is magnificent.

Landmark 60s film

Very influential - one of the first postmodern films in English - Antonioni's - one of the masters of postmodern film - first film in English. Had a marked influence on the emergent counterculture.

Excellent

i saw this for the 1st time a month ago and was so impressed with this movie . such a classic mixed with comedy and suspense good rock . Never an r scene , just a good story line and an excellent actor extremely attractive David hemming s .

Beck-not Page

It is J. Beck in the film playing lead guitar. J. Page wasn't yet w/ the band except for some studio work. Page joined on tour in '66. This flick was filmed in '65. And if you can name the club the band is playing in I'll give ya a gold Star.

Guitar player

I believe the guitar player who smashed his guitar was Jeff Beck.

It's The Yardbirds

The band in the club is The Yardbirds- so yep, that's Jimmy Page.

band - famous members?

Clearly Jimmy Page was in the band! The guitarist who smashed his ax looked like Keith Richards, maybe? Blond singer did not look or sound like Robert Plant. I'm curious to know if anyone spots any moresoon or already famous musicians. Jane Birkin - I think she was the London model that the famous "Birkin Bag" was named after. Just putting together a few cultural tidbits.

I LOVE THIS MOVIE

This is easily one of the top ten greatest movies of all time. It will leave you speechless. Maybe. Anyway it's very entertaining.
*We protect your personal infortmation and will not provide it to anyone without your consent. For a complete explanation, please refer to TCM's Privacy Policy. By submitting your contribution, you agree to TCM's Terms of Use.