DVDs from TCM Shop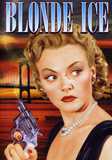 Blonde Ice MORE&nbsp> $5.95 Regularly $6.98 Buy Now
Home Video Reviews
One great thing about the still flourishing DVD market is the continual restoration and re-discovery of obscure and unknown films that turn out to be true finds. A perfect example of this is the recent VCI release (in a "Special Edition" no less) of
Blonde Ice
, a rarely seen film noir distributed by the "Poverty Row" studio, Film Classics, in 1948. The tale of a homicidal man-eater who goes after her male victims with the self-minded determination of a cyborg (think of her as a female
Terminator
),
Blonde Ice
offers up a femme fatale who can vie with the likes of Jane Greer in
Out of the Past
(1947) or Barbara Stanwyck in
Double Indemnity
(1944) when it comes to pure, calculating evil.
Directed at a brisk pace by Jack Bernhard and photographed by George Robinson (a former cameraman for Universal Studios where he lensed such atmospheric horror films as
Dracula's Daughter
, 1936),
Blonde Ice
charts the rapid rise and fall of a sexy newspaper columnist, Claire Cummings (Leslie Brooks), who'll do ANYTHING to get what she wants. The film opens at Claire's wedding and we get our first glimpse of her as she descends the stairs in her bridal gown. Pausing to shoot a mocking glance in the direction of her former lovers (there are several of them), she then heads down the aisle to be married. Barely five minutes after the ceremony, she's out on the veranda, smooching with her former flame Les (Robert Paige) who realizes he's being played for a fool: "You're getting a sadistic kick out of having me at your wedding...." Indeed, Claire revels in her blatant infidelity telling him, "I'll think about you on my honeymoon." But she runs into a wall when her new hubby discovers an unmailed love letter to Les. He files for divorce and Claire takes revenge by arranging and staging his murder as a suicide. This is just the first in a series of cold-blooded acts that Claire performs to protect her own interests which are solely focused on money, prestige and power.
One of the most compelling reasons to watch
Blonde Ice
is Leslie Brooks who plays Claire as the most transparent sociopath in the world; her every wicked thought or evil deed telegraphed by the blatant expressions of lust, greed or hatred that flicker across her face. There is nothing "natural" about Brooks' performance; it's broad and mannered, yet, in its own stylized way, it's perfect for the character she's playing and you won't be able to take your eyes off her. Just watch the way Brooks delivers an innocuous line about her next victim. Sizing up a promising new political candidate across the room, she remarks, "He looks like the kind of man who could get things done, (slight pause for effect) quickly." Her delivery falls just short of looking at the audience and winking. Part of the fun of
Blonde Ice
is simply watching Brooks' black widow broadcast her every move and how - for the most part - she gets away with her outrageous behavior.
VCI has loaded their DVD release of
Blonde Ice
with a bunch of extra features, a few of them completely unrelated to the featured film such as the soundie, "Satan Wears a Satin Dress," and a film noir TV episode, "Into the Night." Film historian Jay Fenton provides a running commentary and also participates in a short interview on film restoration and one on the origins of
Blonde Ice
(it was supposedly based on a script written by Edgar Ulmer entitled "Single Indemnity" but was later changed to the current title with Ulmer receiving no screen credit). A compilation of film noir trailers (all available from VCI) is also featured along with a photo gallery and very extensive liner notes. As for the visual presentation,
Blonde Ice
looks slightly soft with occasional frame weave and a few authoring errors (a film frame will freeze up momentarily and then resume play; this happened three or four times on the review copy). Probably the most glaring errors are on the rear snapcase cover; the copy is full of incorrect grammar and typos. See if you can find any in this line: "...a beautiful society columnist who's desire for money and position turn her into a seral killer..." Hire a proofreader! Overall, the movie looks better than you'd expect for a fifty-five year old B-picture from a Poverty Row studio. Here's hoping that VCI will bring us other undiscovered gems in their "Film Noir" series.
For more information about
Blonde Ice
, visit
VCI Entertainment
.
by Jeff Stafford