DVDs from TCM Shop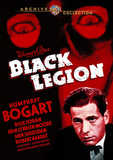 Black Legion A disgruntled factory worker... MORE&nbsp> $13.46 Regularly $17.99 Buy Now
Home Video Reviews
Tough and hard-hitting,
Black Legion
(1937) features one of Humphrey Bogart's more interesting and challenging roles of the 1930s. Just a year earlier, Bogart hit the big time with his riveting turn as Duke Mantee in
The Petrified Forest
(1936); here he is asked to deliver a less showy but more layered performance as a depressed factory worker lured to join a Ku Klux Klan-type organization called "The Black Legion."
Bogart plays Frank Taylor, a blue-collar worker in a machine shop (which was and still is a real shop on the Warner Brothers lot). Taylor's not very educated, but he is a decent and solid worker who does his job well and expects a promotion to foreman. Instead, the job goes to worker named Joe Dombrowski (Henry Brandon), whom the film clearly implies is a Polish Jew. Stunned and depressed, Taylor retreats into himself at home, ignoring his wife and son. Another machinist named Cliff (Joe Sawyer), who had made some racist remarks about Dombrowski, senses Taylor's state of mind and invites him to join a secret group called The Black Legion. At a Legion meeting, a Hitler-esque speaker riles up Taylor and others even more, with talk of "rotten, ungrateful foreigners" and the need to remain "free, white, 100% Americans."
Taylor joins, and is forced to take an oath of allegiance at gunpoint, consigning his soul to the devil for all eternity if he should ever betray the organization. Afterwards, he's made to shell out some bucks for a uniform and revolver. The movie is smart enough to include this - to show not only how repugnant beliefs can prey on the weak-minded and easily manipulated, but also how it's all a scam, a cynical way to make money, which makes it perhaps even worse.
In any case, Taylor is soon wearing a KKK-style hooded uniform and carrying out raids against immigrants and other undesirables, stringing them up to be whipped or forcing them out of town. These scenes are scary and powerful, and the movie as a whole is utterly compelling (which explains why Robert Lord drew an Oscar nomination for Best Original Story.) Eventually, Taylor has second thoughts about his decision but finds it may be too late to do anything about it. His marriage deteriorates, and ultimately the picture becomes about whether Taylor has the spine to make things as right as possible under the circumstances. A final courtroom sequence is superbly written and directed, and Bogart really steps up well here, asked to say one thing and show another.
Even more impressive is the way director Archie Mayo and his studio editor weave in a purely visual "second" story to this sequence: that of Taylor and his wife. Using just camera movement, close-ups and well-timed cuts while Taylor, the lawyer and the judge exchange dialogue about the case, we easily see that what's
really
going on is the devastation of Taylor's wife, Taylor's self-hatred at having to lie on the stand, his desire to tell the truth and do right by her, and so on; they essentially communicate with each other (and us) by cinematic means, right down to the powerful fade-out. It's the kind of simple storytelling one sees too rarely in movies anymore, and which used to be a normal part of moviemaking even in ordinary studio products like this one.
Erin O'Brien-Moore also deserves credit as Bogart's wife in making that sequence work. Best known (if at all) for this film and
The Life of Emile Zola
(1937), she is quite appealing and attractive, and a fine actress. Unfortunately her face would be disfigured in a 1939 nightclub fire and her rise to stardom curtailed; she subsequently moved to radio, eventually returning to the screen on television and a few minor movie roles in the 1950s. Also in the cast is a young Ann Sheridan, before she became really famous. She is very charming here in a way that changed noticeably when she was glamorized into "The Oomph Girl."
One of the astonishing things about
Black Legion
is how bizarrely relevant its depiction of xenophobia is to the America of 2008. Some of today's radio and TV personalities aren't too far off from the kind of demagogic talk that Bogart hears on the radio in this movie: "Hordes of grasping, pushing foreigners are stealing jobs from American workmen and bread from American homes," exclaims the radio host. "It is to combat this peril, to preserve and protect standards of living which have made American workmen the envy of the world, that we the challengers have raised our rallying cry 'America For Americans!'... The real, 100% American, must stop and think. He who is not with us is against us." The radio tirade taps into Taylor's (Bogart's) sense of frustration and anger: "Listen to this guy - he's talking sense," he tells his son while listening. Interestingly,
Black Legion
is the best known of a mini-spate of similar movies which came out at the time. The others were
Legion of Terror
(1936) and
Nation Aflame
(1937).
Warner Home Video's DVD boasts fine picture and sound and comes with appealing extras. The commentary by film historians Anthony Slide and Patricia King Hanson shows they've done their homework and know their stuff. A somewhat bizarre 2-reeler called
Under Southern Stars
(1937) is a reverential look at Stonewall Jackson's last Civil War battle and his death. Filmed in 3-strip Technicolor, it has pretty good production values and costumes and mixes in some musical numbers. There's also a period newsreel, a great Cab Calloway Vitaphone short, a Porky Pig cartoon, and trailers for
Black Legion
and
The Perfect Specimen
(1937).
Black Legion
is available by itself or as part of The Warner Gangsters Collection Vol. 3, which also includes
Smart Money
(1931),
Picture Snatcher
(1933),
Lady Killer
(1933),
The Mayor of Hell
(1933) and
Black Orchid
(1940). There is no question that it is a better value and totally worth it to get the entire collection. These are very strong movies and they all come with many entertaining extras. Warner Home Video continues its excellent job of packaging and releasing its classic movie collection. Only a few weeks ago the label released its Forbidden Hollywood Collection Vol. 2, a set of pre-Code films and another gem for movie lovers. Most of the titles in this Gangster collection are also pre-Code. Together, the sets should provide several weeks' worth of first-class home entertainment.
For more information about
Black Legion
, visit
Warner Video
. To order
Black Legion
, go to
TCM Shopping
.
by Jeremy Arnold