DVDs from TCM Shop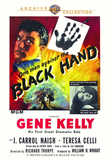 Black Hand In turn-of-the-century New... MORE&nbsp> $14.95 Regularly $17.99 Buy Now
NOTES
A working title for this film was The Knife. The film opens with the following written foreword: "At the turn of the century, there were more Italians living in New York than in Rome. Many had hurried here seeking fortune and freedom. Some of them found only failure and fear. From all these Italian immigrants came no truer American names than Di Maggio, Pecora, Giannini, La Guardia and Basilone. This story deals with the hard, angry days when these new citizens began to place their stake in the American dream-when they purged the Old World terror of the Black Hand from their ranks and gave bright dignity to their people and to this nation."
As a September 1948 Hollywood Reporter news item notes, although the picture is fictional, it is based on factual material about the Black Hand organized crime syndicate. The Black Hand crime syndicate originated in Italy and operated in the United States in the late 19th century and the early part of the 20th century. A biography of Gene Kelly notes that Robert Taylor was originally slated for the starring role, and that M-G-M had changed the picture's ranking from a "B" picture to a "programmer" when its potential for success was fully realized. An August 1949 Hollywood Reporter news item notes that John Waters directed the second unit on location in Naples, Italy.
Other Hollywood Reporter news items add that actor Carlo Tricoli was a former San Francisco District Attorney and that Marc Snow was a UCLA drama professor. Black Hand marked the feature film debut of actor Anthony George (1921-2005) was at the time acted under the name George Ott.