DVDs from TCM Shop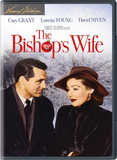 The Bishop's Wife An angel helps set an... MORE&nbsp> $11.21 Regularly $14.98 Buy Now blu-ray
NOTES
Actress Kitty O'Neil's name was misspelled as "O'Neill" in the onscreen credits. Hollywood Reporter news items indicate that Dana Andrews was considered for a major role in The Bishop's Wife. Teresa Wright was originally cast as "Julia Brougham" but pregnancy forced her to withdraw just before filming began. She was replaced by Loretta Young, who was borrowed from RKO by producer Samuel Goldwyn. According to Hollywood Reporter news items, the original production, which commenced in February 1947 under the direction of William A. Seiter, starred Cary Grant as "Bishop Henry Brougham" and David Niven as "Dudley." News items note that in March 1947, Goldwyn halted production due to a problematic script and requested Sherwood begin re-writes. Goldwyn was also apparently displeased with Seiter's direction and replaced him with Henry Koster. In a modern interview, Koster stated that he assisted Sherwood in re-writes and makes no mention of contributions by Leonardo Bercovici, who is credited onscreen with Sherwood. Koster also noted that he and Goldwyn agreed to switch the actors in the starring roles which, Koster asserted, made Grant unhappy throughout the duration of the shoot. Some modern sources allege that it was Grant who insisted on the casting change, while other sources claim that Grant had been cast as "Dudley" from the beginning.
During the month's delay, several supporting actors withdrew from the production due to prior commitments. These included five year-old Marcia Anne Northrop as "Debby," Dame May Whitty and Elsa Lanchester, who was to be replaced by Edit Angold as "Matilda." The extended delay, however, allowed Lanchester to complete her other commitment and resume the role after Angold developed her own scheduling conflict. Others cast in the original production were Selma Ross, Jerry de Castro, Mary Field and Edwin Maxwell, none of whom appeared in the released film. According to Hollywood Reporter, second unit filming was done in Minneapolis. Hollywood Reporter news items note that Eugene Turner, Fran Shore and James Clemons were cast in the film, but their appearance in the final film has not been verified. Hollywood Reporter news items indicate that Goldwyn suffered an estimated loss of $700,000 to $800,000 because of the delay and new set construction.
Modern sources indicate that over Grant's protests, a skating double wearing a mask with Grant's features was used in the long shots of the complex skating routine. A skating double was also used for Young on all long shots. Contemporary sources note that Gail Laughton coached Grant and recorded "Dudley's" harp solo on the soundtrack. Several modern sources note that toward the end of production, Goldwyn brought in writers Billy Wilder and Charles Brackett, who made critical uncredited contributions to the script. The Bishop's Wife won an Academy Award for Best Sound Recording and was nominated for Best Picture, Best Director, Best Film Editing, and Best Music, Scoring of a Dramatic or Comedic Picture. David Niven recreated the role of "Henry" on the Lux Radio Theatre broadcast on December 19, 1949. Tyrone Power performed the role of "Dudley" and Jane Greer performed the role of "Julia." Cary Grant recreated the role of "Dudley" on the Lux Radio Theatre broadcast on May 11, 1953 and again on March 1, 1955, with Phyllis Thaxter co-starring both times as "Julia." In 1996 The Bishop's Wife was remade as The Preacher's Wife, directed by Penny Marshall and starring Denzel Washington and Whitney Houston.