DVDs from TCM Shop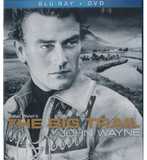 The Big Trail A young mountaineer leads hundreds of settlers on a... MORE&nbsp> $9.95 Regularly $14.99 Buy Now
Articles
SEE ALL ARTICLES
The Big Trail (1930)
The defining word in the title of Raoul Walsh's The Big Trail is big. The 1930 drama built around a wagon train traveling the Oregon Trail from the banks of the Mississippi to the lush forests of the Pacific Northwest was the first outdoor epic of the young sound era of cinema. It's a simple story with a vast cast of characters embarking on the promise of a new start in the untamed wilderness of the American west, led by a strapping, plainspoken young scout in buckskin named Breck Coleman. And it introduced American audiences to the actor who would become one of the biggest stars to ever dominate the big screen: John Wayne, who anchors the film in his first significant screen role as Breck.

The silent cinema had presented its share of grand western epics and pioneer odysseys, among them James Cruze's The Covered Wagon (1923) and John Ford's The Iron Horse (1924) but nothing approaching that scale had yet been attempted since the transition to the talkies. Walsh had already embarked on Hollywood's first outdoor western with In Old Arizona (1928), but he had to hand the directorial reins of that film over to another when he lost his left eye in a freak automobile accident; a jackrabbit jumped through the windshield of his car and he lost his left eye to the shattered glass. He was determined to make The Big Trail his own and he had big ideas for the film.

Such a production was a challenge under any circumstances. Sound production was barely out of its infancy. Outdoor sound recording presented challenges more easily controlled in studio productions. Post-dubbing of dialogue was not yet feasible and Walsh was determined to stage accurate reenactments of the wagon train challenges and capture authentic sounds of the experience along with the images. Cameras were big and bulky and had to be enclosed due to the noise of the motors, which made them hard to move on location, and Walsh shot more than 15 distinctive and far-flung locations, including the Grand Canyon in Arizona; Zion National Park in Utah; Jackson Hole and Yellowstone National Park, Wyoming; Sequoia National Park, California; and locations around Oregon. In front of these memorable backdrops, Walsh wrangled a production that included almost 300 principal actors, 20,000 extras and 725 Indian extras from five tribes, along with 1,800 head of cattle, 1,400 horses, and 185 wagons. They travelled over 4,300 miles through seven states by the end of the production, which lasted four months, and cost over $2 million, an enormous sum for the era.

Additionally, it was shot in two separate formats: the standard, squarish Academy Ratio of all commercial films of the era and a new widescreen process called Grandeur, a forerunner to CinemaScope which was photographed on 70mm film stock and projected at a ratio of about 2:1. Each version had to be staged and shot individually and Walsh had separate cinematographers for the different versions: Lucien Andriot handling the standard 35mm version and the great Arthur Edeson (who had just shot In Old Arizona for Walsh as well as Lewis Milestone's All Quiet on the Western Front, 1930) composing the widescreen images for the Grandeur version. As a result, there are small but noticeable differences between the two versions. And, in a practice common to big-budget pictures of the early sound era, before dialogue overdubbing became feasible, four additional versions of the film were shot (on standard 35mm film) for export to different territories. Different casts were brought in to restage the action for Spanish, French, Italian, and German language versions of the film.

That would be enough to justify The Big Trail's place in Hollywood history, but it has one more, perhaps even more important claim to fame: it marked the debut of John Wayne. He wasn't Walsh's original choice--Gary Cooper had originally been cast but dropped out as pre-production pushed the start date back and Tom Mix was considered but unavailable. But as Walsh described it to Richard Schickel in the documentary Raoul Walsh: The Men Who Made the Movies, he spotted the strapping young man, a former college football player working for the Fox property department. His name was Marion Morrison and he had worked on some of John Ford's films on both sides of the camera but had never been more than an extra on the screen. Walsh convinced the studio to take a chance on the young, untried actor on the basis of his screen tests and prepared the actor for his debut with lessons in riding, roping, shooting, and acting. When the studio balked at the name Marion Morrison, Walsh suggested "Wayne" as a strong, masculine last name. And as he recounts in his autobiography, Walsh gave the fledgling actor sound advice on tackling his first role: "(P)lay him with a cool hand like I think you'd do on a football field. Speak softly but with authority, and look whoever you're talking to right in the eye." Tall, broad shouldered, good looking, and confident, he strode on screen with strength and grace that showed the Wayne persona in primordial form.

Walsh surrounded Wayne with veteran actors of stage and screen. Marguerite Chapman, cast as southern beauty Ruth Cameron, Wayne's headstrong love interest, was a stage actress brought from New York during Hollywood's transition to sound cinema. In the role of the wagon boss and gruff villain Red Flack is a burly, bearded Tyrone Power, Sr., veteran of stage and screen (he all but growls his lines to the camera), and Broadway and screen veteran Ian Keith (fresh off playing John Wilkes Booth for D.W. Griffith in Abraham Lincoln, 1930) is the scheming gambler and handsome com artist Bill Thorpe. For comic relief, Broadway comic El Brendel delivered ethnic humor and mother-in-law jokes with his trademark Swedish immigrant accent.

The Big Trail was not a financial success. Only two theaters in America were equipped to show the film in the widescreen Grandeur format at the time of its release (after the expense of equipping movie theaters with new sound equipment, another upgrade was simply too much for most theater owners to take on in the depths of the Depression) and the film failed to recoup its investment in its standard release. It was, however, screened at the White House, where President Hoover showed it to Chief Justice Mitchell, members of the cabinet, and their wives. The film's financial failure relegated John Wayne to B-movies, where he spent the next decade creating what would become his defining screen persona, learning how to stand and walk and deliver dialogue in terse but relaxed cadences, developing the essence of John Wayne in front of the camera. He was well prepared for his next opportunity when John Ford cast him in Stagecoach in 1939. Ford was credited for making Wayne a star, but it was Raoul Walsh who turned Marion Morrison into John Wayne.

By Sean Axmaker

Sources:
Raoul Walsh: The True Adventures of Hollywood's Legendary Director, Marilyn Ann Moss. The University Press of Kentucky, 2011.
John Wayne: American, Randy Roberts and James S. Olson. The Free Press, 1995.
Raoul Walsh: The Men Who Made the Movies, documentary directed by Richard Schickel. PBS, 1973.
Each Man in His Time, Raoul Walsh. Farrar, Straus and Giroux, 1974.

back to top
---