DVDs from TCM Shop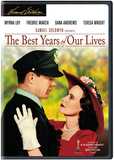 The Best Years of Our Lives Three returning servicemen... MORE&nbsp> $11.21 Regularly $14.98 Buy Now blu-ray
USER REVIEWS
See Detailed Ratings
Acting of Lead Performers

Acting of Supporting Cast

Director

Music Score

Title Sequence

Screenplay

Cinematography

Historical Importance

Would You Recommend?

0 Member Ratings
Rate the acting of the Lead Performers

Rate the acting of the Supporting Cast

Rate the Director

Rating of the Music Score

Rating of the Title Sequence

Screenplay

Creatively uses the camera to tell the story

Importance in Cinema history

Would you recommend for fans of this genre
Submit Ratings
Cancel
Write a Review
Read Reviews
NO REVIEWS AVAILABLE
The title has not been reviewed. Be the first to write a review by clicking here to start.
Family

One of the many reasons this fine film is one of the best of all time (besides its realism, acting, action, dialogue, pacing, cinematography, comic relief, touching moments, "just right" little additions to several scenes not seen in a typical movie, etc.) is the portrayal of adult parent-adult child relationships in such a loving, touching way, which is something missing from the vast majority of Hollow-wood productions the last 100 years, especially the last half century, where downbeat dysfunction has been the default position.

THE HOMECOMING SCENES

THE HOMECOMING OF HOMER AND AL AT BEGINNING OF MOVIE ALWAYS BRING ME TO TEARS, NO MATTER HOW MANY TIMES I HAVE SEEN THIS MOVIE. A TRULY GREAT FILM. UNLESS I CAN SHED A FEW TEARS DURING A MOVIE, IT CANNOT BE CALLED A GREAT MOVIE, AS FAR AS I AM CONCERNED. THIS ONE FILLS THE BILL AS ONE OF THE BEST MOVIES OF ALL TIME.

Myrna Loy's finest hour & Hoagie at the keyboard

Best Years is loaded with great moments. One of my favorites when Myrna Loy points out how she and FM have had some some pretty bad stretches in their marriage but have overcome them. This is a great learning moment for young TW and all of us. Another favorite scene of mine is when Homer goes to Butch's place after the painful moment when he dropped the lemonade at home. Sitting at the keyboard Hoagie calms down Homer; this is perfect music therapy.

Love your Review Mr Lee

Mr Lee, I found your review of this great movie almost as touching as I find the film to be.

The Greatest movie ever made

William Wyler said it best in a interview on the documentary series American Masters. Just weeks before his death. "Once in while you get lucky and you capture something that's heartfelt, real. A moment felt by millions in the year 1946". There's scenes in this film that make me cry like a baby, and not just me. Billy Wilder said that he was dissolved in tears when Homer first comes home. As soon as that little girl kicks open the screen door and is yelling " Momma Momma Dad Its Homer Its Homer"! I lose it. Even the great writer Lillian Hellman told Willy that it was a piece of crap as she's completely dissolved in tears. Both of them said that they never cry. Wilder said he laughs at Hamlet. Please take notice of the way Wyler and the GREAT Greg To land set up scenes, there brilliant. Watch the background, especially the bar scene where Dana Andrews is calling Peggy to call it off and Homer is on the piano. Fantastic! Remember these were the lucky people, many just got a telegram saying there sorry to inform you that your loved one died. I could go on an on about the things that make this movie the Best Ever but I'm going to sit back and watch it. I'm proud that my favorite director made something so heartfelt as this. Many in the movie business agree. Thank You TCM, without you we couldnt all get together like family and enjoy something great. Love Ya TCM!!P.S. Please make me a late night host. I would love to be live at 2am letting people know they are not alone but together with the rest of our TCM family enjoying a film and wanting to hear the message it was telling us.

Great

I too love this movie, and never tire of it and it's b&w-ness. This is cinematic art, with wonderful performances all around and mid-forties look and sensibilities that I vaguely remember growing up. Good to see Fred and Peggy falling in love against the odds, and charming to know at the beginning when Fred first meets Al on the plane going home that guess what Fred will be Al's son-in-law one day. The touching performance and presence of the first-time actor and real-life war-wounded man who portrays Homer deserved the praise and prize he received. And just wonderful realistic performances by everyone in that movie. The wedding scene at the end is lovely, charming, and moving, topping it off and ending the movie with the equally lovely and inevitable reunion of Fred and Peggy in love and finally able to be in each other's arms and would soon be married (now that Fred is free of the tarty and insincere Marie). One wants to see that happen and see Peggy's father approve finally. Last but not least is the scene when Fred's father portrayed by Roman Bohnan reads the citations commending his son for heroism in action during the war, and is overcome with pride and emotion, and it gets me every time.

Why he did that?

I like this film and the actors are ok. I like freddy and Peggy and how they fell in love. Even though it was adultery. But can someone explain to me why did al drop his shoes out the window? He could have hurt someone. Who wrote that in the script?

mankewiecz/ fan interaction

Nice conversation Ben M. had with the TCM Backlot fan. Articulate and amiable on both sides. I encourage TCM to do more of this stuff. Nice to get non film nerd or actors perspectives for a change, especially when they're as well spoken as this gal whose name, alas, I've forgotten. I have to disagree with Ben on his criticism of Weyler, though, which is really a criticism of Robert E. Sherwood's fine screenplay. Not every loose end has to be tied up at film's end and the focus is, as it should be, on Andrews and Wright. Any cut away to March smiling, as Mankewiecz wanted, would in my opinion dilute the emotional intensity of this ending which is both hopeful and uncertain, as is this great film.

One of the best movies ever made.

I love this movie. I've seen it a half dozen times. Its stands up to time. My favorite movie wedding of all time.

The greatest movie of all time

I never get tired of watching this movie. It tells the story of the "Greatest Generation" in a way that transcends time and eras. Should be required viewing in every high school US History class.

The Best Movie Ever Made

This is my number one movie of all time. I first saw it in the 70s with my father when I was about 12. I have loved it ever since and cry my eyes out every time is on! I suppose it is because my father was a Royal Canadian Navy veteran but I hope that young viewers will discover this movie and know what their grandparents and great grandparents went through. They were very young and very brave and we owe them a huge debt of gratitude. Dana Andrews' performance cannot be overstated and I urge viewers to read Carl Rollyson's biography of this overlooked actor. TCM, please put him on your Summer Under the Stars line up. I am so glad that you play it so often. A timeless classic, indeed!

magnificent

The fact that this movie was made in 1946, just a year after the War had ended, is remarkable. The fact that it endures is wonderful. The talent is excellent: Frederic March, Myrna Loy, Dana Andrews, Theresa Wright and Harold Russell. This movie puts to rest the idea that, as a nation, we warmly welcomed GIs home from the War and they easily slipped back into civilian life. It explains the tenacity and courage of the Greatest Generation. For example: Dana Andrews' character dealing with a clueless and self-centered wife who sees her husband's uniform as a costume and the War as "in the past;" Harold Russell, in his first film performance, struggling to deal with the looks and cruelty of people who see only hooks where his hands once were; Frederic March's character struggling to return to life as a banker and facing criticism because he permitted a veteran to have a GI loan--all of these scenes remind us of how difficult a transition to civilian life it was for millions of US soldiers. These are only three scenes in movie replete with emotional powerful moments. The final twenty minutes of this movie contain some of the best scenes ever put on film. This is a beautiful and timeless movie.

The Test of Time

I taught two sections of Film as History: The 1950s, and began both semesters with The Best Years of Our Lives. At the end of the semester I asked students to write down their three favorite films from the course. Both times TBYOOL finished in first place, far ahead of the other films. I found this remarkable because, first of all, students these days do not like black & white films. Also, we're seventy years down the road from the film's premiere--ancient history to young people. Even so, students related to this film in a visceral way, and to the character of Homer in particular. My organizing principle for the film was the idea that while U.S. servicemen longed to put the war behind them and go home, what they didn't understand is that home had changed: it wasn't the same place they had left when they entered the service. And The Best Years of Our Lives conveys this idea brilliantly, and in every regard.The fact that Hollywood had the guts to make such a powerful and realistic film so soon after the war--without any flag-waving--still strikes me as astonishing. It is one of the great films in U.S. history.

Memory Lane

Looking foreward to watching this movie again this coming Monday the 28th. It brings back so many memories of my childhood in the 40's when my dad returned home from WW11. I have lost count on the number of times I have seen this movie and will always set aside time to watch it when TCM schedules it in the future.

After Deployment

A brilliant movie. Not much changes as the photo or perfumed letter you carry overseas gets back to reality. Your hometown went on as usual as if time went on. Suddenly you find out how alone you are as everyone politely asks about things Hollywood shows them.Please ask Ben to re- introduce this movie along with "They Were Expendable" with something like. "A letter from a TCM member. This Marine used words we can not. But essentially every one of you blank bastards has a 2022 blank Oscar script in your blank ass." "Colorful. But to our movie tonight."

Powerful and moving

Judy and Nina, you wouldn't be human if you didn't cry during this film. I've seen it around 40 times and cry every time, several times, during it. I can't imagine the reaction from all Americans,especially veterans,when they first saw it in 1946, one year after the war. The memories were still so fresh in their minds. Everyone should see this film to try and understand what all vets go through, past, present, and future. This film will be relevant for generations to come. Maybe the best American film ever made.

Best Years

I cry every time I see this movie. It's outstanding.

Finest Film Ever Made

I rarely ever have a film consistently bring me to tears every time it is shown, but this film, along with the 1939 classic, "Goodbye Mr. Chips" is the only other film that does. It has to be one of the finest films ever made about military adjustment of soldiers returning home from serving their country. I used to watch this film along with my mother, and it is truly moving, and poignant film that still has such a powerful impact so many years later. All of the performances are treasures and I especially love Mr. Andrews', Ms. Mayo's, and Mr. Russell's performances. It's a rare diamond and I look forward to watching whenever it is shown on TCM. It's a shame movies like this are not made anymore, but that is what makes this one special. If they did, it wouldn't stand out -- a true gem and one that is on my top ten films. Director, Mr. William Wyler. captures the essence of emotions, frustrations, and hopes of its characters in a beautiful way. Simply lovely.

The Best Films of our Lives

I have seen this movie several times and always watch it when I can . Each time I see it I am more impressed than the time before. My hat is off to William Wyler the Director as I think he works with each actor to bring a beautiful symmetry to the work as a whole . Each Actor gives an outstanding performance , although I believe I am most impressed with Teresa Wright as her emotions show the widest spectrum of range . To a baby boomer who wonders what those years during World War 2 were like , this movie really captures the essence. Top Flight !

silence is golden

I agree with the many who find the most compelling scene is the one with March returning home to a chattering trio offamily members. The moment he enters, the kids become silent... in the dining room, Loy is setting the table in silence. Suddenly she looks up, again without dialog. There's a slight change in her eyes... He's home! They reunite... that scene is quite possibly the most moving ever filmed. I prepare for it every time I watch it, but it always takes my breath away.

TBYOOL Fan

This is my all time favorite movie. Through it I have studied & learned about the underappreciated skills of William Wyler, Gregory Tolland and Dana Andrews, who has become my favorite actor. It is hard for me to add to all the great comments on here about it, but will add a quote I really like from the blog, The Basement Tan; "Of all the wonderful films I could have chosen, and about which others in this Blogathon will write more eloquent words than myself, I chose The Best Years of Our Lives because there is so much to latch on to. If you've ever had a complicated marriage, or if you've ever felt out of place in your career, or if trauma has closed you off from the world, or even if you've ever just wanted to more fully understand a relative's wartime experience, I think this movie has something for you in it. And that's not to say that it casts its net broadly in hopes of finding an audience. What I mean is that its story is universal in the way that only a personal, well-told story can be."

Nuanced performances

Agree that Dana Andrews was overlooked in a performance that was sexy, sardonic and subtle in its affect. The scene of the recurring nightmare and its aftermath, with Teresa Wright and in the late sequence where he re-lives his memories in the airplane soon relegated to scrap metal, was one all too frequently experienced by war vets everywhere. Their silence and suppression of such memories to their loved ones is a common occurrence and one we must strive to recognize and understand, as best a civilian can. The scene where Homer gets ready for bed and Wilma gently buttons his pajamas is a testimony to truth telling in the aftermath of a horrific war experience. Love triumphs as it must on cinema, but the war wounds are never fully healed.

Tale of Post-War America

This is one of the best films about the reality of how men and Americans adjust to post-war life. Men return home to uncertain futures. Wives and girlfriends have to adjust to lives with men that have been changed by the realities of war.Growing up in the 1950s, I knew many men who lived the reality. My uncles and many fathers of my friends had similar experiences.It does not romanticize the experiences or the realities of returning to a halted career, a tightened job market, or with life-altering disabilities.It is a good reminder when we deal with each new group of veterans returning from more recent conflicts and honoring those men that made sacrifices for us.

THE BEST YEARS OF OUR LIVES

I WOULD READ THE REVIEWS OF THIS MOVIE AND WONDER WHAT ALL THE FUSS WAS ABOUT. NOW I GET IT,IT REALLY IS A GREAT MOVIE, AND I WATCH EVERYTIME IT ON TCM. YES SIR IT DOES GET FOUR STARS FOR SHOWING THE TRUTH OF OUR MEN COMING HOME. THE BATTLE THEY ALL HAD TO DEAL WITH IN COMING BACK HOME TO THERE FAMILY. THANKS TCM FOR HAVING IT ON THIS WEEK.

Inspirational

This is an outstanding film and maybe one of the best movies ever made. The acting is perfection and the glimpses into post war American life are haunting. Harold Russell in the role of Homer would move anyone to tears. He is simply incredible in the part of a physically damaged returning soldier--a role he played in real life. While the film is full of hope and joy, it's also difficult to realize that, in 1946, there were so many Americans who just did not care about the sacrifice and courage of our fighting men in Europe and the Pacific. The portrayal of so many self-centered and silly civilians who ignored these veterans or, even worse, ridiculed them is very disturbing. But this is an important message of the film and a reason why it was made. Whenever I see the scene where Dana Andrews has the nightmare about one of his bombing runs, all I can think of is John Bradley, one of the Iwo Jima flag raisers. His son wrote that for years after his father returned home from the horror of war, he "wept in his sleep." It is so heartening when Theresa Wright comforts Andrews and recognizes what war did to him, to her father and to so many young men. It is incredible to remember that when the Greatest Generation was fully with us, heroes walked in our midst every day. This is an absolutely beautiful film.

Dana My Favorite

areal5stargeneral

5/29/16

Will always be puzzled why Dana wasn't nominated for an Oscar.This was anything but wooden acting.He was a solid actor,from the beginning of his career,all his roles opposite Gene Tieney,also underappreciated,to his role on Bright Promise,his Public Service Announcements (how many got help for their own drinking at his encouragement?)What a wonderful spot with his youngest brother,Steve Forrest doing a tribute to him,also a good,solid actor in his own right,miss both Andrews men.The returning veterans,yes Russell is good,but Dana's Fred Derry is THE STAR,and stands out.Between his slutty wife,his chance at happiness denied until the end with Peggy,he's the MAN!I agree he has the deserving talent for showcasing on Summer Under The Stars,give up one of the often saluted actors a backseat,give Dana his PROPERS!

Memories

One of my most favourite movies, brings back fond memories of when my dad returned from WW11. If you lived in the 40's you will enjoy the story and the memories of time gone by.

Langauge of 'TBYOOL'

Often in period films, the aspect usually lacking is the authenticity of the linguistic expressions of the time. Perhaps because 'TBYOOL' was made in 1946 just after WWII, we hear words that today might sound even corny. For example, when Al Stephenson discovers Fred and Homer at Butch's he exclaims "Oh my achin' back." Also when Homer fears Fred might have left Boone City and would not have been his (Homer's) best man, Fred responds "Kid, I would have stood up for you until I dropped." There are other examples in this great movie, all of which lend it the ring of authenticity.

The Best Years of Our Lives

William Wyler won two Oscars for war films- "Mrs.Miniver" and "The Best Years Of Our Lives" in the 1940s without showing any combat footage. But the effects of war on those at home was big and "Best Years" brought some guys back from the war to get back into civilian life as quickly as possible. Fredric March, Dana Andrews, and Harold Russell ,who came back without his hands, showed the pluses and minuses of returning to civilian life. There were days of difficulties but everything came out ok later with the men and their women. 8 Academy Awards went to this post-war favorite.

Earned 7 Oscars !

Riveting drama, true to life, over 70 years, TBYOOL, is in the Top 5 Films. VIPs and more: 5 Very Important Persons go through real difficulties, demonstrating sincere sensibilities, earning honestly deserved Oscars, culminating in "The Best Picture." In addition to America's favorites, Myrna Loy and Teresa Wright, there is their opposite, the insincere, superficial slut Maria, played convincingly by blonde bomb, Virginia Mayo. As the embodiment of courageous veterans returning home tentatively, after years of exhausting war time, trials, tribulations, and recurring nightmares, Fredric March, Dana Andrews and disabled Harold Russell were never better. We truly believe these time-tested, six superstars. Ditto sincere supporting stars, pianist Hoagy Carmichael, banker Ray Collins and fianc Cathy O'Donnell. (They supersede today's tawdry, Hollywood celebrities.) Robert Sherwood's script laconically rings true, too. So many wise insights clearly distilled for understanding American Veterans and their families. Music appropriately engages, enhancing emotions. Director William Wyler won amazingly, three successive Oscars in 1940 "The Westerner" and "Mrs. Miniver," then TBYOOL (1946), bracketing his wartime service years. Then Wyler directed more OUTSTANDING PERFORMANCES: "Roman Holiday" (1951), "Friendly Persuasion" (1956), "The Big Country" (1958), "Ben Hur" (1959), and "The Children's Hour" (1961). All highly recommended ! Earns 7 Oscars !

The Essential Post War II Movie.

Until I saw The Best Years of Our Lives from beginning to end, I couldn't understand how it could have won the 1946 Best Movie Oscar over It's a Wonderful Life. And when I did, I fully understood why. In the years following the end of World War II (starting in 1945), there was such a difficult adjustment period for American men returning from the Army, Navy, Marines and Air Force. And what made this William Wyler film even closer to reality was having former disabled Navy veteran Harold Russell appear in it. The scene between him and his girlfriend in his bedroom, showing her what life with him was going to involve for the rest of their lives, is an emotional moment anyone who sees it will never forget. To my granddaughter, Julia, this is the third of my 12 movies about love I'm recommending that you see you've already received The Best Years of Our Lives DVD I ordered from the TCM Shop as part of my year-long 12th birthday present to you. And when you're ready to give it your own review here an the TCM website, please do so. Celebrating your birthday this way, this year of 2015, is making it one of the best years of my life. Love, Grandpa

The Essential Post World War II Movie.

Until I saw The Best Years of Our Lives from beginning to end, I couldn't understand how it could have won the 1946 Best Movie Oscar over It's a Wonderful Life. And when I did, I fully understood why. In the years following the end of World War II (starting in 1945), there was such a difficult adjustment period for American men returning from the Army, Navy, Marines and Air Force. And what made this William Wyler film even closer to reality was having former disabled Navy veteran Harold Russell appear in it. The scene between him and his girlfriend in his bedroom, showing her what life with him was going to involve for the rest of their lives, is an emotional moment anyone who sees it will never forget. To my granddaughter, Julia, this is the third of my 12 movies about love I'm recommending that you see you've already received The Best Years of Our Lives DVD I ordered from the TCM Shop as part of my year-long 12th birthday present to you. And when you're ready to give it your own review here an the TCM website, please do so. Celebrating your birthday this way, this year of 2015, is making it one of the best years of my life. Love, Grandpa

The best movie ever made

I have loved, loved, been obsessed with this movie since I was a child in the 70s and saw it with my father, a WW2 vet. I love that TCM broadcasts it so often. I cry every time it is on and I must have seen it over a hundred times. I have a huge movie poster of it in my home, and my sons know that Dana Andrews will always be my favorite actor. A must read is Carl Rollyson's 2012 biography of Dana Andrews. It's wonderfully researched and heartbreaking. I wish TCm would devote an Summer Under the Stars day to Dana Andrews. His role and performance in this movie elicit so many emotions in the audience. The topic is timeless, and reminds all of us of how lucky we are that young men and women risk everything to protect our freedoms. It certainly reminds me of my parents and their generation. Yes, the greatest generation. William Wyler brilliantly crafted this tale ... All actors are superb. I love Teresa wright's interview where she still cried over Myrna Loy's line "How many times did we have to fall in love all over again. But favorite moment is the very end! Loving this day devoted to Teresa Wright. Aren't we lucky to have TCM. But we can't get your App in Canada! Please rectify this!!,

Best movie ever made

The Best Years of our Lives is one of the most powerful films ever made. Coming out a year after world war 2 it tells the story of three returning veterans adjusting to civilian life. Harold Russell (a real life wounded vet) plays a sailor who lost his hands and feels that he is no longer be a whole man to the girl he loves, played by newcomer Cathy O'Donnell, who comes to realize that she loves him no matter what happened to him. Another powerful performance by Fredrick March and Myrna Loy as the husband and wife who must reconnect with each other after the husband has been away for many years and that his daughter, played by Theresa Wright, has fallen love with a married man played by Dana Andrews and though married the Andrews' character falls in love with her. Also the Andrews' character comes to realize that his wife, played by Virginia Mayo, probably never loved him and only married him to escape the dull life she was living in the small Texas town where he was training at flight school. This is a movie that can never be duplicated because it tells about all veterans who have ever returned from fighting a war and having to readjust to live they had once before. A great movie. It is number one on my list of the ten best movies ever made.

The Most Reviewed Film

Out of 100s of highly respected films broadcast by TCM, this film (rated "4-stars" out of a maximum of 4-stars), is among the most reviewed films. Nineteen pages of film reviews,(archived here generously on TCM's web pages) indicates that this film galvanizes thoughtful people, most with busy lives, yet they are moved, motivated to pause, to put print on paper, and to put personal, private prose out for the public. Thanks TCM for initiating, creating, saving, archiving, and making available these pages that link (how many 1,000s of film fans) into a unifying community. "The Best Years of Our Lives," TBYOOL, is now a popular concept, thanks to this film's title, and articulated profoundly, so ironically, by the most superficial character jn this film. Marie is no Saint Mary, when she feels motivated to say snarkily, "I've given you the best years of my life." (How many significant others have spit these words out in the heat of the moment?) On the third level of understanding, TBYOOL and its 19 pages of reviews represent the tip of the metaphorical iceberg of public opinion that really respects TCM. The flip side to this coin is the community of heads, the TCM's reviewers. We care enough to choose to invest our time, composing reviews, during "The Best Years of Our Lives."

best years of our lives

Powerful movie about coming home from war and the reason it's so powerful is because writer Robert Sherwood and director William Weyler wisely eschew hitting you over the head with THE DIFFICULT ISSUE IN OUR SOCIETY OF THE RETURNING SERVICEMAN, but instead let the conflicts come out through the characters' actions and words. It's a psychological study first and a "problem picture" second. (If you would prefer a more message-y and preachy treatment of this same subject, let me suggest "Coming Home," Jane Fonda's anti war tract in the guise of a returning vet film.) The acting, as you would imagine with such a great screenplay and director, is excellent. Hard to pick a favorite among March, Loy, Andrews, and Russell. Even Teresa Wright, who can be saccharine in other movies, is good here. Indeed, what's perhaps most impressive about "Best Years" is how unsentimental it generally is, especially given all the tear jerking temptations of the material. Give it an A.

War Veterans Return Home

"The Best Years of Our Lives" is an introspective movie about three veterans adjusting to civilian life after World War II. The film, directed by William Wyler and released in 1946 strikes a significant chord even today. The story follows Fred Derry (Dana Andrews) an Army Air Force Captain, Homer Parrish (Harold Russel) a Navy man who lost his hands in the war, and Al Stephenson (Frederic March) an infantry platoon Sergeant. They meet on their way home to Boone City and each one experiences excitement and apprehension in resuming the life they had before the war. The three veterans have their own personal story. Fred Derry before leaving for the war, impulsively married a showgirl (Virginia Mayo) who turns out is only interested in money and having a good time. Harold and his longtime girlfriend Wilma had plans to marry, but fears she won't accept him with his physical disability, and Al Stephenson returns to his banker's job and a family who has grown up while he's been away. "The Best Years of Our Lives" is beautifully and poignantly shot by Academy award cinematographer Gregg Toland, famous for films like "Citizen Cane" and "Grapes of Wrath." A strong performance by Theresa Wright as Stephenson's daughter who is in love with Fred Derry, adds to the conflict. Myrna Loy and Cathy O'Donnell round out an excellent cast. The biggest surprise for me was the performance of real life disabled veteran Harold Russell. He gives a sensitive and straightforward performance as "Homer" that earned him an Oscar for Best Supporting Actor. "The Best Years of Our Lives" won 8 academy awards including Best Score and Best Picture.

Timeless !

Some of the same issues faceReturning vets today and willFor years to come!!!Timeless

The Best Movie of our Lives

This movie is my #1 favorite of all time. I made a point of purchasing it for my private DVD collection. It's a sensitive tribute to "The Greatest Generation." This movie is like a scrapbook you'd find under grandma's coffee table, filled with glorious black and white photos capturing life at a different time. After the movie ends I find myself wondering what happened to Millie & Al, Peggy & Fred and Wilma & Homer. Maybe their "Best Years" were ahead of them.

Superlative!

Every time I view, I find something new- some nuance unnoticed before. It is a stunning film with uniformly excellent performances. Dana Andrews is phenomenal in his portrayal- never better- and so handsome! Scenes between him and the wonderful Teresa Wright are magical. Myrna Loy and Fredric March are perfection. The praise could go on and on- Just see this! Truly unforgettable.

Best Movie of All Time

No question, "Best Years of Our Lives" is number one in Hollywood movies when all factors are considered: setting, the times, the objective of the movie makers, the cast, the story, the music, the performances. I think I have seen it all the way through at least twenty times and I have rerun favorite scenes literally hundreds of times. What are those scenes? Too many to count really. Al's homecoming, of course. Fred Derry in the hull of the plane, Homer and Wilma's wedding. The scene at the start when Homer's "hooks" are first revealed is a masterpiece. I have used that one in a class in "American Studies" to make a point to students about WW II vets. My only quibble, and it is hardly worth mention, is that Frederic March and Dana Andrews were both a bit too old to play their roles. Fred would likely have been a mid-twenties Air Force Captain (Dana Andrews was about 37) and Al would have been a mid-thirties sergeant, if that much (March was about 50). And they would not have been a soda jerk and a banker! But I can live with those small glitches. Greatest movie ever made.

No one mentions the split focus scenes.

When my advanced drama students asked me, some years back, about my favorite movie, I said, "you probably won't know it. It's older than me, but it's a great movie. It's The Best Years of Our Lives." I love it so much I bought the DVD. When it's on TCM, I watch it, just so I can hear Robert Osborn, or Ben Mankiewicz, or the guest programer talk about the movie. I know, they don't have lots of time to talk, but just once I want someone to mention the cinematography. I know, the story is fantastic. I'm with Billy Wilder I cry every time Al walks down that long hallway to hug his wife Milly. I cry at Al's homecoming partly because of the way William Wyler shot it. I want Homer to face his inner demons, and I want Fred and Peggy to end up together. I love the way Wyler uses the enclosed environments to add to the distress of the three heroes who have returned home. Maybe it's because I'm a theatre artist that the composition of shots interest me. So much can be said with the placement of the actors. While every scene is memorable, there are two scenes that I think have some of the best composition in all movie history. They are the scene in the bar when Fred is calling Peggy to tell her they can't see each other any more. Butch and Homer are in the foreground playing the piano. Al is watching them and Fred, who is in the phone booth in the background. Al is the character that ties the scene together. The second scene is at the wedding at the end of the movie. On the right side of the screen, we see Wilma and Homer saying their vows. Fred is standing away from them enough, so that we see Al, Milly and Peggy across the room. Fred is guiding our focus. He's looking at Peggy almost the entire time. We know before he moves to talk to her after the vows are finished, that they are in love and will end up together. Both scenes are so poignant. They make the movie for me.Next time you watch this movie, pay attention to the cinematography.

One Of The Best!

"The Best Years Of Our Lives" (1946) is one of the best films of all time. It's about three veterans returning home after WW2, and their own personal struggles to readjust to civilian life. Frederic March (in an Oscar-winning role) is Al Stephenson, returning to his wife and two kids, Dana Andrews is Fred Derry, welcomed home by his father and stepmother and finding out his wife has moved out and works in a night club, and Harold Russell is Homer Parrish, concerned about how his family and his girlfriend will react to the loss of both his hands. Al has to deal with returning to his job at the bank and with his daughter falling in love with Fred; unqualified for any other work, Fred has no option but to return to his job as soda jerk at the drugstore, something he swore he'd never do again. But it's Homer who faces the greatest struggle of all, wondering if his girlfriend still feels the same about him and if they will be married as they had planned. In the end things work out for Al, Fred and Homer. The rest of the cast is fantastic, i.e. Virginia Mayo, Teresa Wright, Myrna Loy, Gladys George, Roman Bohnen, Ray Collins, Cathy O'Donnell, etc., also great photography by Gregg Toland and direction by the great William Wyler. TBYOOL has the universal theme of veterans readjusting to postwar life, but maybe it applies best to WW2, since it was that conflict that changed America and the world more than any other event of the 20th century.

A top 5 All-time Movie

I read that a few critics found the movie too self-absorbed or overly sentimental, but I believe that they missed the mark. I grew up around the WWII generation, and they had REALLY been in/endured that long war. I never knew an Uncle Alvin who died over Germany in May, 1944 doing just what Fred Derry had done in the story-- a flight officer and bombardier/navigator in the famed 8th Air Force. The movie poignantly captured the myriad emotions of those returning from a long war and those back home who also had to adjust to the veterans' return. Those returning wondered if their girls would have been faithful to them; many were not...Virginia Mayo captured this. Casting was EXCEPTIONAL, right down to the many supporting roles. It was Dana Andrews' best ever role, and Myrna Loy would call it her favorite of her many fine films. Bette Davis said that it might have been the best film Hollywood EVER made. The music is haunting and dovetailed so well with the plot. It was also Fredric March's best role of many good ones...he captures a multitude of emotions so well. Wyler wonderfully captures myriad conflicting emotions; the bar scene where the father Al Stephenson tells married Fred Derry to stay away from his daughter Peggy has a number of subtleties, as when Fred Derry agrees to go call her and end their relationship; her father watches Fred hang up, obviously in pain, and knows that Fred truly loves his daughter. Another great scene: Peggy tells her parents that she is going to break up Fred's marriage...when the parents protest, she wonders aloud how they could possibly understand what she is going through because everything had always been so perfect for them in their lives. Then her parents, two sublime actors, calmly explain that they had had to fall in love again multiple times after weathering daunting challenges in their marriage.The movie resolves the plot with a hopeful tone, but with nothing guaranteed-- c'est la vie!

Puzzled?

I,m confused about part of this Movie. Fred Derry is from the poor side of town, but yet, he comes home a Captain!. Mentions he needs to go to Night School to his wife to get a decent job. He tells the Drug store manager his only experience is as a soda jerk and a bombardier. Al Stephenson is a Banker and lives in a swanky apartment, yet he comes home a Sargent!. Any explanation or thinking on the part of the Director? Still an awesome movie.

An all time favorite

This movie has such a rich plot with the many stories of the returning veterans and their families. It never drags and the characters are so varied. Combine all that with wonderful actors and you get one of my all time favorite movies. I am a sucker for anything with the wonderful Myrna Loy, and this film shows her beauty so well. Frederic March is so versatile in his portrayal of Al. Theresa Wright is marvelous and so graceful and Harold Russell provides an ordinary guy aspect. The actors mesh so well with the script that its no wonder this classic is so revered.

Thank You TCM for keeping this film alive!

How lucky I feel to have TCM air such high quality movies such as this without commercial interuption! This movie is my absolute favorite of all time - even though I have it on DVD, I still watch it when it airs on TCM. All of the major actors delivered performances worthy of Oscars and the writing and every other aspect of this film was superb. My very favorite scene is at the end when Fred can't take his eyes off Peggy; how he heads straight towards her and she doesn't lose her gaze towards him while everyone else is congratulating the newly wed Homer and Wilma - such an amazing way to do a scene! And a huge part of the appeal of this movie is Hugo Freidhofer's soundtrack - a masterpiece indeed! I could go on and on about so many other scenes in this movie as so many have done. Thank you to all who had a part in the making of this movie - every film buff needs to have this one in their library!

The Best

I love this movie. My dad was a WWII vet, an Army Air Corps pilot serving 21 years. My hubby is a Vietnam and Desert Storm Vet having served 21 years in the infantry. In case it has escaped the attentionn of some viewers, this fillm is based on a book of the same name and Harold Russell, the author, was cast in the role of the sailor who lost his hands. Russell won the Oscar before 1950 and so was allowed to sell his Oscar to pay his wife's medical bills. I believe this was a real stand up guy who somehow got his priorities straight.

My favorite movie of all time

I could write volumes about how this film struck home with me. My dad was a wounded WWII vet, and his homecoming is burned in my mind. I don't cry...ever. But I've seen this movie about 8 times, and I can't hold it in during the scene when Homer shows his girlfriend what he has to do to get ready for bed with his prosthetics. Most moving scene I've ever witnessed. You owe it to yourself to see this one...more than once.

Jogs Many Memories

"The Best Years of Our Lives," besides being relevant to my own return from duty in Vietnam, struck a special chord for me by jogging some distinct childhood memories of the late 1940s and early '50s; things not seen today that were a very distinct part of those times.The first is the large "gas holder" structure in the background in the scene when Fred surprises Peggy after lunch with a kiss. I remember a huge gas holder near my dad's business in L.A. when he would take me there as a kid. These structures are long gone. The second occurs during Al, Millie and Peggy's "night on the town" when a Wurlitzer juke box that plays 10-inch 78-RPM records is seen in the Pelican Club. In the scene where Fred approaches the house to visit Pat and Hortense is an old backyard incinerator, just like the one my parents had. Until these were outlawed to limit air pollution, we regularly burned our trash there. Another memory is the non-powered "push" type lawnmower Wilma's father is using just before she goes to see Homer doing target practice. I remember how hard these were for a kid like me to push through grass that had gotten too thick.The biggest problem for me returning from Vietnam was getting my old job back. But the union stepped in to remind the employer of his duties to veterans under the law. Now I'm in a somewhat similar situation, working to find a new direction after my mom's passing (at 102). I've been living with and taking care of her in her last few years. So the movie again seems relevant and, of course, it's one of the great ones.

wonderful flick

I'm happy that TCM airs this wonderful film often. I never miss it when it comes on.

THE BEST YEARS OF OUR LIFE

AS A DISABLE VET. THIS MOVIE HITS HOME EVEN TODAY!!!!!!! IT`S SHOW THAT THERE ARE SOME PEOPLE THAT CARE .FOR VETS. VETS NEED TO KNOW THIS AND SEE MORE MOVIE LIKE THIS

Top five fav films

I love this film! Beautifully done, engaging plot, well developed story and characters. It has a memorable soundtrack. It is an excellent picture of how life was and looked back then-things lost to us now. It is a wonderful film to study and is visually beautiful. This is a must see film!

Just like it was

This has to be one of my most favourite movies of all time along with "She wore a yellow ribbon". It brings back memories of my father coming home from the war in 45. I don't know how many times I have watched it but I will be watching it again tonight! Nothing like the movies and actors from the 40's & 50's. Just love watching them.

Th Best Years of our Lives/Genius Throughout

Roger S. Burlingame

7/31/12

In the top five movies that were ever made.Great script.It's always about the script in movies,isn't it?The cast is simply brilliant.Teresa Wright and Dana Andrews are fantastic.Andrews diserved an oscar nomination for his performance.March and Loy;what can you say;simply the best.My two most memorable scenes,Dana Andrews walking in the discarded plane yard and the final scene in the movie where Dana Andrews and Teresa Wright embrace and he tells her what their lives will be like.The hidden treasure in this movie;the musical score,it captures the mood of this movie so well.Willy Wyler one the greatest directors ever.

Great movie!

You would have a hard time finding a love story better than this. Three men returning from war and the differn't experiences they encounter as they try to get back to civilian life. The three men take differn't roads as they rekindle and fall in love. Have the hanky's handy.

The Best Years of our Lives

A tender drama that has unfortunately aged in some aspects, but it's still not dated. The ensemble gives first rate work. March won the Best Actor Academy Award, but the undisputed scene stealer is Russell who won two Oscars, one for Best Supporting Actor plus an Honorary award. Wyler's sensetive direction earned him an Oscar, the film received accolades for it's adapted screenplay, editing, score & the coveted Best Picture prize. The film perfectly captures the story of men returning home after another world war. I give it a 4.5/5.

One of the best motion pictures ever made

65 years and one day ago, my father, a WWII vet, went to see this movie to calm down while my brother was being born. They're both gone now and although this movie perfectly captures a moment in time, the movie is timeless. The scene of Myrna Loy in the kitchen when Frederick March returns home could not be more moving. I was recently asked what was my favorite movie of all time and this was the movie that came to mind. Brilliant.

The Best Years of our Lives

I LOVE....LOVE THIS MOVIE,,,,,I CAN'T FIND IT IN ANY STORES,,,WHERE CAN I BUY IT? PLEASE LET ME KNOW.IT REMINDS US TO BE THANKFUL FOR OUR SOLDIERS, CAUSE WITHOUT THEM WE WON'T BE HERE IN THE USA THE WAY WE CHOOSE TO LIVE.

One of the best 'war' movies of all time.

After the guts and glory, death and life, coming home is an adjustment. This movie shows this reality of war and life after. It peers into these service members lives and watches them answering their own question...'What do I do now?' Needs to be given it's due. Restore it and release it in widescreen!

A Great Film....

According to Tom Brokaw and the late Stephen Ambrose, the men who came back from the war met the challenges of returning home with the same steadfastness they so admiringly displayed during their respective war service. William Wyler's masterpiece quietly suggests otherwise. Each soldier, sailor and airman (and of course, Marines) faced their own difficulties when they came home from the war. Some met them quickly, some struggled and there were those who would bear the physical scars that they would take to the grave with them. "The Best Years of Our Lives," also shows that some scars were inside and were perhaps, the most difficult of all to confront. I won't rehash the storyline here, but suffice to say that this film holds up, and is still the best movie ever made about veterans returning home in war's aftermath. Top notch direction, a superb cast delivering natural performances, wonderful cinematography, and capped off by a great score. I'm hard pressed to find flaws in it. Ignore the negative reviews here. Watch it and judge for yourself. This is easily one of my top five favorites...

My best years were wasted watching this movie

It is still considered one of the top 100 films of all time, but I just don't think it holds up. And the fact that it won over "It's a Wonderful Life", one of the absolute greatest films of all time, is just a bitter pill for me to take. I get why it would have been popular in 1946. We are coming off of a tremendous 'win' and patriotic history for America, but families were dealing with the harsh realities of the difficulties of men coming home. It was one of the first to really examine the issue. It works well in that we've got three men's stories, so we get a nice ensemble and a variety of issues: disability, lack of work, family roles, not connecting with the same people anymore, depression

Best Years Best Movie

Amazing cast touching story as relevant today as it was in 46

Masterpiece

William Wyler and Sam Goldwyn created this film starring Myrna Loy, Frederic March, Dana Andrews with a superlative supporting cast beginning with Harold Russell and Teresa Wright. Ms. Loy is first billed due to her stature as a Star but it is Frederic March and Dana Andrews with whom the picture revolves.I am a Veteran myself and I cry every time I see the reunion scene between March and Ms. Loy. Dana Andrews is perfect in his role as the young Captain. I could go on for paragraphs about the greatness of this movie but suffice to say, it is a Masterpiece. William Wyler's body of work is simply stunning: Mrs. Miniver, The Little Foxes, The Letter, Friendly Persuasion, Ben Hur, The Best Years of Our Lives, Wuthering Heights, Funny Girl.

The Best Years of Our Lives (1945)

If you're talking about the aftermath and tragedy of war, this film will almost always pop up. It is a very powerful film of that specific topic. The film is about veterans coming home, mentally, physically, or emotionally distraught. The film has several top notch performances, however it is Harold Russell who has the most powerful. He was never in a film before this one and his film debut sent shock waves through the audience as he played a character like himself, without hands. William Wyler directed this masterpiece that is still as relevant today as it was in 1945 when it was first released.

Wyler's Masterpiece Pulls No Punches

Robert Osborne said that Bette Davis called "The Best Years of Our Lives" the best movie ever made. It's difficult to find a better movie. The power of this movie is due to William Wyler's very careful directing. He made sure that the message of how difficult it is to return from war, and a very popular war, was clearly stated in this movie. And it is a tender, heart rending portrayal of the lives of three different characters that delivers that message. Yet Wyler develops the roles of those who are involved with those characters, which is the power of this movie. While Frederick March delivers an outstanding role, the cast is also outstanding, and puts together the knock-out punch of this extraordinary work.There are many great scenes in this movie, but as I view it again, the exchange between Homer and Butch at the piano when Homer is upset about the confrontation he has had with his family, hits hard. Butch ends with the dry comment that if there is another war, it won't matter because we'll all be blown to bits. Hoagy Carmichael is poignant in this role, and Wyler introduces a very powerful additional message of how serious is the situation in which war has left us. The movie is about three returning veterans, but Wyler casts it in the deeper backdrop of the very fragile world condition in which all of the characters have to live.I am impressed with Teresa Wright's role as Peggy Stephenson. We don't see her maturing work at the hospital (as her mother Milly remarks to husband Al, "She knows more than the both of us"), but she acts that role as if she has been there, and we feel it.A great movie that all should see. Kudos to Turner Classic Movies for making available to all.

One of the best movies ever made.

Flawless, timeless and hauntingly beautiful. When I was younger my mom asked me to watch this with her. Being a teenager I had no interest. Foolish me, but I was lucky enough to get to see it on TCM recently. It left me speechless. The acting is incredible and the characters are so real.This movie is also phenomenal because it's so relevant today. It doesn't offer unrealistically happy endings or easy solutions, but it is filled with empathy, and with hope.

Sheer Perfection

"Sheer perfection" of a movie. Acting is so real it doesn't seem like acting. Real life Americana. You cannot stop watching this movie once you start, and you cannot see it just once. Uplifting. All the main characters struggle but do the right thing in the end. It will tap into all of your emotions and it brings out the best. Timely. Relevant today with our veterans' issues. Educational. Can be shown in schools for a gllimpse into the realities of life. Compelling performances, no overacting. Not to mention the musical score is wonderful. Watch it with your loved ones and appreciate them more. Or if you are a baby boomer appreciate your WWII-era parents' struggles. Wow. There is no way you won't love this movie.

The Best Years of Our Lives

This is one of the best movies ever made. The story line had to strike a chord for all returning servicemen and women. The music is so moving and haunting. My favorite scene is when Fred Derry's father is reading his son's citations and falters when he has to read his son's name. It gets me everytime. One of the best moments in all of film history. My other favorite scene is at the end when Fred is telling Peggy how hard their life will be in the future, but all she does is smile more and more and then her hat falls to the floor. What an ending. I feel the same way at the end of Charlie Chaplin's "City Lights", another must see ending. Another great moment in the film is when Fred Derry hits the man at the lunch counter. Homer happens to glance down to the floor and notices the man's American Flag lapel pin had fallen to the floor. He then bends down and picks it up with his hook and puts it in his pocket. That moment says it all for our wounded vets of all wars. A great, great, film.

One of the best

This is one of my 3 favorite movies. The acting, photography and music are amazing. I can watch it over and over. Dana Andrews and Theresa Wright are fantastic together.

Still needed at age 64

One of my favorites. Last night, I watched "The Best Years Of Our Lives" for the fourth time and I believe there is something for everyone in this masterpiece. There are so many good scenes and such great acting. I especially enjoyed March, Andrews, and the underrated Ray Collins, who was awesome in "Citizen Kane." I have watched March act in seven films, and I enjoyed his Al Stephenson the most. Teresa Wright as the wholesome Peggy and Virgina Mayo as the ****some Marie shine as well. Watch this for the acting, the emotion, and the timeless messages. The year was 1946. The Beatles sang a song about whether one would still be needed when age sixty-four. "The Best Years Of Our Lives" is needed, and I believe it always will be.

Amazing Veteran Movie

I just watched this movie on TCM tonight (11-13-10). What a great flick! I myself am retired military and really appreciate any movie with a military theme. I can only imagine how it was for military personnel returning home after WWII. Watch this movie. It is well worth nearly three hours of your time. Bravo!!

The Best of the Best

I love everything about this movie but what I love most is the relationship and the chemistry between Teresa Wright(Peggy) and Dana Andrews(Fred). They make their characters seem so real that you feel their emotions. The actors have very expressive faces which makes their scenes together wonderful to watch. You can see very easily when each of the characters falls in love. Peggy knows at the breakfast table and Fred knows at the lunch table. It always takes the man a bit longer! You can't beat the emotional embrace at the end. Peggy's smile, the way she slides her arms around Fred's neck and her hat falling off just at the right moment. Superb acting for the perfect ending to a great film. BRAVO!!!

The Best Years of Our Lives(1946)

The Best Years of Our Lives defines Sacrifice, Love, and Devotion to Country. Al Stephenson(Fredric March) in a Tour De Force performance returns home from World War Two duty, to restore, rediscover,and complete his life. This film also explores the lives of two other Veterans Fred Deryy(Dana Andrews) and Homer Parrish(Harold Russell) who discover that returning to regular civilian life is anything but normal.. William Wyler magnificently directs the trials of war,separation ,loss, gain and change. By viewing the changes of life through the Veterans eyes, the viewer is drawn into the emotional turmoil experienced by our Gladiators for Freedom and learn that the sacriifices of our men and women are real, and that the United States bears many scars for that sacrifice. God Bless Our Military, Veterans and thier Families...5 stars out of 5 for humanity...

Pure Perfection

With no fewer than eight well-deserved Oscars, you have to think this movie's got something. I have a short list of films that I'll gladly watch over again and this one is at the top. The direction, acting, book, score, cinematography, all sheer genius. Watch this movie. Then buy the DVD and watch it again. And again. What a joy. Thanks for bringing this to us, TCM!

Fabulous movie all around

I couldn't find anything wrong with this movie. In fact, I had never seen this movie until Memorial Day weekend 2010 and saw the synopsis of this particular movie and hesitated seeing it. I ended up recording it on my DVR to watch later and twice in a row. From the stellar lineup of Fredric March to Myrna Loy and the beautiful Virginia Mayo to the flawless script and genius directing and camera work, you can't go wrong with a movie like this that actually takes you through the lives of three returning WWII heroes and one who was truly a WWII in real life (Howard Russell). This movie has a little bit of something for everyone in it.

Best of the Best

In reading all the reviews for this movie, one cannot help but notice how many men thought it was a great movie, which is saying something for a movie with so many tender moments. I hated to see it end, but what an ending! I don't think I can add anything more to what has already been said, so I'll just simply say, this is and always will be The Best Movie Of Our Lives!

Amazing film that touched my heart and soul

Wow ,what a film! My father told me that I had to watch this film when I first got into classic films when I was about 15. I am now 22 and thanks to TCM which showed it just the other day I finally sat down and watched it. I prepared myself because I knew what it was about and knew I would cry. The film is great and I think its one of those films that will stay with you. Excellent acting and there are so many sweet tender moments.I loved the scene when Peggy goes into her room where Fred is having a nightmare and wipes his the sweat off his face. It was such a touching scene. The whole film was beautiful and I will always cherish it.

Wyler's Epic Throb

I am gratified to read the outpouring for this wonderful film artifact & that its humanity has reached so many hearts. Billy Wilder said that the first 20 minutes choked him up every time & this coming from one of the great film noir practitioners! I heard the noted film historian David Thomson just the other day on NPR cite it as the best war film ever. In this regard, the subtext is profound: the film is really about the women loving the war out of their men: Myrna Loy, Teresa Wright & Cathy O'Donnell are so brass-tacks honest. It's as if they are rebirthing, reparenting, these wounded souls, because the residue of battle (its horrors) stll clings to them: Fredric March (so precise) is the alcoholic; Dana Andrews (so subtlely sullen) is death-soaked; & Harold Russell as Homer (like his Greek counterpart), the most unfortunate, makes the most compelling journey of all--and he unites the triad (to boot) at his wedding. Watching over it all is the choregos in the person of the piano man: Hoagy Carmichael (Butch). Interesting sidebar brought up about Rusty: where does he go?

The Best Years of our Lives

One of the best, and most cherished movies of all time. It gives those who were not around then, a chance to feel, and experience, what families went through during those times. It gives us an experience of the Greatest Generation ever. I am a product of that Generation, and will always be grateful, for all they have done.

Agreed - A pure TEN!

Wyler got EVERYTHING right on this one - cinematic genius!

The Greatest Kiss Of All Time

I agree with everything Raymond Parker said. Very rarely do you happen to get the perfect combination of people and circumstance that produces a work of art this close to perfection. I would only add one thing. In my opinion, the final kiss between Dana Andrews and Teresa Wright is simply the greatest kiss ever filmed. You can see and feel both of them surrender to the moment with the culmination being Teresa Wright's hat falling off. It takes your breath away. Pure genius, there is no other way to describe it.

The Best Movie Ever

I saw the latter part of this movie at a friends house several years ago. I enjoy watching this movie over and over. In fact I have it on commercial grade. The plot is excellent. The actors do a great job. The musical score is fantastic. I think the best part is the last scene where Dana Andrews (Fred Derry) keeps looking toward Teresa Wright (Peggy Stevenson), and finally walks over to her and says it's going to be tough for several years in our marriage. She smiles and he kisses her very romantically.

March, Loy in Wyler/Goldwyn Masterpiece

Samuel Goldwyn produced many fine films in his illustrious carrier such as Wuthering Heights, Little Foxes, etc but reached his peak in "The Best Years Of Our Lives" as beautiful and evocative as its title.Goldwyn assigned this film to William Wyler who cast the film impeccably with Myrna Loy top billed and with Frederic March, Dana Andrews, Teresa Wright heading a superb cast. William Wyler was a genius and arguably one fhe top 5 Directors in movie history with such films as The Letter, Jezebel, Ben Hur, Funny Girl etc in his portfolio..there was no genre he could not do, and do it finer than just about anyone. Known for retake after retake, he was asked once by Olivia De Havilland what he wanted, and Wyler replied, " I want it better" Guiding a cadre of players such as Olivia De Havilland Barbra Streisand, Charlton Heston, et al to Oscars and also guiding Jennifer Jones, Henry Fonda, et al to fine performances, Bette Davis claimed Wyler was her greatest Director and the Great Love of Her Life.Of the many memorable scenes in this movie, the one that gets me all the time is the return of Frederic March to his home after years of war service as a returning Veteran ( of another War) this is a particularly moving scene. Wyler does it well with Miss Loy-one of the treasures of the American Screen- and Frederic March playing it superbly. Loy, March, Wright, Andrews, Goldwyn, Wyler and others reached the peak of their respective careers in this great movie...a movie that deserved all the accolades it received.

One Of A Kind Movie!

William Wyler did an outstanding job directing this masterpiece! This movie is my favorite movie of all time. I'm really glad it won 7 Acadamy Awards including best picture. You could not have picked a better cast for this movie. Most of all, I love its message, things may not turn out as expected for homecoming veterans but in the end they find a way to start a new beginning. This movie really stands the test of time. Even though I'm 15, I'm an OLD MOVIE FANATIC! This makes me appreciate what TCM does by playing these wonderful classic movies. Thank you so much TCM.

Samuel Goldwyn's Masterpiece

The great William Wyler explores returning veterans' ambivalence just after WWII. Astounding performances from a great ensemble cast results in a patriotic and optimistic treatment of the problems which ensue when the men resume their civilian roles. Fredric March and Myrna Loy tentativley feel their way back to a loving marital relationship. Dana Andrews is disappointed in how slutty his gorgeous war bride is upon closer inspection, and Harold Russell is amazing as the terribly maimed sailor trying to figure out where he fits in to the family and girlfriend he left behind. This movie is the result of talent combined in titanic proportions and is not to missed.

Reply to Saereg:

The wide aspect ratio was not available at the time of this movie's filming. You're seeing the whole thing, which makes Wyler's blocking all the more admirable.

powerful acting/raw emotions

the best years of our lives is one of the best movies ever made showing real love and drama in everyday life of ordinary people thrust into extraordinary circumstances. i try to watch this movie every chance i get. the only question i have is what ever happened to rob stephenson, the son of al and milly, brother of peggy, (michael hall) he just sort of disappears! I just wish this movie could be in letterbox because i think i am not seeing the whole scene as it is being played out.

Dana & Teresa! The most powerful ending

The framing & camerawork not to mention direction of the final scene are so spectacular. As the couple are giving their wedding vows the focus is on Teresa Wright & Dana Andrews in one of the most brilliant & touching shots I have ever seen. The wedding is finished & Dana walks over to Teresa & says how hard their life will be together. Absolutely amazing & brings tears to this tough guy every time. Unbelievably romantic. Also Dana in the plane is stunning

History Repeats Itself

I started watching this movie earlier this evening as I was simply flipping channels and was instantly drawn to the subject matter. Helping veterans transition from their war experience to returning home is a cause that is dear to my heart and watching this movie just further inspired me to help. It's unreal to see events taking place sixty years ago still taking place in the 21st century. You would've thought things had changed for the better. Now, there are many more programs available than back then but we still have a long way to go. Incredibile acting further brought the message home. I wish more of today's movies had the same spirit in them.

Harold Russell, you are amazing!!

'The best years of our lives' is a great movie, though I'm still doubtful that Fredric March won best actor instead of James Stewart. I know that sounds strange, but even though Mr. March was good, in my opinion, Jimmy Stewart in 'It's a wonderful life' is a greater preformance. But that's only my opinion. But I believe that Mr. Harold Russell is a wonderfully talented actor. Especially since he had absolutley NO acting experiance. And since he's a real-life amputee, it makes his performance even more tear jearking. My fav scene is when his sweethart tells him she will never leave him. Be still my heart! This is wonderful and I recomend it to suckers for happy endings.

Can't be beat!

This is one of the best movies I have ever seen. It takes you back to that time in our past and really lets you feel what it must have been like then and how those people felt. Harold Russell gave such an excellent performance it is hard to believe that he had no acting experience. He was a natural. And Myrna Loy and Teresa Wright played such good parts. They were so direct with their feelings. I could go on and on, but if you haven't ever seen this movie you need to. And if you have seen it, watch it again.

The Best Years of Our Lives

A Great Film. I enjoyed it. The actors and actress are just perfect for this movie.

Brilliant!

One of my most favorite films! I watch it every time it is shown and always love it. It makes me nostalgic for a time I never knew--it helps me to understand those who returned from WWII and the families who had waited so long for them. Highly recommend!

Best Film Ever Made

No doubt in my mind that this is the best film ever made. Excellent story portraying the returning vets after WWII and the people they come home to. Well acted by all.

My Favorite Film

In my opinion, "The Best Years of Our Lives" was molded into a brilliant film that satifies any natural hunger for romance or comedy while whispering poigant messages on war to the audiance. Naturally, the aduiance leans forward to quickly hear the war-whipers but instead they become enamored by the beautiful authenticity of how this film depicts readjustment for WWII vets.

One of the All-time Great American Films

I first saw this movie about 35 years ago as a child, and I loved it. The characters are so real that I found myself wondering after the movie was over what happened to them later.Still today, I take time to watch this movie every time it comes on TCM. And darned if it doesn't makes me cry in the end each time! That shows you how touching and profound it really is."The Best Years of Our Lives" is a close second only to "Marty" as my all-time favorite movie.

one of the top ten films

i can watch this film every time i see it is on wish there was a dvd loaded with special features if ever a film deserved a deluxe dvd presentation this is one and dana andrews was unjustly not nominated wyler and toland are an unbeatable pair

a memorable film

I absolutely love this movie,I catch it everytime it appears on TCM.One of the best films of 1946.Great performances from the entire cast,including real-life veteran Harold Russell(homer)who had never acted in a film before.The scenes between he and Cathy O'Donnell(wilma)are especially strong.

Who is this Lady?

Can anyone tell me the name of the Black Lady who was the Ladies Room Attendant in the movie "The Best Years of our Lives"
*We protect your personal infortmation and will not provide it to anyone without your consent. For a complete explanation, please refer to TCM's Privacy Policy. By submitting your contribution, you agree to TCM's Terms of Use.