DVDs from TCM Shop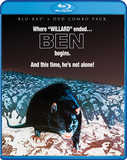 Ben A lonely boy befriends Ben, the leader of a violent pack of... MORE&nbsp> $22.95 Regularly $29.99 Buy Now
NOTES
DVDs from TCM Shop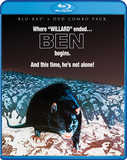 Ben A lonely boy befriends Ben,... MORE&nbsp> $22.95
Regularly $29.99 buy now
Although the film's copyright holder and production company is listed by copyright records as Bing Crosby Productions, Inc., some contemporary sources refer to the company as BCP Productions, Inc. Ben begins with footage from its predecessor, the 1971 picture Willard (see below). Underneath the credits for Ben is footage of "Willard Stiles," played by Bruce Davison, finding the rat "Ben," whom he thought was dead, in his house. Ben organizes his army of rats to kill Willard, and after he is dead, the credits end and the film begins as a crowd gathers outside of Willard's home.
In July 1971, Cinerama announced plans to make a sequel to Willard, one of the top-grossing films of 1971. Mort Briskin repeated his role as producer, with the screenplay again written by Gilbert A. Ralston. Although Willard was based on the book Ratman's Notebooks by Stephen Gilbert, the screenplay for Ben was original, using only the character of Ben. Moe Di Sesso, who trained the 500 rats used in Willard, trained approximately 4,000 rats for Ben, according to studio publicity notes, which also reported that portions of the picture were shot at the same Wilshire Blvd. mansion, built in 1908 and formerly owned by Howard Verbeck, that was used in Willard.
A November 3, 1971 Daily Variety news item reported that Ben Frank had been added to the cast, but his appearance in the finished picture has not been confirmed. Harold Lewis is credited with sound on the film's first Hollywood Reporter production chart but in all subsequent charts, Leon M. Leon, who is credited onscreen, is listed rather than Lewis. The extent of Lewis' contribution to the completed film, if any, has not been determined. Although the onscreen credits "introduce" child actor Lee Harcourt Montgomery, he had previously appeared in the 1971 Disney film The Million Dollar Duck (see below).
"Ben's Song," which was sung by Michael Jackson, received an Academy Award nomination for Best Song and won a Golden Globe for Best Original Song. The song became one of the young Jackson's most popular hits and was recorded by several other singers. According to October 1974 Daily Variety and Hollywood Reporter news items, Cinema Songs, the company that first published "Ben's Song," sued Bing Crosby Productions, Cinerama Releasing and Jobete Music Co. over the division of royalties, but the disposition of the case has not been determined. The rat playing Ben won a Patsy Award honoring animal performers, according to a September 1972 Los Angeles Times news item. Although the pressbook for Ben implied that there would be another sequel, featuring 10,000 rats, to be released in 1973, the film was not made.