DVDs from TCM Shop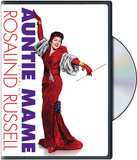 Auntie Mame An eccentric heiress raises... MORE&nbsp> $11.21 Regularly $14.98 Buy Now
NOTES
The film begins with a red-gloved hand holding a kaleidoscope. The object is turned so that the audience appears to be looking through the eyepiece and the opening credits are superimposed over the patterns formed. Many scenes end with a theatrical-style black-out, in which a light is focused on the character "Mame" before the screen turns black. As noted in the Motion Picture Herald Prod Digest review, the film "provided a unique means of establishing time and plot progression" by showing a change in the style of Mame's Beekman Place apartment dcor at the beginning of sequences. According to a June 1958 Los Angeles Examiner article, the set was decorated in six different styles: Chinese, 1920s Modern, a French style called Syrie Maugham period named for writer Somerset Maugham's wife, English, Danish Modern and East Indian. As discussed in a January 1959 Los Angeles Examiner article, the Danish Modern set featured sofas, chairs and tables that could be elevated and lowered. The furniture was used to comic effect in the sequence in which the "Upsons" visit Mame's apartment.
Edward Everett Tanner III wrote the novel on which the film and stage play was based under the pseudonym Patrick Dennis. After his birth in 1921 and early years in Chicago, Tanner lived as colorfully as his aunt. A bon vivant, critic and popular novelist in the style of Nol Coward, he was a popular figure in New York society. His many other works include a novel, Around the World with Auntie Mame, which continued his autobiographical adventures, and Little Me, the "memoirs" of a fictional actress Belle Poitrine, which was adapted by Neil Simon into a Broadway musical. According to modern biographies, he was a loving husband and affectionate father. Upon realizing he was homosexual, Tanner entered a sanitarium and submitted himself to shock treatments, but eventually left his wife. Modern sources state that, after battling alcoholism and dwindling finances, he later seemed to find contentment in a second career as butler for Ray Kroc, CEO of McDonald's, before dying in his mid-fifties in 1976.
As noted in the Variety review, risqu language and "gamier aspects" of Dennis' novel, which remained in the stage play, were "toned down" for the film and "suggested rather than stated." The Variety review mentioned that at least one scene written for the film was excised in the final editing.
Auntie Mame was first adapted for the stage and directed by Morton Da Costa, who later directed the film. Rosalind Russell, Peggy Cass and young January Handzlik reprised their Broadway roles in the film. Both Russell and Cass were nominated for an Academy Award for Best Actress and Best Supporting Actress, but lost, respectively, to Elizabeth Taylor in Cat on a Hot Tin Roof and Wendy Hiller in Separate Tables. The film was also nominated for Best Picture, Best Art Direction, Best Editing and Best Cinematography, but in all categories lost to the film Gigi (see entries below). Although his appearance in the film has not been confirmed, a June 1958 Hollywood Reporter news item adds Edgar Johnson to the cast. A modern source adds Gloria Holden to the cast.
In 1966, Angela Lansbury starred on Broadway in Mame, the Jerry Herman musical that was based on the Patrick Dennis novel. In 1974, Robert Preston, Beatrice Arthur and Lucille Ball as "Auntie Mame" starred in the Warner Bros. film version of the Herman musical. A September 2003 Daily Variety news item reported that the Dennis estate had been queried regarding film rights on behalf of director Spike Lee and actress-singer Queen Latifah. An online website dedicated to the actress Cher reported in April 2003 that she and director Rob Marshall had planned to make a version of Mame for television, but those plans never came to fruition. Although in 2004 the ABC-TV network announced a version of Mame to be produced by Barbra Streisand, no further information has been found on this production.