DVDs from TCM Shop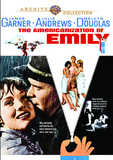 The Americanization of Emily A British war widow falls for... MORE&nbsp> $14.36 Regularly $17.99 Buy Now blu-ray
USER REVIEWS
See Detailed Ratings
Acting of Lead Performers

Acting of Supporting Cast

Director

Music Score

Title Sequence

Screenplay

Cinematography

Historical Importance

Would You Recommend?

0 Member Ratings
Rate the acting of the Lead Performers

Rate the acting of the Supporting Cast

Rate the Director

Rating of the Music Score

Rating of the Title Sequence

Screenplay

Creatively uses the camera to tell the story

Importance in Cinema history

Would you recommend for fans of this genre
Submit Ratings
Cancel
Write a Review
Read Reviews
NO REVIEWS AVAILABLE
The title has not been reviewed. Be the first to write a review by clicking here to start.
americanization of emily

I totally agree with Jeff about the baneful effects of Aaron Sorkin's spiritual godfather, Paddy Chayefsky, on this film. It's bad enough if a movie is done in by a self indulgent director, but when this visual medium is hijacked by a goddamn WRITER who, in this case, just has to get up on his anti war Hyde Park Corner park bench at regular intervals, it really makes you want to alternately tear your hair out and erect a statue to Sam Goldwyn, the man who said if you wanna send a message use Western Union.

Controversial at the time

Host Ben Mankiewicz said before the Sun, June 3 (8 pm) airing of this erring sixties speech fest the weekend before D-Day Remembrance Day. It must have really riled most of the officers AND the rank and file who served so honorably in WW2, as well as those who cared about them. Charlie lecturing (1) Emily in the supply room; (2) Emily and her mum in the garden; and (3) Emily at the sendoff in the rain was the powerful work of the pedestaled Paddy C, but the lengthy, unpausing speechifying comes so often and is so well-worded that it makes Charlie more of an animatronic figure than a flesh-and-blood man whose religious views are limited to his being "a practicing coward." His declaring that we perpetuate war by exalting its sacrifices was really disgusting. This is one of several 1964 films (and innumerable 1960's films) that cudgels our country and its institutions through cute and cunning comedy.

Really good film...EXCEPT...

This is a good film. The actors are superb, all of them, the screen play by the legendary Paddy Chayefsky, is great, some of the dialog is some of the best in screen history, but the copping out of Charlie Madison, at the end, "OK. I'll be a Hypocrite Hero," diminishes the entire story, destroys the character of Charlie Madison, and the very reason, the essence, of the story all together. Charlie will live a festering lie for the rest of his life, benefit socially and financially from that, and the meaning of the entire film changes from "anti war", to "all of us can be compromised." That ending, instead of Charlie sticking, courageously, to his guns, changes this film from a potentially GREAT film, to a good, enjoyable film, and little more. In the end, Charlie IS an unrepentant COWARD, without Character, or Virtue, and renders the point of the tale, meaningless. Too Bad.

Brilliant

Intelligent dark comedy with a tremendously moving speech from Garner's character to Julie Andrews and mother. No wonder it is at the top of the Best Speeches database. And speaking of Julie's mother, the great Joyce Grenfell was a radio journalist, had a popular one-woman show onstage, and a movie career I've followed since she was in The Lamp Still Burns. Anyway, I've got to see this film again just to pick up all the brilliant spoken words. I would've given it 5 stars but there was one thing that marred it for me, a very visual viewer. The 'do. Yes, the hairdo on Julie Andrews. Why in the name of All That is Holy was she allowed to have that 1964 bubble on top of her head? The hotels, uniforms, cars were all of-the-era but the coiffures in this superb film were "poor form". The end.

A Very Serious Comedy

This 1964 film never gets old. It has a brilliant Paddy Chayevsky script and wonderful actors performing the roles. Julie Andrews and James Garner, too, are brilliant together, and Melvyn Douglas, James Coburn, and Joyce Grenfell are riveting in their roles. And the story, to this day, is controversial, because the underlying theme in this comedy is that war is insanity, and what matters in this world is people who love each other.

FIVE Stars!

I'm completely and utterly aghast at anyone who could watch this film and then say it is "disrespectful" to the men who serve. It is the most ANTI-war film ever made! The gentleman who wrote the book it is based on and from which most of the dialogue comes, was actually on the beaches on D-Day as a SeaBee. (He was also on Iwo Jima and wrote an award winning piece on that hellhole of a fight.) Jim Garner's speech to Julie Andrews and her mother in this film is quoted in best film speeches of all time and in many, many speech databases. There really is nothing whatsoever noble about war. The shlubs like my father-in-law who landed on Omaha Beach and then lost his leg at the Battle of the Bulge fight the wars politicians and Generals send them to. I am in awe of this film for telling it like it is, for showing the reality of ADCs who cater to officers' every whim while Joe Private can't get proper nourishment or body armor! We need MORE films like this one and many fewer that make war out to be some noble endeavor fought by heroes instead of the reality of war being fought by scared young soldiers. Garner and Coburn are excellent in this film but so is Julie Andrews who finally acted in a serious role and was superb in it!

The Americanization of Emily

This was the first film for Julie Andrews and she was wonderful. A lighthearted comedy with a serious tone mixed in around the time of D-day and she is a British driver for the officers and James Garner personally serves an Admiral in all kinds of ways and they get together for some romance. Amazingly the Admiral wants his man Garner to be the first man on Omaha Beach. Well-written by Paddy Cheyefsky as this takes in some personal sidelights that add to the storytelling.

A satire of a very serious event

As a satire, comedy about the British and American differences that occurred during WWII, its a great film. However, as a former military person, who saw this in a theater when it first came out, I was disgusted by the political tone. When will Hollywood learn that MASH was written by someone who actually saw combat. Well, he was a dentist, but he was in Korea during the War. If I could, I would write about the combat I saw in Viet Nam, without showing the people we hated, the stupid politicians who got us into the War, or the jerks who managed to make money and avoid combat. The main figures in this film really are despicable. James Garner, whose Maverick character he developed on TV was perfect foil for Westerns that could not be avoided in the 50's and early 60's. However, if every one was Maverick for real, the invasion of Europe would never succeeded.

The Americanization of Emily

An intriguing, funny and controversial drama. Andrews & Garner both state that this is one of there favourite films, great supporting work from Coburn and Douglas. Screenwriter Chayefsky adds humour and the theme of cowardice into the story, a story that consist of the love struggles of a U.S. man and his British lover. The serious, dialogue scenes drag for a while, but it's still witty with great leading performances. I give it a 4/5.

fortunately then unfortunately

Fortunately this move has a nude scene, unfortunately it is not Julie Andrews in the nude (don't laugh, she has one teriffic body) Fortunately, the nude young lady is the adorable little Judy Carne, unfortunately the scene was cut so that only her naked back is showing. The story goes that, not surprisingly, Judy was more than willing to let the scene go uncut with her naked down to her feet, showing off her nifty little buns, but her husband at the time, Burt Reynolds, hit the roof when he saw the uncut version.

Pretty Disrespectful

This movie disrespects the men who gave their life on Omaha Beach while defending the country of France.How hypocritical it is that the makers of this film were Jews who were liberated by Americans? Making money off their own war propaganda while making light of the supreme sacrifices made by AMERICAN soldiers is despicable. The best part of this movie is when Charlie calls Emily a bitch. The European snobbery towards the very people who saved them is laughable.This movie would fit in today, with the other Hollywood elite socialist who revel in anything that makes America look bad.I hate this movie and everything that it stands for.

Great film

I watched this film twice in the same afternoon. I liked it that much! The film has it all: satire, sensitivity, great performances, an excellent Paddy Chayefsky script (which obviously inspired the TV series 'MASH'), and a sweet love story. Dog-robber James Garner and his girl Friday Julie Andrews are so good together...and it's fun to think they would be paired again, eighteen years later, in the very different 'Victor/Victoria.' But the performance that I really like in this picture is that of Melvyn Douglas. He's superb as the rather unstable admiral. You never know what is going to happen with him next and of course, it affects the men around him as well as Andrews' character. Plus, to top it off, we have James Coburn who turns in a solid performance as a buddy of Garner's.

Hershey Bars

This has to be one of the best movies that I have ever had the privlege to see. I helps of course that I happen to love both Julie Andrews and James Gardner, but this movies shows them at their finest. Its has comedy, and also can bring a person to tears with sadness. In this time with the war going on it has the same kindof sentiment that the movies has even now. I happen to love this movie and watch it when ever I start to feel down. Its one of the best ever made and it is one of my personal favorites.
*We protect your personal infortmation and will not provide it to anyone without your consent. For a complete explanation, please refer to TCM's Privacy Policy. By submitting your contribution, you agree to TCM's Terms of Use.