DVDs from TCM Shop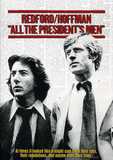 All The President's Men Two Washington Post reporters... MORE&nbsp> $11.21 Regularly $14.98 Buy Now blu-ray
Home Video Reviews
On June 17, 1972 five men broke into the Watergate complex in Washington, DC in a botched attempt to bug Democratic Headquarters. It was a seemingly minor event that at first appeared to be nothing more that a local interest story, but would snowball into a scandal that would eventually bring down the president. The Watergate scandal was exposed by two young reporters with the
Washington Post
, Bob Woodward and Carl Bernstein, who would recount their painstaking investigation in their 1974 book
All the President's Men
, which would become a best-seller. Almost immediately upon the book's publication, actor/producer Robert Redford, who had been fascinated both by the story as it had unfolded and by the men who were writing it, picked up the rights to the book and went to work. He gave award-winning writer William Goldman the daunting task of turning a story with an outcome that was already known worldwide into a viable, compelling screenplay, and chose Alan J. Pakula (
Klute, The Pelican Brief
) to direct.
In the film version of
All the President's Men
, Redford plays Bob Woodward, who is assigned to cover the break-in at the Watergate. He goes to court to cover the five burglars' first appearance before a judge, and is surprised to find that they have hired a lawyer, when burglars are usually forced to use public defenders. He is also surprised to learn that one of the burglars has a connection to Charles Colson, one of the most powerful men at the White House. When he returns to the Post and verifies this information, he reports it to Metro editor Harry Rosenfeld (Jack Warden), who decides that this story might be a bit bigger than they'd first thought. So he assigns Woodward along with Carl Bernstein (Dustin Hoffman) to cover it, against the wishes of managing editor Howard Simmons (Martin Balsam), who thought it should be handled by more seasoned reporters.
Both reporters set out to gather more information about the connection between Charles Colson's office and the burglar, and find themselves running up against a blank wall at every turn: people refuse to talk to them, contradict themselves, and openly lie, all within twenty-four hours of the break-in. Through occasional slips on the part of the government employees they contact, they are able to at least piece together that this is a bigger story than then had imagined, one which involves highly placed government officials. It is at this point that managing editor Ben Bradlee (Jason Robards) takes a look at what they have and tells them that they don't have enough facts, so their story will be relegated to page three. But Bradlee can recognize a good story, and tells them to keep after it.
The reporters get their first real break when they start investigating the background of the burglars and discover a check made out to Kenneth Dahlberg, Midwest Finance Chairman for the Committee to Re-elect the President (which would come to be commonly referred to as CREEP), in the bank account of a firm owned by burglar Bernard Barker. From there their investigation escalates: but when they finally run out of leads again, Woodward turns to a contact he used in a past investigation. This time the contact refuses to speak to him about the new investigation, or at least that's what he tells Woodward over the phone. The contact surreptitiously gets a note to Woodward with instructions on when and where to meet him (a dark semi-underground garage in the middle of the night). When they meet, the contact lays out ground rules: he will not be named as a source, and he will not give Woodward any information, he will only confirm. He leaves Woodward with the admonition to "follow the money," and thus the legendary shadow figure of Deep Throat was be born.
Woodward and Bernstein's investigation, which would gain momentum, notoriety, and scorn as it continued from '72-'74, would eventually lead to those closest to President Nixon, and then to Nixon himself, with revelations about his knowledge and complicity in illegal activities and the notorious "dirty tricks" campaign eventually forcing his resignation.
All the President's Men
is a remarkable film that works on all levels. Screenwriter Goldman and director Pakula fashioned Woodward and Bernstein's book into a combination political thriller and in-depth look at investigative reporting. Goldman presents investigative reporting as it really is rather than as it is usually depicted in the movies: not all excitement, but frustrating and (at times) plodding with long periods of getting nowhere and running into dead ends. At the same time, Pakula miraculously keeps the tension high, even as Woodward and Bernstein are forced to go down a list of hundreds of names of employees and visit their homes strying to find someone who will talk about CREEP and how their money was handled.
The film is filled with fine performances: Redford is solid as Woodward and Hoffman is equally good as Bernstein. But Jason Robards nearly steals the film in his Oscar®-winning turn as Ben Bradlee. Robards maintains a high level of control and keeps his face unreadable as he listens to each new revelation from his young reporters, often making his responses genuinely surprising. Another fine performance is turned in by Jane Alexander as the CREEP bookkeeper who opens up to Bernstein. Alexander's high anxiety performance conveys the full range of conflicting emotions of the terrified woman.
All the President's Men
should be mandatory viewing in every history course in America. But beyond that, the film is a must for anyone who loves the sheer art of movie-making.
Warner Bros.' DVD of the film presents a beautiful transfer struck from source material that is in excellent shape. The black level is rock-solid and the contrast is way above par: a must for a film in which so much of the action takes place in dark areas. The audio is also in fine shape, with rich tone quality and deep bass. The two-disc special edition includes a feature-length commentary by Redford; "Telling the Truth about Lies: The Making of All the President's Men;" "Woodward and Bernstein: Lighting the Fire" featurette; "Out of the Shadows: The Man Who was Deep Throat" featurette; the vintage featurette "Pressure and the Press: the Making of All the President's Men;" and an interview excerpt with Jason Robards for the 70s talk show
Dinah!
, hosted by Dinah Shore.
For more information about
All the President's Men
, visit
Warner Video
. To order
All the President's Men
, go to
TCM Shopping
.
by Fred Hunter