DVDs from TCM Shop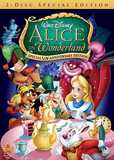 Alice in Wonderland Disney version of Lewis... MORE&nbsp> $15.95 Regularly $19.99 Buy Now blu-ray
NOTES
DVDs from TCM Shop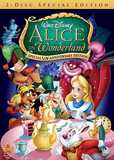 Alice in Wonderland Disney version of Lewis... MORE&nbsp> $15.95
Regularly $19.99 buy now
The opening title credits read: "Alice in Wonderland, an adaptation of Lewis Carrol's [sic] The Adventures of Alice in Wonderland and Through the Looking Glass." The cast credits begin with the statement: "With the talents of." Although Kathy Beaumont's credit reads "and introducing," she had previously appeared in the 1948 M-G-M production On an Island with You (see AFI Catalog of Feature Films, 1941-50).
Lewis Carroll was the pseudonym of Charles Lutwidge Dodgson (1832-1898), who was ordained as a church deacon in 1861. On an 1862 boat trip with the three young daughters of Henry Liddell, dean of Christ Church College at Oxford, Carroll first created the "Alice" stories, inspired by Liddell's daughter Alice, and finally published them as his first novel three years later. He hired John Tenniel to illustrate the book, and although Tenniel was unsatisfied with the first printing of the illustrations, a second edition was published one month after the first. Modern sources suggest that Mrs. Liddell grew concerned about Carroll's interest in her daughters, whom he used as models for his photography hobby, and so cut severed the relationship between Alice and the author. He published a sequel, Through the Looking Glass, in 1870.
Beginning in 1923, Walt Disney produced a series of shorts starring the character of "Alice," that mixed animation with live action. According to news items in Motion Picture Daily, Disney began considering translating Carroll's classic for the screen in 1933, as a partly animated, partly live-action film to star former silent star Mary Pickford. As noted in a Los Angeles Times article, it was not until August 1947 that Disney was able to purchase the screen rights to both novels, which were previously owned by Paramount. At that time, he also bought from Paramount a libretto by Henry Savile Clarke and music by Walter Slaughter for possible use in the film, as well as obtaining a long-term extension to the rights to Tenniel's illustrations. According to a February 6, 1949 New York Herald Tribune news item, Disney planned to "follow the general outline" of the Tenniel illustrations; however, the final images in the film are not very similar to the originals.
Modern sources state that in 1938 Disney hired artist David Hall to interpret the story graphically, but on May 15, 1942 Hollywood Reporter reported that the film, which was still in the "exploratory stages of preparation," would be shelved in order to devote production efforts exclusively to war cartoons for the U.S. government. By June 1945, according to a Hollywood Reporter article, Disney renewed work on the film with Walter Gunzberg as the writer and, as noted in modern sources, Ginger Rogers as the star. While a May 6, 1949 Daily Variety item stated that Ilene Woods would voice Alice, Los Angeles Times announced in November 1945 that Luana Patten would play Alice in the film, which was to be written by Aldous Huxley and finished by 1948. On July 7, 1947, Hollywood Citizen-News stated that Disney planned to translate the final film into ten languages and have premieres in "all major capitals of the world" in 1950. A July 13, 1947 New York Times article estimated the budget at $3.5 million; the final budget was $5 million. A June 5, 1949 Los Angeles Times article noted that Keenan Wynn would play "The March Hare" and that Disney had been waiting for Margaret O'Brien to become available to play Alice. On June 9, 1949, however, Los Angeles Times reported that O'Brien had turned down the role. A May 1954 Cosmopolitan article declared that Beaumont won the role of Alice because the twelve-year-old "had a British accent that wasn't too British."
Although sources vary as to exact dates, production lasted for about five years. On April 8, 1948, Hollywood Reporter noted that production was still "in full swing," while a September 10, 1949 Los Angeles Herald Express article stated that the film was "in an accelerated stage of production," and on May 8, 1951 a Hollywood Reporter news item described the film as "nearing completion." While some 1945 sources announced that the film would be fully animated, other later sources, including a March 15, 1949 Los Angeles Mirror article, asserted that it would mix animation and live action. As noted in a January 14, 1951 Life article, Disney spent two years during preproduction creating a "working model" of the script, or a live-action version that starred the voice actors and was used by the illustrators as a model of the images and actions. The working model, shot in 16mm, cost almost $250,000. According to the Life piece, it was destroyed after being used by the artists and only candid photographs still exist.
Although Disney's first weekly television series, Disneyland, did not begin until October 1954, the studio aired their first television special entitled "One Hour in Wonderland" on December 25, 1950 specifically to promote Alice in Wonderland. According to modern sources, the broadcast attracted twenty million viewers, and convinced the studio of television's marketing powers.
Days before the premiere of the film, distributor Souvaine Selective Films scheduled the New York opening of French filmmaker Lou Bunin's Alice in Wonderland, a feature-length, puppet version of Carroll's classic. According to a July 16, 1951 Time article, Disney and RKO responded by suing to restrain Bunin's film, but on July 12, 1951, Hollywood Reporter reported that a judge denied the injunction, ruling that "this sort of competition should be encouraged rather than suppressed." Soon after, Disney changed its New York premiere date to July 26, 1951, the same day as Bunin's film, but later settled for a July 28, 1951 opening. Bunin's film performed poorly at the box office, and Hollywood Reporter reported on August 2, 1951 that his film was closing after two weeks. Disney sued Bunin again to restrict further distribution, but Daily Variety reported on December 7, 1951 that the U.S. Circuit Court of Appeals had denied a restraining order.
According to a April 21, 1974 New York Times article, Disney, who died in 1966, asserted that he disliked Alice in Wonderland, which he felt lacked warmth and humor. Lux Radio Theatre broadcast a version of the film on December 24, 1951, in which most of the film's cast reprised their roles. Despite earning an Academy Award nomination for Best Music, Scoring Musical Picture (Oliver Wallace), the film was a box-office failure and within three years of its theatrical release was broadcast on the Disneyland television program. Alice in Wonderland gained popularity in the 1960s, however, when its psychedelia and suggestions of drug-taking appealed to contemporary college students, and Buena Vista re-released it theatrically in 1974.
Other films based on Lewis Carroll's novel include a 1910 version entitled Alice's Adventures in Wonderland, made by Thomas A. Edison Inc. (see AFI Catalog of Feature Films, 1911-20); a 1933 Paramount production directed by Norman McLeod (see AFI Catalog of Feature Films, 1931-40); a 1935 British film of the same title released by Kinematrade, Inc.; and a 1972 film entitled Alice's Adventures in Wonderland, directed by William Sterling and starring Fiona Fullerton. In 1990 Woody Allen directed Alice, starring Mia Farrow, which loosely embodies the spirit of Carroll's novel. Dreamchild, a 1985 British film directed by Gavin Millar and starring Coral Browne and Ian Holm, explored the relationship between Lewis Carroll and Alice Liddell.