DVDs from TCM Shop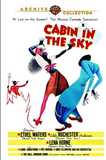 Cabin in the Sky God and Satan battle for the... MORE&nbsp> $14.36 Regularly $17.99 Buy Now
NOTES
Actors Ethel Waters and Rex Ingram appeared in the 1940 Broadway production of Cabin in the Sky and reprised their roles for this film. The Broadway production also starred Katherine Dunham, Dooley Wilson and Todd Duncan. An April 1942 Hollywood Reporter news item noted that M-G-M purchased the film rights to the musical play for $40,000, and that the producers of the Broadway show lost $25,000 during its New York run. Cabin in the Sky marked Vincente Minnelli's first comprehensive screen directorial assignment. Prior to this film, Minnelli had directed stage shows and individual musical numbers in two Judy Garland films. Although some modern sources refer to Cabin in the Sky as Lena Horne's first film, she actually made her motion picture debut in the 1938 Million Dollar Production The Duke Is Tops (see AFI Catalog of Feature Films, 1931-40; F3.1147) and had also appeared in the 1942 M-G-M film Panama Hattie (see below).
According to a July 1942 Hollywood Reporter news item, writer Marc Connelly contributed to the screenplay by "bending the storyline to make 'Happiness Is a Thing Called Joe' a plot point." Modern sources list Eustace Cocrell as a contributor to the screenplay, and note that Busby Berkeley directed one of the film's musical numbers. An early August 1942 Hollywood Reporter news item noted that Gene Kelly was set to direct dances, but his participation in the final film is unlikely. Although news items in Hollywood Reporter announced that Paul Robeson was being considered for a starring role, and that Cab Calloway was set for an "important" role opposite Waters, neither Calloway nor Robeson appeared in the film. Various news items in Hollywood Reporter list actors Raymond Turner, Clinton Rosemond and Napoleon Whiting in the cast, but their appearance in the released film has not been confirmed.
According to an April 1942 Hollywood Reporter news item, this picture was to have been the first of three M-G-M "all-Negro" musicals. M-G-M considered producing a second all-black cast film, a motion picture version of George Gershwin's Porgy and Bess, but made no additional all-black cast films. Cabin in the Sky featured only two songs from the original stage musical, "Taking a Chance on Love" and "Cabin in the Sky." One musical number written especially for the picture, "I Gotta Song," was removed from the film before its release. According to modern sources, the film cost approximately $680,000, making it one of producer Arthur Freed's least expensive musicals of the 1940s. Modern sources note that prominent caricaturist Al Hirschfeld designed posters for the picture. The song "Happiness Is a Thing Called Joe" was nominated for an Academy Award in the category of Best Song.