DVDs from TCM Shop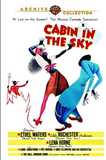 Cabin in the Sky God and Satan battle for the... MORE&nbsp> $14.36 Regularly $17.99 Buy Now
Home Video Reviews
Vincente Minnelli (
Meet Me in St. Louis, An American in Paris, Gigi
) was given his first opportunity to direct a feature film with this adaptation of the 1941 Broadway hit
Cabin in the Sky
, the all-black musical (which ironically would make it to the screen in 1943, the same year that Fox released
Stormy Weather
).
The great Ethel Waters repeats her the her stage success as Petunia Jackson, a very religious woman whose only possible source of trouble is her husband, the comical sinner Joseph "Little Joe" Jackson (Eddie "Rochester" Anderson) who likes to gamble now and then, dabble with the ladies, and whose one fervent hope in the world is that he will win the Irish Sweepstakes. Petunia's latest attempt to get Little Joe into church to be saved almost works, until some of his gambling cronies turn up at the church door and tempt him away to "Jim Henry's Paradise," where gambling and drinking are the chief forms of entertainment. When Petunia gets out of church, she hears a gunshot ring out, and rushes toward town, only to find a mob pouring out of Jim Henry's in panic. Inside the club she finds Little Joe, shot but still alive.
Petunia gets him home and a doctor tends to the wound, not particularly holding out very much hope for recovery. In fact, as it turns out the spirit world has already been put on notice of Joe's upcoming demise. Lucifer, Jr. (Rex Ingram, also repeating his stage success) appears along with a trio of henchmen/devils, which include Mantan Moreland (Birmingham Brown of the
Charlie Chan
series), and Willie Best, who was also known on screen as Sleep'n Eat. The devils bring Joe's spirit out of his body and inform him that he's dead, and that he's theirs! But Petunia intercedes: when she discovers that Joe's body is getting cold, she lets out with an impassioned prayer to God, and immediately The General (Kenneth Spencer), one of God's most trusted minions, appears to help save Joe. Lucifer, Jr. argues that it isn't fair for God to be changing the rules in the middle of the game, but The General comes up with a good compromise: God will allow Joe to live for only another six months, and his behavior during that period will determine his dispensation in the after-life. The only problem is, Joe will not remember any of this when he returns to his body, so his conversion will have to be totally spontaneous.
Much to the dismay of the devils, despite not being able to remember the spat between the angels and the devils, the near death experience itself has caused a change in Joe's character. He is much more a home body (partly due to his slow recovery), and he seems all the more in love and at peace with Petunia. But the devils aren't to be foiled so easily: the rig it so that Joe actually does win the Irish Sweepstakes, then send Satan's favorite temptress, Georgia Brown (Lena Horne) to try to wheedle her way into his affections. Initially she fails, as Joe sings about being all-to-aware now of the
Consequences
of his actions. But when Georgia is caught expressing her gratitude toward him with a kiss, Petunia shows up unexpectedly and misconstrues what's going on.
Weeks later Joe is escorting Georgia to Jim Henry's place on a nightly basis, until a newly gussied-up Petunia arrives to let him know that she's about to sue him for her half of his winnings. The brewing cat fight between Petunia and Georgia is broken up by the arrival of Domino Johnson (John William Sublett), who has just been released from jail for shooting Joe. When their latest meeting erupts in violence, Petunia once again calls on the Lord to end it — telling him to blow the place down if he has to. And the Lord does just that, smashing the club with the use of a freak tornado (and some unused storm footage from
The Wizard of Oz
). When Petunia and Joe discover that they've been killed, they find that for both of them to get into heaven will entail striking one last bargain.
Cabin in the Sky
is another black-themed film that unfortunately presents some overt stereotypes (of which Domino Johnson's rendition of "Shine" is particularly eye-opening). But the film is so exuberant and so beautifully acted that it can be forgiven for its racial shortcomings. Waters is flawless as Petunia, giving perfect voice to a pair of songs that would quickly become standards: the adoring "Happiness is a Thing Called Joe," and the slyly sensual "Taking a Chance on Love." Waters also gets to do a lovely duet with Anderson on the film's title song. Petunia is a role that probably could've been embarrassingly stereotypical in the hands of a lesser actress, but Waters has the confidence and the emotional range to make the role three-dimensional. Anderson is equally good as the mildly sinful Little Joe, whose minor infractions disappear in the strength of his love for Petunia. And Lena Horne provides some needed sauciness in the role of Georgia Brown, though unfortunately her best number, "Ain't It the Truth," would end up on the cutting room floor after the Hayes office decided that it would be too sexually stimulating to see a black woman in a bubble bath (and I don't even want to think about how they arrived at that conclusion!). Ironically, the number would appear just three years later in the short subject
Studio Visit
(which is included on the disc).
While the film might not have been a smash when released, it was enough to prove that Vincente Minnelli was an extraordinarily gifted director. He demonstrates this in the film's first number, sung inside the church, as the camera makes a lazy zig-zag from soloist to soloist in the congregation, while also tracing the spread of a juicy bit of gossip. His propensity for fluidly integrating songs into the story is shown over and over again, particularly in "Happiness is a Think Called Joe," where the camera almost caresses Waters' beautiful face, then follows her through her chores, at the same time showing the passage of time. It really is amazingly subtle and canny direction, which did not go unrecognized by the studio.
Warner Bros.'s DVD has been struck from source material that is in remarkably good shape, with a modicum of debris and no damage. The black level is very deep, and the image is beautifully contrasted throughout. The audio is also in surprisingly good shape, with very little in the way of deterioration, and full-bodied tone quality and strong bass.
The disc includes the aforementioned short "Studio Visit" (though I wish Warner had provided the "Ain't it the Truth" number separately). Additionally there is an audio outtake of Louis Armstrong performing that same song. The disc also includes a feature-length commentary by Professor of Critical Studies Dr. Todd Boyd, who recently provided one of the worst commentaries I've heard (for
Stormy Weather
), and does the same here. Boyd repeats the words "Represents, representative, and representation" so many times one would think he had just learned them – and apparently feels that nothing in this film is actually what it is. He offers such mind boggling insights as describing Petunia as "representative of cantankerous, argumentative" black women (and anyone familiar with the film will be scratching their heads at that one). He later points out that Mantan Moreland's hair, which like all the rest of the devils is twisted into a pair of devil's horns, is actually a racist image hearkening back to Bbuckwheat in
The Little Rascals
. Boyd even goes so far as to claim that Butterfuly McQueen's voice is a racial stereotype. Fortunately we are given relief from Boyd with comments from Minnelli expert Drew Casper, as well as snippets from Evangela Anderson (Rochester's widow), and their daughter Eva. Fayard Nichols of the Nicholas brothers also provides comments, and interview excerpts from Lena Horne are included as well.
For more information about
Cabin in the Sky
, visit
Warner Video
. To order
Cabin in the Sky
, go to
TCM Shopping
.
by Fred Hunter