DVDs from TCM Shop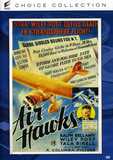 Air Hawks Two competing air services... MORE&nbsp> $17.95 Regularly $20.95 Buy Now
Home Video Reviews
Sony's line of manufactured-on-demand DVDs, known as the Sony Pictures Choice Collection (formerly Screen Classics By Request), has been a mixed bag since its debut a year or two ago, with titles like
Mark of the Gorilla
(1950) and
Birds Do It
(1966) far outweighing actual classics. Some very worthwhile titles ripe for rediscovery
have
slipped in, however, and a case in point is the new release
Air Hawks
(1935), a nifty little 68-minute Columbia programmer that stars Ralph Bellamy, though it functions more like an ensemble piece.
What starts out as a typical aviation film of the period -- with Bellamy as the owner of an airline who refuses to sell out to a rival company -- takes a very enjoyable turn into mad scientist/sci-fi territory when the rival company turns to a professor with a mobile, laser death ray that can shoot planes out of the sky. Planes start dropping, and the resulting public outrage forces Bellamy to reconsider selling. It's completely preposterous, but we buy it by sheer force of the film's storytelling craftsmanship.
Director Albert Rogell, while completely forgotten today, was by1935 already a veteran of countless silent westerns, and his career would stretch well into the sound era and even into television. He was no great auteur, just a working professional, and among his other credits are the mystery-comedy classic
The Black Cat
(1941) and the Robert Cummings favorite
Heaven Only Knows
(1947). With
Air Hawks
, he keeps things moving swiftly and skillfully and merges several genres quite well, playing up the humor, menace and thrills as needed from scene to scene.
In the eclectic cast, Douglass Dumbrille makes a fine villain (as always), and Edward Van Sloan is perfectly over-the-top as the mad scientist -- a role he had already played well in many classic Universal horror movies. Many more such parts would follow.
The lead female role here is played by Tala Birell (born in Romania as Natalie Bierl), one of many exotic European actresses Hollywood tried to build into stars around this time. While stardom was not in the cards for Birell, she did stick around Hollywood and appeared in some three dozen films (including bit parts) before returning to Europe.
And famous aviator Wiley Post appears as himself for a couple minutes of screen time -- despite being second-billed! Post had a few years earlier become the first pilot to make a solo flight around the globe, and he became a bona fide celebrity because of it. This was his only movie appearance. A few months after the release of
Air Hawks
, Post, along with humorist Will Rogers, died in an Alaska plane crash.
At the time
Air Hawks
was made, Post was developing and testing the first pressurized flight suit for high-altitude flying. Made of inflatable latex and canvas, with oxygen fed in through the helmet, it can be seen in this film.
Film scholar William K. Everson put it best when he described
Air Hawks
as "vintage Saturday matinee fare from the '30s. Professionally made, with slick direction, a good cast, and polished production values; it's the kind of film that more than pleased us, within its category, back in the '30s, and thus it is unfair to apply more exacting standards to it today."
Sony's burn-on-demand DVD boasts excellent picture and sound quality, and is well worth catching.
For more information about
Air Hawks
, visit
Sony Pictures Home Entertainment
.To order
Air Hawks
, go to
TCM Shopping
.
By Jeremy Arnold