DVDs from TCM Shop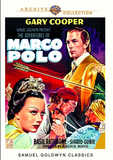 The Adventures of Marco Polo Classic biography of the... MORE&nbsp> $15.96 Regularly $19.99 Buy Now
NOTES
DVDs from TCM Shop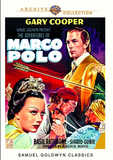 The Adventures of Marco Polo Classic biography of the... MORE&nbsp> $15.96
Regularly $19.99 buy now
Marco Polo was a Venetian who traveled to China in the late Thirteenth Century, possibly the first Western man to do so. His exact dates are unknown, however, he lived from about 1254 to 1324. The details of Polo's trip to China were recounted in the book Tracci di Marco Polo (c.1300, translated as Travels with Marco Polo), which Polo dictated to Rusticiano of Pisa, a man who was imprisoned with him in Genoa during a war between Venice and Genoa. Stories of Polo's exploits and discoveries, some of which are disputed by modern historians, are contained in his book and have been recounted in novels and films about the Venetian. According to contemporary news items, Douglas Fairbanks had written a script in early 1936 based on Polo's adventures that was to be produced by Samuel Goldwyn. News items in Hollywood Reporter indicate that Fairbanks and Goldwyn had wanted Gary Cooper to star in the production, but a $5,000,000 lawsuit initiated by Paramount Pictures against Goldwyn in mid-1936 for allegedly trying to lure their star away apparently delayed the Fairbanks-Goldwyn film indefinitely. In 1937, Goldwyn purchased an original story on Marco Polo from N. A. Pogson, and Fairbanks was apparently no longer involved in the project.
The film was originally to be shot in Technicolor, but, according to an article in Motion Picture Herald in May 1937, this was impossible because most of the Technicolor equipment then in existence was already in use on other films. Instead, the film was made in a sepia tint, supervised by Jack Nicholaus, who was borrowed from M-G-M for the project. When the production began on June 15, 1937, John Cromwell was the director, however, a few days after filming commenced Cromwell left the project over what a Film Daily news item said were "differences of opinion on story treatment." Modern sources have noted that while Cromwell wanted to film the picture in the tongue-in-check manner suggested in Robert E. Sherwood's screenplay, Goldwyn wanted the picture to be a serious adventure film. Subsequent to Cromwell's departure, Archie Mayo was assigned to direct the picture, after being taken off pre-production work on The Goldwyn Follies (see below). Modern sources have indicated that William Wyler was approached to take over direction of the picture when Cromwell left but refused the assignment, and John Ford directed some of the film's action sequences, including one of a blizzard in the Himalayas. Portions of the film were shot on location at Malibu Lake where, according to a Hollywood Reporter news item on 31 Jul, two hundred yards of the Great Wall of China were reconstructed and the crew was put on a twenty-four-hour-a-day schedule. Binnie Barnes, who portrays Nazama in the film, replaced actress Verree Teasdale, who had to withdraw from the film during production because of illness. Modern sources also mention that Basil Rathbone, who portrayed Ahmed in the picture, replaced John Carradine shortly after filming began.
Some reviews were positive about the film, although most wrote unfavorably about the picture. An unidentified but contemporary newspaper review contained in the file on the film in the AMPAS Library called it "Mr. Deeds Goes to China Town," spoofing Gary Cooper's popular 1936 film Mr. Deeds Goes to Town, and the Motion Picture Daily reviewer called it Kublai Khan Rides Again. The reviewer also noted the irony that when writer Sherwood, was a film critic for Life he called the highly successful 1921 film, The Sheik "an average Western with the cowboys wearing Kimonos." Several other reviewers compared the film to a Western in theme and story. Actress Sigrid Gurie made her American motion picture debut in the film. Several ads emphasized Gurie, and one mentioned that her wardrobe in the picture cost $150,000. Though Gurie was reared in Norway, and ads and reviews for the film refer to her as Norwegian, she was born in the United States. Modern sources have noted that Gurie's American birth soon became a joke in the press where she was variously called "Brooklyn-born" or "born in Flatbush." Modern sources also note that the film lost a great deal of money, the first time that Cooper had had a large flop since becoming an international star.
According to an obituary for actor and stuntman Richard Farnsworth, he was cast as one of the 500 Monogolian horsemen in the film; however, his appearance in the final film has not been confirmed. Additional cast members included in modern sources are, Reginald Barlow, James Leong, Dick Alexander, Jason Robards, Granville Bates, Theodore von Eltz, Gloria Youngblood, Diana Moncardo, Mia Schioka, Dora Young, Diane Toy, Henry Kerua, Greta Granstedt, Harry Cording, Dick Rich, Joe Woody and Leo Fielding. A number of films have been made featuring fictionalized accounts of Marco Polo's exploits. Among them are the 1962 Italian film called Marco Polo, directed by Hugo Fregonese and starring Rory Calhoun, a 1966 film entitled Marco the Magnificent, directed by Dennis De La Patalliere and Noel Howard, and starring Horst Buchholz and Anthony Quinn (see AFI Catalog of Feature Films, 1961-70; F6.3089 and 3090) and a 1972 television movie entitled Travels with Marco Polo, starring Desi Arnaz, Jr.