DVDs from TCM Shop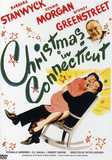 Christmas in Connecticut A homemaking specialist who... MORE&nbsp> $7.46 Regularly $14.98 Buy Now blu-ray
Home Video Reviews
A year after the great Barbara Stanwyck burned up the screen as Phyllis Dietrichson in
Double Indemnity
-a performance that ranked number 8 on the American Film Institute's list of greatest screen villains-Stanwyck would once again prove her amazing versatility in Warner Bros.' frothy confection
Christmas in Connecticut
, which would also provide perennial screen-heavy Sydney Greenstreet a chance to show his "lighter side."
Jefferson Jones (Dennis Morgan) is a naval officer whose destroyer goes down in the Pacific. After eighteen days on a life raft with no food, Jones is rescued and brought back to the states to recuperate in a hospital, where he's kept on a steady diet of mush to allow his system to readjust to food. While convalescing, Jones dreams of nothing more than a sumptuous meal of the kind described in glowing detail by Elizabeth Lane (Stanwyck) in her column in the glossy
Smart Housekeeping
magazine. Along with menus, Lane offers heartwarming, poetic glimpses into her life as a Connecticut farm wife, offering tips on housekeeping and gardening.
In an attempt to win Jones over to idea of marriage, Jones' love-struck nurse pens a letter to the publisher of
Smart Housekeeping,
Alexander Yardley (Greenstreet), asking to arrange for Jones to spend Christmas with Lane and her family on their Connecticut farm, so that Jones can get an idea of what happy domestic life would be like. Yardley seizes on the idea as a patriotic gesture and a great way to boost circulation. What he doesn't know is that Lane's home life is a complete fiction created by the journalist and her editor Dudley Beecham (Robert Shayne), and the mouth watering menus are provided by their long-time friend, restaurateur Felix Bassenak (S.Z. "Cuddles" Sakall). Although Lane tries to talk him out of it, the overpowering Yardley not only convinces her that it's her duty to open her home to the wounded serviceman for the holiday, but invites himself along as well.
Certain that she will lose her job when Yardley learns the truth, Lane resigns herself to giving in to the latest marriage proposal from her loquacious suitor John Sloan (Reginald Gardiner): but when she and Beecham remember that Sloan has a Connecticut farm, they hatch a plan to save their jobs by having Lane quickly marry Sloan and pretend that they've always been together. Unfortunately for Sloan, the quickie ceremony is interrupted by the early arrival of Jones for his visit, and they must pretend to be married while Lane attempts to play the role of a domestic expert. Lane's simple plan for duping the young officer and her publisher becomes hopelessly complicated when she finds herself falling for Jones.
Christmas in Connecticut
is rather like a sweet-potato casserole with melted marshmallows: a treat so curious it defies explanation, and yet so irresistible that no Christmas season would be complete without it. The film's success lies squarely on Stanwyck's broad shoulders: she is so consummately versatile that she was equally at home in ultra-light comedy as she was in hard-bitten drama (the year after
Connecticut
she would give another of her most searing performances in
The Strange Love of Martha Ivers
). Here Stanwyck shows her infallible ability to tailor her talent to the material. As Elisabeth Lane, Stanwyck never appears to be working too hard to make the role funny, but instead breezes through the film like a breath of fresh air. In the first half of the film, while trying to hide her ignorance of domestic life, Stanwyck perfectly balances her attempts to appear at ease with the fact that Lane is walking a mine field in which any common domestic task may expose her duplicity.
Dennis Morgan proves a charming leading man in a role that is not overly demanding but could've easily been overdone, and Sydney Greenstreet is a pleasure in one of his rare good-guy roles (it's a particular pleasure to see him re-teamed with Casablanca co-star Sakall).
For more information about
Christmas in Connecticut
, visit
Warner Video
. To order
Christmas in Connecticut
, go to
TCM Shopping
.
by Fred Hunter