DVDs from TCM Shop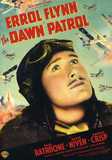 The Dawn Patrol A flight commander in France... MORE&nbsp> $14.96 Regularly $19.98 Buy Now
NOTES
The film opened with the following written foreword: "Today, when ominous rumblings of war echo throughout the world again, this story of the last great war is especially significant. On the Western front in 1915, Britain's Royal Flying Corps found itself engaged in a desperate struggle for existence against an enemy of superior size, strength and experience. At that time, the Royal Flying Corps had little except magnificent courage and a grim determination to do its job."
Exterior airfield shots were made at Warner Ranch in Calabasas, CA. Period music includes "Poor Butterfly," words by John L. Golden, music by Raymond Hubbell, T. B. Harms and Francis, Day & Hunter and "Pack up Your Troubles in Your Old Kitbag and Smile, Smile, Smile," words by George Asaf, music by Felix Powell. The Dawn Patrol marked the American motion picture debut of Vienese-born actor Carl Esmond (1908-2004).
According to information contained in the production file on the film in the Warner Bros. Archive at the USC Cinema-Television Library, in 1930 Howard Hughes' Caddo company sued Warner Bros., claiming that certain story ideas and techniques used in the 1930 production of The Dawn Patrol were based on similar ones in Hell's Angels. Hughes lost the suit when it was determined that the disputed ideas originated with John Monk Saunders.
Saunders had recently left the air service when he wrote the story that was the basis for the award-winning film Wings, which was produced in 1927 by Famous Players-Lasky, (see AFI Catalog of Feature Films, 1921-30). In 1929, Howard Hawks was looking for an air war story as a vehicle for Ronald Colman, and Saunders wrote the story "Flight Commander," which became the basis of the first Dawn Patrol, directed by Hawks and starring Richard Barthelmess, Douglas Fairbanks, Jr. and Neil Hamilton (see AFI Catalog of Feature Films, 1921-30). The film was novelized by Guy Fowler and Saunders in 1930. Extensive aerial footage and exterior shots from the Hawks film were used in the 1938 remake. According to memoes in the Warner Bros. files on the film, scenes were planned around the 1930 footage to minimize production expenses. In 1941, Warner Bros. blended aspects of The Dawn Patrol and their 1936 film Ceiling Zero and produced Flight Patrol.