DVDs from TCM Shop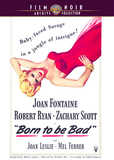 Born to Be Bad An ambitious girl steals a... MORE&nbsp> $18.95 Regularly $21.99 Buy Now
NOTES
Working titles for this film were Christabel Caine, All Kneeling and Bed of Roses. As indicated in the file on the film in the MPAA/PCA Collection at the AMPAS Library, two endings were shot for the film. In the first version, which was submitted for PCA approval on September 13, 1949, the picture concludes when "Christabel" leaves "Curtis'" house with only a few furs. The second ending, which was submitted for approval on August 8, 1950, included the scene in which "Donna" and "Curtis" reunite, as well as the car crash scene and subsequent scandal scenes. Although the second ending appears to have been used in 1950 release prints, the first ending was seen in the viewed print. Gordon Oliver's cast credit was not included in the viewed print, but was listed in a 1950 cutting continuity deposited with the copyright records.
The PCA file also indicates that, although early drafts of the story were approved by the Breen Office, later versions caused objections because of the "implication of illicit sex which is treated without the proper compensating moral values." Although no significant changes were made in the story, the script was finally approved in June 1949, as was the revised ending in August 1950. In a September 13, 1950 letter to PCA director Joseph I. Breen, however, Martin Quigley, the influential, conservative president of Quigley Publishing Company, complained that the revised ending, which he noted was ordered by RKO head Howard Hughes, was morally unacceptable because the "dame" is not punished, but is seen "nicely getting away with it." In response, Breen reassured Quigley that his office and RKO were headed for a "grand crash." In addition, in November 1949, Variety reported that because of pressure from the National Legion of Decency, RKO withdrew its foreign version of Born to Be Bad, which the Legion considered to be "more morally offensive" than the domestic version, and replaced it overseas with the domestic version. Modern sources note that the reunion scene between Donna and Curtis, which takes place after Curtis is seen flying by himself in a small airplane, was rewritten by Hughes. Modern sources also claim that while Nicholas Ray directed some of the rewritten material in 1950, Robert Stevenson reshot the hospital scene and Richard O. Fleischer directed the scene in the prison hospital.
Contemporary news items add the following information about the production: Pre-production on the picture began in late 1945. At that time, William Pereira was to produce the film, and Paul Stewart was to direct it. Alan Marshal, who was to be borrowed from David O. Selznick's company, was slated to co-star with Joan Fontaine, and Marsha Hunt, a featured player at M-G-M, was to have a supporting role. In mid-January 1946, Stewart was removed as director, and John Sutton was hired to replace Marshal. Paramount director John Berry was hired in late February 1946, and Henry Fonda was announced as Fontaine's new co-star in mid-March 1946. According to modern sources, Edmund Goulding, John Hambleton and Shepard Traube were also assigned to direct before Ray was finally chosen in May 1949.
Modern sources also note that in 1948, RKO contract star Gloria Grahame was being considered for the film's lead, but was rejected by studio head Howard Hughes, who then ordered an indefinite delay in production. Modern sources also claim that Barbara Bel Geddes was considered for the title role. In addition to Marshal and Sutton, other male leads under consideration were Ronald Reagan, David Niven, Dan Duryea, Vincent Price, George Sanders and Franchot Tone, according to modern sources. RKO borrowed Zachary Scott from Warner Bros. for the production. Joan Leslie returned to the screen after a two-year absence to co-star in the film. According to Los Angeles Times, the portraits seen in Born to Be Bad were painted by Ernst Van Leyden, who also was a technical advisor on the picture. Wood sculptures, which were also featured in the film, were created by "GI-bill students" Jack Horton and Bennett Wade, according to the same item.
According to modern sources, Hughes's action in regard to this film contributed to RKO production chief Dore Schary's decision to leave the studio. Modern sources give the following additional credits: Dir of photog for addl scenes: Clifford Stine, Harry J. Wild and Robert de Grasse; Sd for addl scene: Earl B. Mounce; and Dialogue Director: Rodney Amateau. Additional cast members from modern sources include Jane Hedges (Lawyer's secretary), Sam Harris (Old man at ball), J. Park, M. Russell, John Holland, Russell Fillman, Perc Launders, Stan Holbrook and Ted Cooper.