DVDs from TCM Shop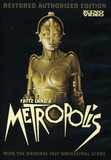 Metropolis In this silent film, a city of... MORE&nbsp> $21.95 Regularly $29.95 Buy Now
Home Video Reviews
Film restoration as we know it today got a big boost in the second half of the 1980s, when the profits to be found in Home Video made film studios more aware of the cinematic riches decomposing in their vaults. Photochemical rejuvenation work before that time tended to be performed only on very special titles, such as
Gone With the Wind
or the Judy Garland remake of
A Star is Born
. With the exception of institutions like the Museum of Modern Art and the Eastman House, American archives independent of the studios were few and grossly underfunded. European archives were better established, and rescued quite a few silent masterpieces. In England, independent film scholar and restoration specialist Kevin Brownlow inspired many with his work on Abel Gance's films, most notably
Napoleon
.
In 1978 our PBS TV stations broadcast G.W. Pabst's
Pandora's Box
and Fritz Lang's
Metropolis
in slightly more complete BBC versions, with new scores and transferred to video at proper projection speeds. The improved
Metropolis
left much to be desired. The version still followed the continuity of the Paramount Studios' 1927 re-cut, with its altered, simplified storyline. Fritz Lang's film was in poor condition, a mess of scratched, damaged and unstable shots. At around eighty minutes (at 24 fps) almost half of its original footage was missing. Curious new viewers found mostly confusion, while silent film enthusiasts and science fiction fans admired the remains of
Metropolis
without understanding it. I myself saw the film projected at UCLA in 1973, with Fritz Lang in attendance. He stated that he no longer believed it to be a good film at all, and did not attempt to tell us that it had been radically edited. We film students did not realize that what we were shown was actually an altered, inferior remnant of Lang's original.
Enter successful composer and record producer Giorgio Moroder, who had made music history with movie scores and hit disco records by the likes of Donna Summer. His
Midnight Express
and
American Gigolo
had established synthesizers as a dominant fad in film music of the 1980s. Moroder was also an avid film fan well informed about the tragic history of Fritz Lang's
Metropolis
. He consulted German film experts with the idea of reassembling the original lost Lang cut that played for only a few weeks in Berlin in early 1927. He also aimed to produce a contemporary soundtrack for the movie, to make it accessible to modern audiences.
With the help of German film expert Enno Patalas, Moroder gained access to the existing pieces of
Metropolis
that had surfaced by the early 1980s. From sources in the Soviet Union, Australia and even a private collector in Los Angeles came extra shots and half a scene or two not contained in the standard Paramount version. Moroder proceeded with radical revisions to help the show play as a new theatrical release. He replaced the silent inter-titles with superimposed subtitles. He stretch-printed some shots, artificially slowing them down for a 24 fps projection speed. Moroder commissioned several new animations to replace stylized opening text cards. Still photographs were animated to illustrate missing footage. Finally, Moroder re-edited the entire movie for maximum impact, shortening many scenes and altering the pacing and shot order to play better against his disco-inflected soundtrack.
Moroder's main contribution is of course his music. A striking and dynamic main theme is used as a background for the large-scale action scenes. Instrumental cues enhance other scenes with weird atmospheres, and the famous scene where the robot takes Maria's form is scored with a symphony of electronic sound effects. Just as often, however, the instrumentals fight the film's own natural rhythm. The scene in which the Good Maria rings the alarm bell in the worker's city is designed and cut around the visual cadence of the bell-clapper. After marking the first few clapper strikes Moroder's music imposes a faster beat of its own.
Moroder commissioned lyrics by Pete Bellotte and engaged star recording artists to sing them. As the MTV cable channel had reached its height of popularity just a year before, the music video connection was surely Moroder's main selling point. Most of the songs push Lang's classic into the background, working against the images they are meant to enhance. Even the best lyrics are far too literal. Cycle V's
Blood from a Stone
accompanies the marching workers, and is at least a good tonal match. Pat Benatar's
Here's My Heart
parallels scenes with the Good Maria, and is inoffensive, if redundant.
Cage of Freedom
(Jon Anderson) and
On Your Own
(Billy Squier) are also not too awkward. But the wrenching, overly literal and agitated vocals for
Destruction
(Loverboy) and
Love Kills
(Freddie Mercury) are laughable. Bonnie Tyler's
Here She Comes
is quite a good rock tune, but can come off as hilarious when attached to images of the Evil Maria slinking across the screen in a stylized trance. And the repeated question in the lyric to
What's Going On?
(Adam Ant) seems silly when applied to shots of the young hero Freder investigating various underground machine rooms and catacombs: "What's going on? / I wanna know!"
The songs in themselves make for a fine album, and film audiences were split as to their value. Some fans of Fritz Lang considered them the equivalent of audio vandalism. But film restoration experts don't condemn the 1984
Giorgio Moroder Metropolis
, as it helped promote the cause of restoring old movies. The publicity around the release brought more attention to film restoration in general. Studios developed departments to make sure that as many titles as possible in studio vaults were "serviceable" = exploitable on film and video. Troubled movies like Frank Capra's 1937
Lost Horizon
became the focus of major restorations.
The biggest benefit to
Metropolis
came from Giorgio Moroder's return to Fritz Lang and writer Thea von Harbou's original storyline. The Moroder version restored the rivalry between Joh Fredersen, the Master of Metropolis, and the mad inventor Rotwang, over the long-dead woman they both loved. Because the appropriate film footage was nowhere to be found, a new piece of artwork depicted the oversized sculpture Rotwang has erected to her memory. The worker 11811 (Georgy) is shown (via a rare still photo) rushing to the brothel-nightclub called Yoshiwara, an element dropped in the Paramount re-cut. According to Enno Patalas, Moroder's so-called "disco version" inspired curiosity about Lang's original cut, and helped accelerate the search for more and better footage. The culmination of that effort was, of course, the near-miraculous uncovering of an almost complete Argentine print in 2008.
Giorgio Moroder's Metropolis
was issued on VHS and laserdisc, but various rights problems prevented its release on DVD until now. The old laserdisc became a pricey collector's item in the 1990s, fetching hundreds of dollars. Kino had hoped to include it in a proposed boxed set to be marketed with
The Complete Metropolis
, along with the 1927 Paramount re-cut and perhaps the BBC cut as well. Fans of Moroder's music will welcome its return.
Kino Classics' Blu-ray of
Giorgio Moroder's Metropolis
is indeed meant for lovers of the disco music score. The picture element is the same as was shown in 1984 and therefore cannot compete with the better sourced and digitally enhanced
The Complete Metropolis
that came to Blu-ray last Fall. Many shots are murky and unstable. Moroder's revision adds color to a few skies and tints liquids in the glassware in Rotwang's lab, but the quality overall now serves mainly to remind us of how damaged the film was for so long. The soundtrack is the expected brilliant professional remix of Moroder's tracks to 5.1 stereo channels (or 2.0 with the original 1984 mix, included).
Don't be fooled by the "original" trailer for the '84 cut presented as an extra -- it's a mockup that substitutes cleaner images from the latest improved versions. The quality of the video in the feature presentation accurately represents original 1984 prints.
A pleasant surprise on the disc is an original 1984 featurette explaining Moroder's restoration process, before the notion of "film restoration" had been firmly established with the public. We see footage of a music session and a rare film interview with John Hampton, the legendary founder of Hollywood's Silent Movie Theater. Hampton's copy of the film was sourced for some of the new film material. It's interesting to note that this early featurette about the need to restore old films, has itself faded rather severely.
For more information about
Giorgio Moroder's Metropolis
, visit
Kino Lorber
.
by Glenn Erickson
Fritz Lang's 1927 epic
Metropolis
is revered as a landmark science fiction filmmaking, a masterpiece of silent film and a visionary work of cinema. Its influence on filmmaking and popular culture is immeasurable, its technical triumph is astounding and the sheer scale of its production is still impressive. What's often forgotten is that this acknowledged classic was a financial disaster for the German studio Ufa. Produced at a cost of $5 million marks, it was the most expensive film ever made by the studio, yet it took in under $100,000 marks on its initial run in Germany. The studio pulled the film from release and made major cuts to bring the running time from 2 ½ hours to under 2 hours before sending it back out into general release in Germany and around the world. The cuts were made to the film's negative and to existing prints of Lang's original release. The film as originally envisioned and presented was gone, seemingly forever, until a badly worn 16mm print was discovered in a film archive in Buenos Ares, Argentina. This damaged, almost unwatchable print, a 16mm reduction of an original 35mm print imported to Argentina before any of the studio-imposed cuts were made, gave film restorers footage that had been unseen and thought lost since 1927 and a guide to Lang's original editing scheme. This once-in-a-lifetime find become the foundation in what is now considered the definitive restoration of Lang's vision: but for a few unrecoverable minutes of footage, this is The Complete
Metropolis
.
Lang sets his epic in a fantastical world very much like an ancient Roman society in an industrial future. The privileged class lives a glorious city of architectural marvels and aesthetic delights built by a virtual slave class of workers, a literal underground society segregated in a sunless, joyless subterranean existence beneath the city. The visionary leader of this society, Joh Frederson (Alfred Abel), is an industrial mogul as authoritarian leader determined to keep the lower classes in their place. His golden boy son, Freder (Gustav Fröhlich), is oblivious to the reality of his existence until he meets Maria (Brigitte Helm), the beautiful activist in the workers quarters. Her signature proclamation, "The mediator between head and hands must be the heart," is political science as sermon and her vague mix of class conscious empowerment and religious prophecy preaches compassion and non-violence while awaiting the mediator--the messiah who will lead them from bondage--to arrive. Meanwhile, Frederson asks Rotwang (Rudolf Klein-Rogge), his resident mad scientist of an inventor, to turn his robot creation into a fake Maria--a false messiah--and twist her sermons into a call to action so he can justify a violent repression. But Rotwang, twisted by his hatred of Frederson, has his own kind of vengeance in mind.
Legend has it that
Metropolis
was born when Fritz Lang, on his first visit to America, looked out from his ship to the cityscape of New York and was struck with an inspiration. It's a legend he nurtured for the rest of his life but in fact, the film was in development months before his October 1924 voyage. Yet, as with many legends, there is a grain of truth in the story. While Thea von Harbou was developing the story (first in novel form, then as a screenplay) with Lang, the director was searching for the images that would define the film and that magnificent view of the 1924 New York skyline, a wonderment of skyscrapers and gleaming buildings, was one of many influences on visualization of his movie city, along with designs by futurist architects, the work of modern artists and sculptors and contributions by his art direction and design team, Erich Kettelhut, Otto Hunte and Karl Vollbrecht.
Lang's visionary visual creation remains impressive almost 80 years later, from the densely imagined cityscape created in paintings and miniatures to the massive sets that dwarf the actors and the swarms of extras and give the film a monumental scale. His use of crowd scenes are not just impressive on the level of spectacle, but in the way he moves them through the frame, from chaotic elements moving individually to a mobilized force moving en masse with unstoppable momentum: man colliding with the force of technology. In contrast to the lock-step mechanization of the workers below, the society elegance of the privileged class above and the mobilized masses driven by rage, Brigitte Helm's robot incarnation of the fake Maria seems to be channeling John Barrymore's Mr. Hyde by way of Dr. Caligari and Renfield, all twisted and contorted and gnarled, her face twisted and her body arching and her hands becoming claws in her mania. She stands out by body language and performance alone, a creature not of any human providence.
While most of these elements are present in previous restorations, this new edition reveals a wealth of subplots lost in the studio's edit. Restored are the stories of The Thin Man (Fritz Rasp), who in previous editions is sent by Joh Frederson on a clandestine mission and then all but disappears; Joh Frederson's assistant Josaphat (Theodor Loos), who is fired by Frederson and joins Freder in his odyssey; and the worker 11811, the man working the hands of the clock-like device who journeys to the world above ground and becomes intoxicated by the decadence. Those stories, only suggested via title cards in the previous reconstruction, fill out the film and add to the richness of the narrative, while other scenes are filled out with missing shots and excised sequences. The restoration of even these brief shots restores the rhythmic qualities of Lang's editing and in a few significant scenes adds to the scope and intricacy of the drama.
Just as important, they add character and personality to a film built on a saintly young hero and an impassive dictatorial antagonist. Gustav Fröhlich is kind of a stiff as Freder, the starry-eyed idealist captivated by the Christ-like Maria, and Alfred Abel is a stony Joh Fredersen, barely changing his expression through the film. The supporting characters and subplot trajectories leaven the spectacle and big messages with actual people within the faceless mobs who act and react individually. You might say they provide the heart that bridges the head and the hands (the big ideas and the visual spectacle) of Lang's vision.
The footage from the Argentinean print--washed out, scratched and scuffed and worn almost beyond repair--stands out from rest of the restoration, which comes from the best materials available and looks superb. Physical and digital restoration can only do so much, yet these missing scenes present footage unseen since 1927 (that is, unseen by all except some lucky audiences in Buenos Aires) and fill out the full scope of a landmark film.
Kino releases the film, taken directly from the digital master created by the Murnau Institute, on DVD and Blu-ray with Gottfried Huppertz's original symphonic score, adapted to this restoration and performed by the Rundfunk Symphony Orchestra, Berlin. Previous Kino editions of European restorations have been criticized for faulty conversions from the European PAL standard to North American NTSC. This disc has no such issues that I can see, perhaps because a digital edition was created for American distribution through digital projection. The DVD looks superb (you can see the film grain in still shots) and the Blu-ray is even sharper and clearer, and the soundtrack (presented in 5.1) sounds rich and bold on both. Artem Demenok's original 54-minute documentary "Voyage to Metropolis" is a German production that surveys the making of the film, the history of edits and alternate cuts that existed around the world, and the discovery of complete prints and the creation of this new restoration. At times it takes an impressionistic approach to explore the influences on Lang's vision and the influence it in turn had on popular culture, but its presentation of the restoration and reconstruction of the film is methodical and detailed and introduces viewers to the issues that face film historians and restorers the world over. Kino's version, adapted by Bret Wood, features English language narration with subtitles for the interview footage. The Kino release also features an English-language nine-minute interview with Paula Felix-Didier, the curator of the Museo del Cine in Buenos Ares, who tells the story of how the complete print came to Argentina and was tracked to the film archive, and a booklet with film notes by historian Bruce Bennett.
For more information about
The Complete Metropolis
, visit
Kino Lorber
. To order
The Complete Metropolis
, go to
TC M Shopping
.
by Sean Axmaker
Following its acclaimed 75th anniversary theatrical presentation, Kino on video is proud to announce that on February 18th, 2003, it will release the special edition DVD and VHS of the definitive restoration of Fritz Lang's
METROPOLIS
.
The special edition DVD of
METROPOLIS
brings a wide-variety of supplemental features, including an exclusive 43-minute documentary about the history and making of
METROPOLIS
, a gallery of posters and stills, a featurette explaining the digital restoration process and audio tracks and titles in English, German, French and Spanish.
Arguably the most famous silent film of all time, this brand-new presentation of
METROPOLIS
was licensed from Transit Films and the Murnau Foundation in Germany. After three years of restoration work and a budget of over $250,000, Fritz Lang's epic was finally reconstructed from positive prints, dupe negatives and camera originals assembled from around the world. Using new digital technology, all 1257 scenes were cleaned of scratches, tears and uneven contrasts. The result is a "DROP DEAD STUNNING" (Jami Bernard,
New York Daily News
)
METROPOLIS
, now available as close as possible to the German 1927 premiere version.
Drastically cut within three weeks after its release in Germany, this new restoration of
METROPOLIS
is also significantly longer than any previous theatrical or video release of the same film. The added time is mostly due to the inclusion of recovered shots, additional (and retranslated) intertitles, and the film's restructured narrative plot.
Gottfried Huppertz's original score was also re-recorded by a sixty-five-piece orchestra and, for the first time since the film's opening, it will accompany
METROPOLIS
and allows us to appreciate the original impact of the film.
Set in the far off year of 2026, the towers of Metropolis reach up to the skies and are the home of a privileged elite who callously rule the entire city. When Maria (Brigitte Helm), an inspired young woman from the "lower city" brings a group of workers' children to the "eternal gardens," she coincidentally meets Freder (Gustav Frohlich), the son of Metropolis' ruler Joh Fredersen (Alfred Abel). Immediately entranced with Maria's dazzling beauty, Freder follows her to the lower city and witnesses the deplorable conditions of the machine rooms, finally understanding the underlying reality of Metropolis.
Having celebrated
METROPOLIS
' s 75th anniversary with this successful theatrical reissue (the film played in over 100 markets in U.S. and Canada, grossing over $500,000 to date), Kino International now intends to make the definitive video and DVD versions of
METROPOLIS
available to a much larger audience in the North-American market.
For more information on
Metropolis
, visit
Kino International
. To purchase a copy of these DVDs, visit
TCM's Shopping Section
.