DVDs from TCM Shop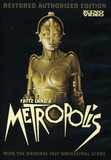 Metropolis In this silent film, a city of... MORE&nbsp> $21.95 Regularly $29.95 Buy Now
Articles
SEE ALL ARTICLES
Metropolis (1926)
Metropolis, the great city of the future, is divided into two worlds, the high-rise towers in which live the wealthy and the subterranean depths that house the workers. When Maria brings a group of workers' children into the upper areas, Freder, son of the wealthy industrialist Joh Fredersen, falls in love with her. Before long, he's followed her into the depths of the city to try to understand the plight of the workers. At the same time, Maria's glimpse of the life of the privileged has inspired her to preach equality to her fellow workers. To prevent a revolution, Fredersen gets the eccentric scientist Rotwang to capture Maria and create an evil robot duplicate of her so he can use the workers' movement to his own ends.SYNOPSIS

CAST AND CREW

Director: Fritz Lang
Producer: Erich Pommer
Screenplay: Thea von Harbou
Cinematography: Karl Freund, Gunther Rittau, Walter Ruttmann
Score: Gottfried HuppertzArt Direction: Otto Hunte, Erich Kettelhut, Karl Vollbrecht
Cast: Alfred Abel (Joh Fredersen), Gustav Frohlich (Freder), Rudolf Klein-Rogge (C.A. Rotwang), Fritz Rasp (The Thin Man), Theodor Loos (Josaphat), Brigitte Helm (The Creative Man/The Machine Man/Death/The Seven Deadly Sins/Maria)
BW -153 m.

Why METROPOLIS Is EssentialMetropolis is the first feature-length science-fiction film and an epic that would set the style and themes for the genre for decades to come. No film before had created such a complete vision of a future world. It created the iconic image for cities of the future that would be reflected in such films as Just Imagine (1930), Alphaville (1965), Blade Runner (1982), The Fifth Element (1997), Dark City (1998), and Land of the Dead (2005), among many others.

The design for Rotwang's lab -- with its bubbling test tubes, arcing electrical currents and rings of light -- has influenced decades of science-fiction films as well, most notably The Bride of Frankenstein (1935).

Metropolis introduced to film the concept of the humanoid robot that would feature in The Creation of the Humanoids (1962), Blade Runner, A.I., Artificial Intelligence (2001) and numerous episodes of The Twilight Zone.

The film's mad scientist, Rotwang, is the prototype for many similar characters in films as varied as The Bride of Frankenstein, Dr. Strangelove or: How I Learned to Stop Worrying and Love the Bomb (1964), Goldfinger (1964) and Dr. Horrible's Sing-Along Blog (2008).

Thematically, Metropolis was a major work in the development of one of science fiction's most powerful themes -- that science without a conscience could become a great source of evil. The theme runs through any number of genre films and was one of the key elements of the series The X-Files.

The international success of Metropolis helped spread expressionism to global filmmakers. Unlike earlier expressionistic films like The Cabinet of Dr. Caligari (1920), however, which take us within the characters' nightmares, Metropolis uses the style's harsh angles, severe lighting and symbolic spectacle to create a physical world that is itself a nightmare. As such, it had a major influence on the use of expressionism in more commercial movies, particularly those in the United States.

The glittering skyscrapers of Metropolis helped popularize Art Deco.

By Frank Miller
back to top
---
Metropolis (1926)
One early draft of the Metropolis screenplay ended with Freder piloting a rocket to the stars as means of escaping the city of the future. Eventually, Fritz Lang cut that ending, but kept ideas from it for his later film Frau im Mond (1928).

Lang was shocked to discover that Adolf Hitler and Joseph Goebbels were great fans of Metropolis. They were so impressed, in fact, that they offered to overlook Lang's Jewish family background and declare him an honorary Aryan so he could run the German film industry. That invitation helped push Lang into fleeing Germany.

Albert Speer used the film as inspiration in designing the Nuremberg rally. Leni Riefenstahl's documentary on that rally, Triumph of the Will (1935), also draws on Lang's film.

For a 1936 re-issue of the film, UFA cut it to 91 minutes. They also re-issued that print, with English subtitles in the U.S. and England. That is the version originally held in the Museum of Modern Art's film library.

Superman creators Jerry Siegel and Joe Shuster named the city in which he lived after the film.

A Japanese manga inspired by the film appeared in 1949. It became an anime feature in 2001 under the original feature's title.

Rotwang inspired the look of the title character played by Peter Sellers in Stanley Kubrick's Dr. Strangelove or: How I Learned to Stop Worrying and Love the Bomb (1964).

The design for C-3PO in Star Wars (1977) was modeled on the robot Maria in Metropolis.

Queen included footage from the film in the 1983 video for their hit "Radio Ga Ga."

For a 1984 version of the film, Giorgio Morodor created a new score, including songs performed by such prominent rock artists as Freddie Mercury, Pat Benatar, Bonnie Tyler and Adam Ant. This version met with decidedly mixed reviews, with some critics hailing it as a new vision of a great classic and others calling it a desecration. One major issue with the naysayers was that the Morodor version is only 87 minutes long, even though current prints ran 115 minutes.

Another 1980s television version is scored to Steven Reich's "Music for 18 Musicians."

In 1989, a musical version of Metropolis opened at the Piccadilly Theatre in London with music by Joe Brooks and lyrics and book by Dusty Hughes. Cast members included Brian Blessed as John Freeman (changed from Fredersen), Judy Kuhn as Maria and her robot double, here named Futura, Graham Bickley as Freeman's son, now Steven, and Jonathan Adams as mad scientist Warner. The musical has never played Broadway. It was revived in Luneburg, Germany, in 1989, Cicero, IL, in 1990, Salem, OR, in 2002 and Seattle in 2010.

The video for Whitney Houston's 1993 "Queen of the Night" includes footage from Metropolis. Huston's costume for the video resembles the design for the robot Maria.

Over time over one quarter of the footage from the original print was thought to have been lost.


back to top
---
Metropolis (1926)
Cinematographer Karl Freund hated Fritz Lang and only agreed to work on Metropolis when producer Erich Pommer promised to hire an intermediary so Freund would not have to speak with the director. Like many in Berlin, Freund blamed Lang for the death of his first wife, Lisa Rosenthal, who had discovered Lang's affair with screenwriter Thea von Harbou and either committed suicide or, in Freund's opinion, was shot by the director.

Because of Brigitte Helm's inexperience and Lang's obsession with innocent young women, workers at UFA nicknamed her "The Virgin of Babelsberg."

The film's Yoshiwara nightclub was named for Tokyo's notorious red light district.

Helm's robot costume was not designed with the human body in mind. Nor did it help that the cast for the liquid wood armor was taken with the actress standing, but Lang decided to film the sequence with her sitting. The armor left several cuts and bruises on her body after long days of shooting. To make matters worse, Lang insisted on using her rather than a stunt double in the creation scenes. The armature in which the transformation occurred was so tight, she fainted from lack of oxygen.

The robot costume was just one of the trials Helm had to endure. Under Fritz Lang's direction, she also had to leap from perilous heights without a double and was subjected to real flames when the workers burn the robot Maria at the stake. At one point, her costume actually caught fire.

Lang spent two days shooting the scene in which Gustav Frohlich falls to his knees in front of Helm. By the time he was finished, the actor could barely stand. For another scene, in which Frohlich beats on large wooden doors, Lang shot so many takes the actor's hands were bleeding. Lang shot fewer takes for a fight scene, but only because the actor dislocated his thumb in the scuffle. Even then, he only gave the actor half an hour to recover before doing more takes of the scene.

Cinematographer Gunther Rittau created the whirling bands of light for the creation of the robot Maria by filming a spinning silver ball in front of a black velvet curtain. The rings' movement was created by raising and lowering the camera.

To capture the concussive blast that ruptures the water lines, Lang instructed that the camera be mounted on a swing moving toward and away from the actors.

During production, the set had two distinguished visitors. Alfred Hitchcock, then an assistant director and set designer, came to watch filming while working on The Blackguard (1925), a Gainsborough Pictures-UFA co-production. Sergei Eisenstein, an admirer of Lang's work, also visited the set, where they briefly discussed the merits of static and moving camera shots.

More than 37,000 extras worked on the film.

According to the film's novelization, the robot's name is Parody.

By Frank Miller

Quotes from METROPOLIS

"'We shall build a tower that will reach to the stars!' Having conceived Babel, yet unable to build it themselves, they had thousands to build it for them. But those who toiled knew nothing of the dreams of those who planned. And the minds that planned the Tower of Babel cared nothing for the workers who built it. The hymns of praise of the few became the curses of the many -- BABEL! BABEL! BABEL! " -- Brigitte Helm as Maria

"There can be no understanding between the hand and the brain unless the heart acts as mediator." -- Helm, as Maria

"It was their hands that built this city of ours, Father. But where do the hands belong in your scheme?"
"In their proper place, the depths." -- Gustav Frohlich, as Freder, and Alfred Abel, as Joh Fredersen

Compiled by Frank Miller
back to top
---
Metropolis (1926)
According to director Fritz Lang, the inspiration for the film came from a trip he and producer Erich Pommer took to the U.S. in 1924. As they sailed into New York Harbor, Lang was struck by the sight of the city, with its towering skyscrapers lit by neon. That image led him to envision Metropolis, the city of the future. The story is not entirely true, however. Newspaper articles and internal memos from UFA indicate that the screenplay was well underway months before Lang and Pommer traveled to New York.

Lang's wife, Thea von Harbou, worked out his ideas for the film in a novel intended to serve as the basis for a film. She then worked with Lang to develop a screenplay. In that process, the book's references to occultism were cut to focus the story more on science.

From the start, Lang envisioned the film as the most expensive ever made in Europe. UFA executives did not expect a profit, but thought the mammoth production would open more doors for their films in the lucrative U.S. market.

For the showy role of the mad scientist, Rotwang, Lang cast Rudolf Klein-Rogge, an accomplished character actor who had starred in several of his earlier films, including Dr. Mabuse: The Gambler (1922), Siegfried (1924) and Kriemhild's Revenge (1924). Von Harbou was Klein-Rogge's ex-wife.

Alfred Abel, who played the industrialist Joh Fredersen, had also worked with Lang previously in Dr. Mabuse: The Gambler.

By contrast, the film's leading lady was a newcomer. Brigitte Helm was not really interested in acting and only tested for the role because her mother had sent her picture to Lang and von Harbou. Lang asked her to bring the girl to meet him on the set of Die Niebelungen (1924). When he asked her if she was interested in being an actress, Helm said, "Never in my life." (Brigitte Helm, quoted in Patrick McGilligan, Fritz Lang: The Nature of the Beast.) Lang laughed until tears streamed from his eyes. He gave her a brief screen test, and then waited a year before asking her back for another. This time, she acted a scene from Kriemhild's Revenge (1924) so well Lang and Pommer thought her better than the actress in the film, and they cast her in Metropolis. Her first screen role would make her a star at the age of 19.

By Frank Miller
back to top
---
Metropolis (1926)
Metropolis was in production for almost a year and a half. It started filming May 22, 1925 and ended on October 30, 1926.

With optical printers not yet invented, matte effects were created using a mirror placed at an angle to reflect the art department's drawings. The silvering was scraped off the back of the mirror at the places where the actors and full-sized sets needed to be seen. Cinematographer Eugen Schufftan developed the technique, which is still referred to as The Schufftan Process, for a planned production of Gulliver's Travels. When that fell through, he introduced it on Metropolis. The paintings reflected included the upper levels of the towering buildings (only the lower levels were actually built), the stadium in the wealthy part of town and a large bust of Fredersen's late wife.

The establishing shots of the city -- with cars, planes and elevated trains moving about -- were shot using stop-motion photography. The cars were modeled on the newest taxicabs driving the streets of Berlin. It took months to build the city model and several days to film the few short sequences. Then the lab ruined the first shots. The backgrounds in the shot had been dimly lit to create a greater sense of depth, but the head of the lab, who developed the film himself, decided that was a mistake and lightened the backgrounds, thereby destroying the sense of forced perspective.

Lang started shooting the film with a different actor cast as Freder. During the early days of shooting, however, Thea von Harbou noticed the good-looking Gustav Frohlich, one of the extras cast as a worker. When the first rushes featuring Freder proved unsatisfactory, she urged Lang to let their original actor go and cast Frohlich in the part.

All multiple exposures were done in camera, with the film rewound and re-exposed. For some scenes, this required up to 30 different exposures.

It took 14 days to film the scene in which the worker's city is flooded. Lang hired 500 children from the poorest areas of Berlin and kept them and Brigitte Helm in water he ordered kept cold. While shooting the flood scenes, he repeatedly ordered the extras to throw themselves at powerful jets of water until they were exhausted.

The nightmare in which workers are fed to Moloch was filmed in the middle of winter. Despite the lights and several heaters, the studio was extremely cold, a special hardship on the extras, most of them unemployed men, who had to walk naked into the mouth of the god. Lang took so many days filming the sequence his assistants feared the extras would revolt. Finally, Pommer came to the set and informed the director that he had more than enough footage already and needed to stop.

For the explosion of the heart machine, Lang refused to use dummies as stand-ins for the workers thrown about. He insisted that would look phony. So extras were to be hooked to harness belts and thrown through smoke, steam and fire. To lighten the mood before shooting, he insisted that his assistant, Gustav Puttscher, try out the harness, and then had him yanked almost to the top of the soundstage and left him there. During filming, he insisted the extras show pain, even though there were no close-ups. Fortunately for him, they already were in pain.

Lang wanted 4,000 bald extras for the Tower of Babel sequence, but Pommer could only find 1,000 willing to shave their heads. Since the scene was shot in the spring, these extras got to swelter under the hot sun shooting the exteriors as they hauled prop rocks and real tree trunks across the landscape. Some got sunburns on their scalps from the lengthy shoot. After shooting, Lang ordered the shot run through the optical multiplier to make the 1,000 extras seem like the 4,000 he had originally wanted.

In January 1926, UFA executives met to determine what to do about the increasingly costly production, which seemed nowhere near completion. They considered pulling the plug, but instead settled on firing Pommer from his position as head of the studio. He continued running interference on the production until April, when he left for a job at Paramount Pictures in the U.S.

For the chase across the rooftops, Brigitte Helm and Rudolph Klein-Rogge actually had to climb across the tops of the exterior sets and race on planks 25 feet above the ground. At the end of that sequence, Helm, without benefit of stunt woman, had to leap for the rope attached to the cathedral's bells. Although mattresses were placed in the event of a fall, the height would still make the stunt dangerous. She caught the rope first try, and then slowly slid down it as the ringing bell sent her careening into the set's walls. Bruised and battered, she fled the set in tears.

The scene in which scantily clad dancers and nightclub patrons spill out into the streets was filmed on a chilly spring night. It was so cold that, to keep the extras from rebelling, Lang ordered flasks of cognac for them. When that ran out, actor Alfred Abel offered his coat to one of the dancers.

To build excitement for Metropolis, von Harbou's novel was serialized in the popular German magazine Illustriertes Blatt in the month's preceding the film's release.

At the film's premiere in Berlin on January 10, 1927, the audience burst into applause at some of the more spectacular scenes.

At two-and-a-half hours in length, Metropolis could not be shown enough times in a day to return UFA's investment soon enough. As a result, the entire company was restructured, with a new, more conservative board of directors. Appalled at the film's Marxist politics, they pulled it from theatres in the spring of 1927.

As production costs pushed UFA toward bankruptcy, the studio had signed a deal with Paramount Pictures and MGM that created Parafumet to release the two U.S. studios' films in Germany. It also gave the studios distribution rights in the U.S. and other territories to UFA's films and the right to alter those films as they saw fit. Parafumet cut the picture to about 115 minutes, excising the Thin Man's pursuit of Freder and Josaphat and much of the backstory about Rotwang's past romantic rivalry with Fredersen.

For the U.S. version, Paramount hired playwright Channing Pollock to re-write the film around Lang's footage. He created an entirely new story that blamed all of the action on a greedy employee and identified many of the revolting workers as soulless robots. For the film's U.S. release, Paramount replaced the UFA logo with its own and reshot the credits. Lang refused to see this version.

With UFA still in financial difficulties, businessman Alfred Hunberg took charge of the studio. He cut the film still further to remove any Marxist and religious materials.

By Frank Miller
back to top
---
Metropolis (1926)
In 1925, German director Fritz Lang set out to make the biggest film tothat time. Two years and over a million dollars later he had done justthat with Metropolis (1927), a massive tale of a future (actually set in2000) conflict between labor and management. The film was so expensivethat his studio, Ufa, never expected to make a profit; they just wanted tomake an impression on the American market. That they did. Thoughultimately the picture almost bankrupted the studio and received only mixedreviews, it would become the most influential science fiction film of alltime. Its legend has persisted even though it has only been available indrastically cut versions until a recent restoration that will air on TCM this month as part of the classic movie network's salute to Lang.

The director always said that he was inspired to make Metropolis by hisfirst visit to New York, the city of the future, in late 1924. In truth,he had begun hatching the idea months earlier for a tale of a future utopiathat turns out to be hell on earth. He wanted a project to surpass hisepic two-part film version of Die Nibelungen (1924) and began tossingaround ideas with his wife, writer Thea von Harbou, who first developed thestory as a novel. They drew ideas from a variety of sources, includingKarel Capek's play about a robot revolt, R.U.R.; the pioneeringSoviet science fiction film Aelita (1924); and H.G. Wells' novels. Andcontrary to Lang's account, the novel was finished by the time he returnedfrom New York in December 1924.

The older character parts in Metropolis were cast with Ufa contract stars whohad worked with Lang previously. Alfred Abel, who would play the master ofMetropolis, had starred in Lang's Dr. Mabuse, der Spieler (1922).So had Rudolf Klein-Rogge, whose flamboyant performances as the villains inthat and other Lang films made him a natural for Rotwang, the mad scientistwho would later serve as inspiration for the title character in Dr.Strangelove (1964). Gustaf Frohlich, cast as Abel's son, started the film playingone of the factory workers, but somehow managed to attract von Harbou's attention.When the actor originally cast as Freder didn't pan out, she suggested Frohlichmove into the lead. Brigitte Helm, who played both the virginal Maria andher evil robot double, had to wait even longer for her break. Her motherhad gotten her a test with Lang over a year earlier, but the girl was soawkward she was laughed off the screen. Something about her stuck in hismemory, however. When he was casting Metropolis, he brought her infor another audition. This time she chose to imitate the leading lady fromhis Die Nibelungen and, from all accounts, surpassed herperformance.

But special effects were the real stars of Metropolis. Lang's filmbenefited from the work of Eugene Schufftan, a pioneering effects artistwho would later move into cinematography. He had invented "the Schufftanprocess" -- which involved using mirrors to seamlessly combine actors,full-sized sets and miniatures -- for an abandoned production ofGulliver's Travels. Instead, it was first used inMetropolis, allowing Lang to create spectacular shots of actorsmoving against seemingly massive sets. Cameraman Gunther Rittau created theswirling rings of light that encase the robot Maria at her creation bymoving the camera as he shot a spinning silver ball against a blackbackdrop. For the massive cityscapes, complete with trains, cars andairplanes, the production team shot miniature sets with stop-motionphotography. The brief shot took months to prepare and several days toshoot. Then the lab ruined the footage, and they had to do it all overagain.

Delays became routine on Metropolis. After five monthsof pre-production, Lang finally started shooting on May 22, 1925. Thanksto production problems and his own perfectionism, the film did not wrapuntil October 30, 1926, shooting for 310 days and 60 nights. According topress releases, the film employed eight leading players, 750 supportingcast, 26,000 male extras, 11,000 females, 750 children, "100 Negroes and 25Chinese." The production was so profligate that Lang's producer, ErichPommer, was fired in January 1926. This simply caused more delays, as hewas the only man who could control Lang.

One thing that definitely needed to be monitored was Lang's legendarycruelty. Whether it was just perfectionism or a sadistic streak (whichcould be mirrored in the violence in his films), Lang drove cast and crewrelentlessly, with little regard for their health or safety. He spent twodays rehearsing and shooting a simple scene in which Frohlich collapses atHelms' feet. By the time he was finished, the actor could barely stand.During a fight scene, Frohlich dislocated his thumb, but Lang only gave hima half-hour to recover going back to work on the scene. During theflooding of the worker's living areas, he kept directing the extras andchildren to throw themselves at the biggest water jets until they werealmost drowned. When it came time for the workers to burn the robot Mariaat the stake, he insisted on using real flames for the shots of Helm. Atone point, her dress accidentally caught fire.

When the film premiered in Berlin on January 10, 1927, the audience burst into spontaneous applause at several of the more spectacular scenes, and showered Lang and Helm with flowers afterwards. The critics were less enthusiastic. Though they praised the film for itsstunning visuals, they also derided its sentimentality in dealing with thestrife between labor and management. In particular, the finale -- in whichFrohlich secures a truce between his father and the workers he has justtried to murder, played with the title card "Between the mind and thehands, the heart must mediate" -- seemed to belong to another film. Thesecriticisms were echoed around the world, with the most cutting commentscoming from one of the film's inspirations, H.G. Wells: "I have recentlyseen the silliest film. I do not believe it would be possible to make onesillier." Nonetheless, the premiere run was greeted with strongattendance. But the film was so long, Ufa couldn't begin to recoup itscosts quickly enough, prompting a bail out by communications magnate AlfredHugengberg, a staunch conservative who would later serve under the ThirdReich.

Ufa's immediate response to the expense of Metropolis was to cut thefilm by half an hour three weeks after its premiere. As a result, Lang'stwo-and-a-half hour cut would never be seen again. Distributors in England andthe U.S. took out even more, cutting characters and subplots and renderingsome of the action incomprehensible. Although the film would become amajor influence on American movies, particularly the science fiction andhorror genres, the version shown in the U.S. was less than 90 minutes long.Sadly, that version would be the only one in circulation for decades.Moreover, subsequent releases of the film in Germany would be cut further,with shorter outtakes substituted for shots approved by Lang. Nor did anyof the surviving versions use Gottfried Huppertz's original score, performedlive at the premiere.

Yet the magic of Metropolis remained, not just in the truncatedversions available but also in the dreams of film lovers. Efforts torestore the film began in the '80s at the Munich Filmmuseum, where a nearlytwo-and-a-half hour version was assembled from a variety of sources, withstills and title cards filling in for lost footage. In 1984, composerGiorgio Morodor created his own highly controversial version. The printwas one of the shortest ever released and featured new color tinting, a newscore by Morodor and rock numbers by such performers as Adam Ant, FreddieMercury and Pat Benatar. Although loved by some fans, it also wasnominated for Golden Raspberries for Worst Score and Worst OriginalSong.

Then, in 2002, Metropolis made a triumphant return. After three yearsof work, the Berlin Filmmuseum unveiled a new restoration using digitaltechnology to restore film and camera elements assembled from around theglobe. They also recorded Huppertz's original score with a 65-pieceorchestra. The results were as close to the film's original form aspossible. The restoration cost $250,000, but the new version made backtwice that amount in a limited theatrical release. It also won ravereviews and a special award from the New York Film Critics Circle. An even more recent restoration with additional found footage premiered in 2010 and is the version being shown on TCM. For additional information on the film's restoration and behind-the-scenes information on the making of Metropolis, visit Kino International.

Producer: Erich Pommer
Director: Fritz Lang
Screenplay: Fritz Lang, Thea von Harbou
Based on her novel
Cinematography: Karl Freund, Gunther Rittau
Art Direction: Otto Hunte, Erich Kettelhut, Karl Vollbrecht
Score: Gottfried HuppertzCast: Alfred Abel (Joh Fredersen), Gustav Frohlich (Freder),Rudolf Klein-Rogge (Rotwang), Brigitte Helm (Maria/Robot), Fritz Rasp(Slim), Theodor Loos (Josephat), Helene Weigel (Female Worker), Curt Siodmak(Working Man).
BW-154m.

by Frank Miller
back to top
---
Metropolis (1926)
In 1925, German director Fritz Lang set out to make the biggest film tothat time. Two years and over a million dollars later he had done justthat with Metropolis (1927), a massive tale of a future (actually set in2000) conflict between labor and management. The film was so expensivethat his studio, Ufa, never expected to make a profit; they just wanted tomake an impression on the American market. That they did. Thoughultimately the picture almost bankrupted the studio and received only mixedreviews, it would become the most influential science fiction film of alltime. Its legend has persisted even though it has only been available indrastically cut versions until a recent restoration that will air on TCM this month as part of the classic movie network's salute to Lang.

The director always said that he was inspired to make Metropolis by hisfirst visit to New York, the city of the future, in late 1924. In truth,he had begun hatching the idea months earlier for a tale of a future utopiathat turns out to be hell on earth. He wanted a project to surpass hisepic two-part film version of Die Nibelungen (1924) and began tossingaround ideas with his wife, writer Thea von Harbou, who first developed thestory as a novel. They drew ideas from a variety of sources, includingKarel Capek's play about a robot revolt, R.U.R.; the pioneeringSoviet science fiction film Aelita (1924); and H.G. Wells' novels. Andcontrary to Lang's account, the novel was finished by the time he returnedfrom New York in December 1924.

The older character parts in Metropolis were cast with Ufa contract stars whohad worked with Lang previously. Alfred Abel, who would play the master ofMetropolis, had starred in Lang's Dr. Mabuse, der Spieler (1922).So had Rudolf Klein-Rogge, whose flamboyant performances as the villains inthat and other Lang films made him a natural for Rotwang, the mad scientistwho would later serve as inspiration for the title character in Dr.Strangelove (1964). Gustaf Frohlich, cast as Abel's son, started the film playingone of the factory workers, but somehow managed to attract von Harbou's attention.When the actor originally cast as Freder didn't pan out, she suggested Frohlichmove into the lead. Brigitte Helm, who played both the virginal Maria andher evil robot double, had to wait even longer for her break. Her motherhad gotten her a test with Lang over a year earlier, but the girl was soawkward she was laughed off the screen. Something about her stuck in hismemory, however. When he was casting Metropolis, he brought her infor another audition. This time she chose to imitate the leading lady fromhis Die Nibelungen and, from all accounts, surpassed herperformance.

But special effects were the real stars of Metropolis. Lang's filmbenefited from the work of Eugene Schufftan, a pioneering effects artistwho would later move into cinematography. He had invented "the Schufftanprocess" -- which involved using mirrors to seamlessly combine actors,full-sized sets and miniatures -- for an abandoned production ofGulliver's Travels. Instead, it was first used inMetropolis, allowing Lang to create spectacular shots of actorsmoving against seemingly massive sets. Cameraman Gunther Rittau created theswirling rings of light that encase the robot Maria at her creation bymoving the camera as he shot a spinning silver ball against a blackbackdrop. For the massive cityscapes, complete with trains, cars andairplanes, the production team shot miniature sets with stop-motionphotography. The brief shot took months to prepare and several days toshoot. Then the lab ruined the footage, and they had to do it all overagain.

Delays became routine on Metropolis. After five monthsof pre-production, Lang finally started shooting on May 22, 1925. Thanksto production problems and his own perfectionism, the film did not wrapuntil October 30, 1926, shooting for 310 days and 60 nights. According topress releases, the film employed eight leading players, 750 supportingcast, 26,000 male extras, 11,000 females, 750 children, "100 Negroes and 25Chinese." The production was so profligate that Lang's producer, ErichPommer, was fired in January 1926. This simply caused more delays, as hewas the only man who could control Lang.

One thing that definitely needed to be monitored was Lang's legendarycruelty. Whether it was just perfectionism or a sadistic streak (whichcould be mirrored in the violence in his films), Lang drove cast and crewrelentlessly, with little regard for their health or safety. He spent twodays rehearsing and shooting a simple scene in which Frohlich collapses atHelms' feet. By the time he was finished, the actor could barely stand.During a fight scene, Frohlich dislocated his thumb, but Lang only gave hima half-hour to recover going back to work on the scene. During theflooding of the worker's living areas, he kept directing the extras andchildren to throw themselves at the biggest water jets until they werealmost drowned. When it came time for the workers to burn the robot Mariaat the stake, he insisted on using real flames for the shots of Helm. Atone point, her dress accidentally caught fire.

When the film premiered in Berlin on January 10, 1927, the audience burst into spontaneous applause at several of the more spectacular scenes, and showered Lang and Helm with flowers afterwards. The critics were less enthusiastic. Though they praised the film for itsstunning visuals, they also derided its sentimentality in dealing with thestrife between labor and management. In particular, the finale -- in whichFrohlich secures a truce between his father and the workers he has justtried to murder, played with the title card "Between the mind and thehands, the heart must mediate" -- seemed to belong to another film. Thesecriticisms were echoed around the world, with the most cutting commentscoming from one of the film's inspirations, H.G. Wells: "I have recentlyseen the silliest film. I do not believe it would be possible to make onesillier." Nonetheless, the premiere run was greeted with strongattendance. But the film was so long, Ufa couldn't begin to recoup itscosts quickly enough, prompting a bail out by communications magnate AlfredHugengberg, a staunch conservative who would later serve under the ThirdReich.

Ufa's immediate response to the expense of Metropolis was to cut thefilm by half an hour three weeks after its premiere. As a result, Lang'stwo-and-a-half hour cut would never be seen again. Distributors in England andthe U.S. took out even more, cutting characters and subplots and renderingsome of the action incomprehensible. Although the film would become amajor influence on American movies, particularly the science fiction andhorror genres, the version shown in the U.S. was less than 90 minutes long.Sadly, that version would be the only one in circulation for decades.Moreover, subsequent releases of the film in Germany would be cut further,with shorter outtakes substituted for shots approved by Lang. Nor did anyof the surviving versions use Gottfried Huppertz's original score, performedlive at the premiere.

Yet the magic of Metropolis remained, not just in the truncatedversions available but also in the dreams of film lovers. Efforts torestore the film began in the '80s at the Munich Filmmuseum, where a nearlytwo-and-a-half hour version was assembled from a variety of sources, withstills and title cards filling in for lost footage. In 1984, composerGiorgio Morodor created his own highly controversial version. The printwas one of the shortest ever released and featured new color tinting, a newscore by Morodor and rock numbers by such performers as Adam Ant, FreddieMercury and Pat Benatar. Although loved by some fans, it also wasnominated for Golden Raspberries for Worst Score and Worst OriginalSong.

Then, in 2002, Metropolis made a triumphant return. After three yearsof work, the Berlin Filmmuseum unveiled a new restoration using digitaltechnology to restore film and camera elements assembled from around theglobe. They also recorded Huppertz's original score with a 65-pieceorchestra. The results were as close to the film's original form aspossible. The restoration cost $250,000, but the new version made backtwice that amount in a limited theatrical release. It also won ravereviews and a special award from the New York Film Critics Circle. An even more recent restoration with additional found footage premiered in 2010 and is the version being shown on TCM. For additional information on the film's restoration and behind-the-scenes information on the making of Metropolis, visit Kino International.

Producer: Erich Pommer
Director: Fritz Lang
Screenplay: Fritz Lang, Thea von Harbou
Based on her novel
Cinematography: Karl Freund, Gunther Rittau
Art Direction: Otto Hunte, Erich Kettelhut, Karl Vollbrecht
Score: Gottfried HuppertzCast: Alfred Abel (Joh Fredersen), Gustav Frohlich (Freder),Rudolf Klein-Rogge (Rotwang), Brigitte Helm (Maria/Robot), Fritz Rasp(Slim), Theodor Loos (Josephat), Helene Weigel (Female Worker), Curt Siodmak(Working Man).
BW-154m.

by Frank Miller
back to top
---
Metropolis (1926)
Metropolis was one of the most expensive movies made to that time. Its 5,000,000 Marks price tag almost put UFA into bankruptcy. Adjusted for inflation, its cost today would be more than $200 million.

"...quite the silliest film..." - H.G. Wells, Time

"Nothing like Metropolis, the ambitious UFA production that has created wide international comment, has been seen on the screen. It, therefore, stands alone, in some respects, as a remarkable achievement. It is a technical marvel with feet of clay, a picture as soulless as the manufactured woman of its story. Its scenes bristle with cinematic imagination, with hordes of men and women and astounding stage settings. It is hardly a film to be judged by its narrative, for despite the fantastic nature of the story, it is, on the whole, unconvincing, lacking in suspense and at times aggressively theatric." -- Mordaunt Hall, The New York Times

"What is this? This is not just Metropolis; it is not just German film. It is...all of official Germany as we know it and experience it every day on our own hides." - Hans Siemsen, Die Weltbuhne

"The movie has a plot that defies common sense, but its very discontinuity is a strength. It makes Metropolis hallucinatory -- a nightmare without the reassurance of a steadying story line. Few films have ever been more visually exhilarating." -- Roger Ebert, Chicago Tribune"Building on earlier science fiction and endlessly influential on later works, Lang's film is a mammoth marvel, fusing modernism and expressionism, art deco and Biblical spectacle, Wagnerian bombast, sentimental Marxism and religiose militarianism. Sit close to a big screen and submit to the machine." -- Ben Walters, Time Out

"One of the last examples of the imaginative -- but often monstrous -- grandeur of the Golden Period of the German film, Metropolis is a spectacular example of Expressionist design (grouped human beings are used architecturally), with moments of almost incredible beauty and power (the visionary sequence about the Tower of Babel), absurd ineptitudes (the lovesick hero in his preposterous knickerbockers), and oddities that defy analysis (the robot vamp's bizarre, lewd wink). It's a wonderful, stupefying folly." -- Pauline Kael, 5,001 Nights at the Movies

AWARDS & HONORS

In the British Film Institute's 2012 poll to name the greatest movies ever made, Metropolis came in 35th.

Giorgio Morodor's 1984 score for Metropolis was nominated for the Razzie for Worst Musical Score, and his collaboration with Freddie Mercury on the song "Love Kills" was nominated for Worst Original Song. It lost to Bolero (1984) in the former category and Dolly Parton's "Drinkenstein" from Rhinestone (1984) in the latter.

The film's 2001 restoration won a special award from the New York Film Critics Circle.

By Frank Miller
back to top
---