DVDs from TCM Shop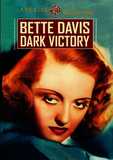 Dark Victory A flighty heiress discovers... MORE&nbsp> $13.46 Regularly $17.99 Buy Now blu-ray
USER REVIEWS
See Detailed Ratings
Acting of Lead Performers

Acting of Supporting Cast

Director

Music Score

Title Sequence

Screenplay

Cinematography

Historical Importance

Would You Recommend?

0 Member Ratings
Rate the acting of the Lead Performers

Rate the acting of the Supporting Cast

Rate the Director

Rating of the Music Score

Rating of the Title Sequence

Screenplay

Creatively uses the camera to tell the story

Importance in Cinema history

Would you recommend for fans of this genre
Submit Ratings
Cancel
Write a Review
Read Reviews
NO REVIEWS AVAILABLE
The title has not been reviewed. Be the first to write a review by clicking here to start.
They don't hardly get any better

Until "Terms of Endearment", 44 years later, this was the best weepie ever made. It's all because of Davis, who was uniquely able to make bitches sympathetic. This is a wallow, but because of Davis, you don't hate yourself in the morning.

Those Bette Davis Eyes

Love this movie, watch it every time TCM plays it. All Bette's acting is in her face. A great actress. Love George Brent and Bette together, and Humphrey Bogart is an added delight. Sorry but Ronald Reagan was terrible. Oh don't forget the other star, Orry-Kelly's costumes, they are so beautiful on Bette.

"The Duse of Burbank' Wins Again!

Although Bette Davis had already won two Oscars--"Jezebel" and "Dangerous"--for her studio, Warner Brothers, she STILL had to battle for meaty roles. David Selznick had first brought the flop Broadway drama, "Dark Victory," that had starred Tallulah Bankhead, for Garbo. She turned it down. Then Jack Warner brought the script and wanted Irene Dunne, Kay Francis, Barbara Stanwyck, Carole Lombard, Miriam Hopkins, to portray the doomed Judith Traherne, who all turned the role down. Bette fought to win the role and Hollywood immortality resulted. Warners did pour its powerful resources into making this "Dark Victory" a 5 Star triumph. Edmund Goulding directed, Ernest Haller (who was also directing Gone With the Wind) photographed, the great Max Steiner gave us one of his most haunting film scores. And Bette was magical. Her fellow cast members were superb, especially George Brent and Geraldine Fitzgerald. Seen today, the styles, coiffures, make-up, the interior decorations of the sets are all amazingly modern. Look at those striking fur-lined/trimmed ensembles whipped up by Orry-Kelly. And I've always loved that incredible farmhouse with the cozy sets and furnishings. A screen classic that never grows old--and that brilliant ending still has me grabbing for the Kleenix!

George Brent actually acts!

A glioma is a brain tumor you wouldn't wish on your worst enemy. Despite all of our technology in the 21st century, there is still no cure and the prognosis is a year at the outside. Despite the sappy dialogue in places, Bette Davis manages to become the spoiled heiress with the "prognosis negative" who sees the good in her doctor. George Brent is excellent in his role and very believable. This film gets to you no matter how many times you see it and that has to be because of Davis!

Keep Your Hankies close

Sure, she dies of the "movie disease" which is that mysterious fatal ailment which gives some twinges and pains but the patient functions normally or almost normally until the last few minutes of the film.But this one is done so well, that you happily throw disbelief out the window and just enjoy!A great double bill would be to watch this movie and "One Way Passage" with Kay Francis.Or its remake, 'Til We Meet Again , also with Brent.

Awesome movie of its genre!

I have seen this at least 10 times and it always gets to me and my wife! Bette is perhaps "over the top" by today's standards but it is a very sad movie. George Brent is good, too!

Brilliant Bette

Never get enough of this film. Bette Davis is magnificent- nothing short of it. You are drawn in by her magic and kept enchanted throughout. Bette looks lovely and IS Judy Traherne. Geraldine Fitzgerald is wonderful and the sometimes wooden George Brent never better.Hepburn is great but Davis RULES!!! No one beats her!

Awesome!

Awesome!!!!! LOVE it!!! as having two brain tumors and two surgeries..... it has a special place in my heart.

Dark Victory

***1/2

O Melhor Filme de Bette

Eu acho este filme maravilhoso e surpreendente. Bette Davis est magnifica e se entrega ao drama vivida por sua personagem. Um filme que nos faz pensar sobre a vida e a enfrentar as dificuldades por mais duras que sejam. Um filme nota 10.

What a Way to Start Her Films of 1939!

Of the 4 classic films Bette Davis made in 1939, this one is particularly well loved. Perhaps because the casting is terrific. Geraldine Fitzgerald's performance is legendary by now since she's told how it came about out of fear of Bette Davis' stature (which she learned was unfounded since Davis was the "most generous actor she ever worked with"). Maybe it was because Bogie was in the film, even if only in a few scenes that were not very significant. George Brent certainly turns in a marvelous performance. But, I think that Bette Davis wanted this film so much that she put her all into it. To her death she considered this film to be the one that stood out to her as the best of all she'd done.

Dark Victory review

I think the movie Dark Victory is one of Bette Davis' finest motion pictures. I wish she had won the acadamey award for this film. But there were a lot of great films made in 1939. I would recommend this film to anyone who is or is not a Bette Davis fan. After seeing this movie they would fall in love with her. She is one of the greatest female stars of all times.

Bogie With A Brogue...

and the Irish Ms. Fitzgerald without!Geraldine Fitzgerald also appears in "Wuthering Heights" released around the same time as "Dark Victory".Both films are, of course, mentioned when one is discussing Hollywood's finest "hour" - 1939! Yep, what a year!

Made me a fan of Bette Davis

I watched this movie on TCM. Not realizing what the movies was about or plot or even the title. I never cared for Davis as an actor. She seems to overact somewhat in many of the roles she played and I usually loose interest in her role. But this movie had heart and soul and emotion not usually seen on any scope at movies today. Pure talent, Charisma, charm and grace, she carried this movie from start to finish. Flirtishist behavior, eyes that would capture moments on the film and transcend it through the medium of a television. This was strong abilities by her that totally showed me that she truly was star calibre. The film and plot was cliche and average melodramatic, but everytime she appeared her appearance would literally light up the screen, charge the view and put a place of recoginition of your feelings and emotions into her character..you actually cared, hoped for a cure, and cried at the end. I have to get this movie it is worth watching multiple times.

Trying to Figure Out the Title

I've watched my own VHS (colorized) and DVD copies of this film countless times because it's that worthwhile. Now, as I approach the date that TCM's showing it, I've begun to ask a new question about this movie: what does the title refer to? I'm stumped by it. Bette Davis plays Judith Traherne, a young woman of means who's suddenly stricken with a terminal brain disease. Right before she's about to die, she loses her eye sight. Is that the "dark," the title refers to? If so, how can that be a victory? She's brave, facing her death without self-pity. Is that a triumph over fear & dread? Davis' & Brent's characters fall in love even though they know there are only months of her life left to share together. They make the most of them. That seems like a shining example. This is great classic movie that's anything but dark. As a film, in & of itself, it's quite an achievement. Bette Davis has reached her prime as an actor & is known as the queen of Hollywood.

Dark Victory (1939)

This is certainly one of Bette Davis' best roles (as well as one of her personal favorites). Great story, wonderfully acted by all with an awesome cast. It does tend to lean toward melodrama a bit too much, but that's also part of the films charm.

"A Large Order of Prognosis Negative"

Three Oscar nominations for 1 of 4 films Bette Davis made in 1939 were earned for this classic. The total of Oscar nominations for all 4 classic Bette Davisfilms of 1939 is 10; 10 nominations in the most competitive year in Hollywood history. When Bette Davis played the leaddroves of Oscar and other major award nominations followed. A reason for that'sa simple theory: in business, when the one at the top's doing a great job, it's more likely that many others will too. Likewise, when the one at the top's doinga lousy job, it'll be very hard for others to overcome that no matter how well they do their jobs. Many think the director sets the pace. But when Bette Davis was on a set, she did. Her standardfor making a film was to bring every person possible up to deliver their very best work. Although "Dark Victory" is very obviously her film, a great cast and crew performed team work to create a classic film.

3 Oscar Nominatons: 1 for Bette Davis

With this movie being the 1st of 4 in 1939 that Bette Davis starred in, she was off to an excellent start. Judith Traherne goes through so many changes. Bette Davis acts out all of Judith's sides. George Brent is terrific acting out his role as the doctor. Geraldine Fitzgerald is super acting out her role as Judith's best friend. The supporting actor I found most interesting is Humphrey Bogart. I'd become used to seeing him act the parts of detectives, gangsters, or rugged tough guys. This time he's got an Irish brogue and a very pleasant personality that's charming. Seeing Bette Davis and Humphrey Bogart together in the stable office is one of my favorite scenes.

Davis' 1939 Golden Classic Streak Starts Here

"Dark Victory" is the 1st of 4 classic films Bette Davis made in 1939. She was nominated for an Oscar as was the film and the musical score. This film was thought of as Bette Davis' pet project because she went all out to gain the rights to make the film. In interview after interview over the span of the restof her life, Davis always named this film,when asked, as the one that she feltwas her best. I've often wondered why shebelieved that not because I don't agree with her expertise; but, more because she made so many classics that were a lot more involved & bigger productions. This is actually a very simple drama about a young woman of wealth coming to terms with her own terminal illness. Bette Davis made Judith Traherne become larger than life. Doing so is what Davis believed films should be: larger than life.

Always a Pleasure to Watch

Up for 3 Oscars in the most competitive year (1939), Best Picture, Score, and Actress (Bette Davis), this major classicfilm could have handily swept the Oscars in a less fiercely competitive year. Davis plays Judith Traherne, a socialite who's got everything but her health. Geo. Brent plays the brain surgeon who tries to save her life & falls in love with her. Geraldine Fitzgerald plays Judith's best friend. Humphrey Bogart plays her Irish horse stable manager. This film is best viewed in its colorizedformat because the settings reveal so much about the furnishings of the era. For instance, in the scene when Judith has learned her prognosis is negative and she's seated with the doctor and her best friend in a dining room, all of the seats are pink leather. The costumes are also best viewed with color. This is Bette Davis' most critically acclaimed performance. The plot's an attention grabber.

Bette Davis Favorite Film of Her Own

Bette Davis was absolutely sold on this script & went after it with all she was worth until she got it. Since it turned out to be 1 of her 4 1939 classics, and many who provide critique still name it as her best performance, Davis knew what she was doing. I can't do likewise & name it as Davis' best because during the 30's, 40's and 50's, especially, Bette Davis made so many classic films I've lost count. They can be thought of as "an embarassment of riches" (quoting Gloria Steinem on a political topic). Even Bogie's part of the great supporting cast. If you've never watched a Bette Davis film, this one would be a great place to begin.

A 1939 Oscar Nominee for Best Picture

Stiff competition is probably the main reason that this classic Bette Davis film didn't make an Oscar sweep. It's so popular now that it's enjoying a major resurgence of interest. Davis' very complex performance is supported by one of the most talented supporting casts for a drama: Geo. Brent, Geraldine Fitzgerald and Humphrey Bogart. The script and plot are so superior to films with similar themes today that they can't hold a candle to this one. I like watching the colorized version because the settings are so elaboratively colorful. For interest, in the restaurant scene between Davis, Brent & Fitzgerald, when Davis is talking about prognosis negative, the chairs are pink leather. That's missed in the B&W version, thereby hiding the historical features that show up in the colors on sets.

1 of 1939's Great Classics

Bette Davis is the central character, Judith Traherne, of this classic 1939 drama. Humphrey Bogart has a small role as Traherne's stable man who works with her horses. George Brent is the brain surgeon who diagnoses and operates on Traherne. Geraldine Fitzgerald is Traherne's best friend. All of their performances are remarkable. Bette Davis' is so well deserving of the Oscar she was nominated for as well as the other awards she did receive. This film was also in the running for 1939's Best Picture!

...and for her 4th Oscar Nomination

Bette Davis' 1st was "Of Human Bondage;" 2nd was a win for "Dangerous;" 3rd was a win for "Jezebel;" this, 4th Oscar nomination, is for her portrayal of a young socialite, Judith Traherne. With co-stars George Brent, Geraldine Fitzgerald and Humphrey Bogart, Bette Davis takes audiences through a myriad of emotions as she portrays the many facets of Judith's personality. Often considered one of Davis' finest performances and definitely the film that Davis considered the best one she ever performed in, "Dark Victory" is a classic that happens to be available in a rare colorized VHS format. It makes all the different in the world to view this particular film in color. It's not a film noir, so the black and white really limited the vivacious settings of this film. Once viewed in color, it's impossible to have the same appreciation for the B&W versions.

Bette Davis is Sensational!

"Dark Victory" is the first film I've seen Bette Davis act in. I was floored! I am wowed at how well she could she act. In this one film she must portray a dozen or more different moods. Her character is at first a jet-setter who's way into showing her horses. Bogie is her horses' trainer. Geraldine Fitzgerald is her best friend. One day she and her favorite horse miss a jump because her vision scrambles. Her friends insist she see her doctor and he insists she see a specialist, George Brent. They all hide the prognisis from her. Just when she's about the marry Brent, she finds out and goes ballistic. The changes her moods go through make Davis' acting very impressive.

One of many Davis classics

I can't say why Bette Davis thought this was her best performance in a film. Having just seen it again for the umteenth time, some new insight jumps off the TV screen to take notice of. Davis gives an Oscar worthy performance. But that can be said of nearly all of her performances in films. Why she felt this was the more perfected of the films she played in was something Davis didn't elaborate upon. Perhaps it's the co-starring cast: George Brent, Geraldine Fitzgerald & Humphrey Bogart. Maybe the script and plot were just right for her. Whatever the case, this is Davis classic.

1st of 4 Films in 1940

We just finished watching the colorized version of this film. This is one Bette Davis film that is radically changed by being in color. With the focus of the film being upon her eyesight, Davis' turquoise blue eyes are astonishingly expressive. Since this is not a film noir, depending upon dark shadowy effects & it is a film that has lavish settings, since Judith Traherne (Davis) was a woman of wealth, the presence of color reveals how masterful the settings & cinematography are. The closing scene, zooming in on Davis' face in color & those gorgeous eyes makes the color essential.

Another Classic Role & Performance

Co-actress, Geraldine Fitzgerald, plays Davis' best friend. Bogie, Davis' horse trainer. George Brent, her doctor. Fitzgerald remarked, during Davis' Lifetime Achievement ceremony, that Davis had taught her so much about acting. Then added, and she was so young. This movie's about a young woman, in her prime, facing terminal illness. Someone else could have played that lead like a self-pitying victim doomed to die. Not Bette Davis. Her character had to be angry at first, then eager to live what life she had left to the max. She also died her own way, without a fuss.

Bette Davis happy and on the move

It was interesting to see Bette Davis portraying such an upbeat and fast paced character, except of course when she was not feeling well. It made it more possible to ignore the impending doom that would take her life. Sad there was not more air time for Humphrey Bogart and Ronald Reagan - neat to see them both so young.

Good...but not great for Bette

I am a great fan of Ms. Davis' work, and it is with difficulty that I find anything wanting with her performances. Alas, this well-known and fondly remembered Davis film is perhaps my least favorite of her oeuvre. Strident, with a manic frenzy dialogue delivery, Bette blows around the film's first third like awhirling dervish, bouncing off characters with a touch that would stun a horse. This depletes any sympathy for the character whatsoever, in my opinion. It is only the final third where she becomes tolerably believeable, and soon after she dies.Although compared unfavorably with this first rendition, the remake "STOLEN HOURS" with Susan Hayward from 1963 is better paced, with the events unfolded in a believable pace and with the lead character much more sympathetic. Plus, Hayward was GORGEOUS as always...Bette, while attractive, could never be considered a beauty.Bette...you are the greatest, but DARK VICTORY...well..isn't.

Bette Davis Roars

I try to see this movie as often as I can. I think it is Bette Davis at her finest. The death scene had me in tears. This is an excellent film and I will watch it time after time.

This Hollywood Is Gone But We Still Enjoy It

Perhaps I have viewed this film 4 or 5 times and each time, I take myself to a different room in the house where I know there will be quiet so I can become 'one' with the actors. That sounds pretentious and above it all but what I mean is I want to be able to give all my attention to that glowing tube that sometimes (95% w TCM) brings an escape from the reality of reality.This particular film is riveting (as is 'Now Voyager') as Ms. Davis uses her natural talent, which is considerable, as we all know.She seems to take us along with her as her deterioration progresses as well as her genuine happiness in her marriage and has the energy of a teenager.As she allows her husband doctor to go to New York to complete a huge step in his career, she knows death, always over her left shoulder (as we all carry with us. It simply gets closer and closer as we approach death, or the other way around) is very close as she begins to loose her sight signifying the tumor in her brain that will bring death is growing rapidly.She sends her husband off as he knows the situation and knows exactly what she wants and complies.He leaves, she says goodbye to her dog a particular nuanced touch by the director to display her heart full of love as she goes to her room telling the maid she does not want to disturbed...achieves that glassy look in her eyes signifying death, as the film ends.As I mentioned previously this film and 'Now Voyager' placed Ms. Davis at the pinnacle of her career, if I have my dates correct.We will never see another actor along with Ms. Crawford and Lana Turner with such energy and vibrancy. That period in Hollywood is gone but not to be mourned. It was what it was and luckily, we have not only DVD's but also television stations as Turner Classic Movies.

A box of tissues please.

A tear jerker if there ever was one. Oh, but what an actress. Ms. Davis pulls you in with those "Bette Davis Eyes" for sure in this movie.As a socialite with everything, Margo leads the typical rich lifestyle until she develops a brain tumor.However, the brain turmor brings her the two things she didn't have, a loving husband(her doctor) and inner peace.In the end you keep hoping she'll live but get out the box of tissues, because you will deffinately need them!
*We protect your personal infortmation and will not provide it to anyone without your consent. For a complete explanation, please refer to TCM's Privacy Policy. By submitting your contribution, you agree to TCM's Terms of Use.