DVDs from TCM Shop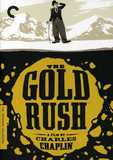 The Gold Rush In this silent film, a lost... MORE&nbsp> $19.47 Regularly $29.95 Buy Now blu-ray
NOTES
The working title of this film was Lucky Strike. The Gold Rush was the first Charlie Chaplin feature released through United Artists, a compnay he co-founded with D. W. Griffith, Mary Pickford and Douglas Fairbanks. The film's original length of 10 reels was remarked upon in many contemporary reviews as "record-breaking" for a comedy. The July 18, 1924 Moving Picture World review of the film's Los Angeles premiere stated that the film was 9,760 feet, while at the August 16, 1924 New York opening, it was cut to either 8,555 feet, according to the August 29, 1924 Moving Picture World review, or 8,498 feet, according to modern sources.
In his autobiography, Chaplin states that the story of The Gold Rush was inspired by the tale of the Donner Party, emigrants who in 1846 split off from a larger wagon train traveling to California through the Sierra Nevada mountains, only to meet with a blizzard that resulted in the death of half the party. The scene in which the "Lone Prospector" eats his shoe was inspired by tales that the Donner Party members were forced to eat their moccasins (the members also resorted to cannibalism in order to stay alive). Chaplin also states in his autobiography that he shot a sequence depicting a romance between the Prospector and an Eskimo squaw, but deleted those scenes from the final print. Although a March 15, 1924 Moving Picture World news item reported that Chaplin planned to shoot on location in Alaska, modern sources confirm that location shooting was confined to Truckee, CA, California's Sierra Nevada Mountains, and Mt. Lincoln, CO, which stood in for Alaska's Chilkoot Pass.
A December 1925 Science and Invention article entitled "Trick Photography in The Gold Rush" noted that Chaplin used such special effects as miniatures, double printing and a fade-out iris manipulated to allow the image of the Prospector to dissolve into that of the chicken. The article also described the filming of the scene in which the cabin seems to hang precariously over a precipice: The cabin was alternately hung from cables, hinged at its joints so it could rock back and forth, and rotated by a swivel below. Modern sources add that, in the scene in which the Prospector eats his shoe, the boot was made of licorice with rock-candy nails.
According to various contemporary and modern reports, filming on The Gold Rush began in February 1924 with Lita Grey as the star. After an affair with Chaplin, however, in September the then-fifteen-year-old Grey revealed that she was pregnant and insisted that they marry. Filming was suspended and the wedding took place in Mexico in Nov, at which point Grey was sixteen and Chaplin thirty-five. Their tumultuous relationship lasted only three years and produced Chaplin's first two sons, Charles, Jr. and Sydney Chaplin. By late December 1924, Chaplin announced Georgia Hale as the new star of The Gold Rush and resumed filming, which ended in April 1925. Newspaper stories of the scandal that ensued from Chaplin's affair with the teenage Grey marked the beginning of ongoing difficulties Chaplin had with the American press, which eventually led to the government denying him re-entry into America in 1952. (For more information, see the entry for the 1947 Chaplin Studios picture Monsieur Verdoux in AFI Catalog of Feature Films, 1941-50.)
At the New York premiere of The Gold Rush, at midnight on August 16, 1925, Chaplin appeared in person, and the film was accompanied by an orchestra conducted by Carl Edouarde. The reviews of The Gold Rush were uniformly laudatory. The July 18, 1925 Moving Picture World review, which followed the Hollywood premiere and called the film "a great and vital story," included an editor's disclaimer stating that, as their West Coast representative seemed to have been "swept off his feet," the publication would re-view the film upon its New York opening to ensure that his praise was reasonable. The Var reviewer described the picture as "an out and out comedy, and the greatest of all time."
On April 18, 1942, Chaplin re-released the film after re-editing it, replacing subtitles with spoken narration, adding a musical score and subtly altering some scenes. Added musical compositions include Richard Wagner's "Evening Star" from the opera Tannhauser and Nikolay Rimsky-Korsakov's "Flight of the Bumblebee." That version has a runing time of 72 minutes. The onscreen credits of the 1942 version included the following added or altered credits: Narr wrt and spoken by Charles Chaplin; Orig comp Charles Chaplin; Music Director Max Terr; Sound Recording Pete Decker and W. M. Dalgleish; Film Editor Harold McGhan; and Production Manager Alfred Reeves. It included a written dedication to Alexander Woolcott "in appreciation of his praise of this picture." The opening credits ended with the following written statement: "This is a revival of the silent picture, The Gold Rush with music and descriptive dialogue added." Many scenes in the 1942 version were recut using, according to modern sources, footage shot with a second camera during the original production. Certain changes made the character of Georgia appear more sympathetic; for instance, although in the original, Georgia's love letter is meant for Jack, who then gives it the Prospector as a joke, the later film presents the note as Georgia's proclamation of love for the Prospector. In addition, this version deletes the original ending, in which the Prospector kisses Georgia and waves off the photographer, who then declares that he has "ruined the picture." This comment was considered by many contemporary reviewers to leave the health of the relationship ambiguous, and to signal Chaplin's disinterest in his critical reception.
Modern sources add the following members to the cast: John Rand, Albert Austin, Alan Garcia and Tom Wood (Prospectors); Kay Deslys, Betty Morrisey and Joan Lowell (Georgia's friends); Barbara Pierce (Manicurist); Art Walker and A. J. O'Connor (Policemen) and Jack Adams, Lillian Adrian, Sam Allen, Claude Anderson, Harry Arras, Marta Belfort, William Bell, Francis Bernhardt, F. J. Beauregard, E. Blumenthal, William Bradford, George Brock, Peter Brogan, William Butler, Cecile Cameron, R. Campbell, Leland Carr, H. C. Chisholm, Harry Coleman, Rebecca Conroy, Dorothy Crane, James Darby, Harry De Mors, Jimmy Dime, W. S. Dobson, Bessie Eade, John Eagown, Aaron Edward, M. Farrell, Leon Fary, Richard Foley, Charles Force, J. C. Fowler, Inez Gomez, Ray Grey, William Hackett, Mildred Hall, James Hammer, Ben Hart, Gypsy Hart, R. Hausner, Tom Hawley, Helen Hayward, Jack Herrick, Jack Hoefer, George Holt, Josie Howard, Jean Huntley, Tom Hutchinson, Carl Jensen, Gladys Johnson, Harry Jones, Fred Karno, Jr., Helen Kassler, Bob Kelly, John "Dusty" King, Freddie Lansit, Elias Lazaroff, Bob Leonard, George Lesley, Geraldine Leslie, Francis Lowell, Chris-Pin Martin, Clyde McAtee, John McGrath, Dolores Mendes, John Millerta, Ruth Milo, Marie Muggley, S. Murphy, Florence Murth, Mr. Myers, P. Nagle, George Neely, Nellie Noxon, H. C. Oliver, Donnabelle Ouster, William Parmalee, Jack Phillips, Betty Pierce, Art Price, Lillian Reschm, Frank Rice, C. F. Roark, E. M. Robb, Lillian Rosine, Edna Rowe, Jane Sherman, J. J. Smith, Joe Smith, C. B. Steele, Frank Stockdale, Daddy Taylor, Nina Trask, Armand Triller, John Tully, Jack Vedders, John Wallace, Sharkey Weimar, White Cloud, Mary Williams, Marie Willis, Ed Wilson, H. Wolfinger, Dave Wright, Ah Yot, George Young and Ed Zimmer (People in dance hall). Modern sources also credit Jim Tully as a co-writer, Mark Marlatt and Jack Wilson as camera operators and A. Edward Sutherland and Harry d'Abbadie d'Arrast as assistant directors.
The 1942 re-release version received two Academy Award nominations: Max Terr was nominated for Achievement in Music (Music Score of a Dramatic or Comedy Picture), and RCA Sound and James Field were nominated for Achievement in Sound, but lost to Max Steiner forNow, Voyager and Nathan Levinson for Yankee Doodle Dandy. According to a November 3, 1993 The Times (London) article, in 1993, the film was once again re-edited to include both the 1925 footage and the 1942 revisions. Upon its screening in London, that version was accompanied by the Royal Liverpool Philharmonic, conducted by Carl Davis.