DVDs from TCM Shop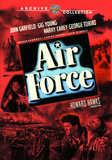 Air Force A bomber crew sees World War... MORE&nbsp> $16.46 Regularly $21.99 Buy Now
USER REVIEWS
See Detailed Ratings
Acting of Lead Performers

Acting of Supporting Cast

Director

Music Score

Title Sequence

Screenplay

Cinematography

Historical Importance

Would You Recommend?

0 Member Ratings
Rate the acting of the Lead Performers

Rate the acting of the Supporting Cast

Rate the Director

Rating of the Music Score

Rating of the Title Sequence

Screenplay

Creatively uses the camera to tell the story

Importance in Cinema history

Would you recommend for fans of this genre
Submit Ratings
Cancel
Write a Review
Read Reviews
NO REVIEWS AVAILABLE
The title has not been reviewed. Be the first to write a review by clicking here to start.
response to previous review

You're right Bill. Those Japs were a buncha cowards. Certainly not brave like the U.S. soldiers who sit in their easy chairs in Nevada guiding drones.

So soon they forget or never knew

The Japs were murdering American soldiers, just starting with Pearl Harbor. Fried jap is hardly unjustified. Probably more to real life than propaganda. The PC crowd runs around in their Prius's unaware what craven animals the gooks really were. They can keep their Jap cars.

A real slice of history

This was an excellent movie. Yes, it was not politically correct. Yes, it was not completely accurate. This was a film made in 1943. Of course the Japanese are not treated in an evenhanded way. They were our mortal enemies at the time. The Japanese had attacked Pearl Harbor; were responsible for the Bataan Death March; the massacre of the Marines on Wake Island; and had ruthlessly conquered a good portion of the Pacific. Many soldiers in that generation of the Imperial Japanese military had committed unspeakable atrocities. In 1943, we were still engaged in a vicious brutal war with them which would not end until 1945. This is all history. The Japanese are now our friends, but the events of this time must be remembered if only to teach the generations who came after that fanatical nationalism and militarism lead to tragedy. I think that a war movie from this time period must be judged in the context of the time it was made. This film gives us a sense of how people spoke and interacted during World War Two. It depicted very realistic battle scenes in an age before computer graphics. Yes, it was a "patriotic" or "propaganda" film, but it also gives us an authentic glimpse of the people that fought World War Two. These veterans are leaving us rapidly. Soon they will all be gone, and films like this help us to remember what they endured and accomplished when they were young.

Air Force in perspective

"Fried Jap" is pretty mild compared to the documented fact that Japanese soldiers were eating the livers of American soldiers at that time.

WWII propaganda

Since there seem to be as many comments expressing disgust about the racial comments, hopefully those who have a better grasp of Japan's history, which they have re-written a few decades themselves about what they thought about us, the Chinese, and just about everyone else in the world about there racial superiority. But consider that Japan, under a non-military government has done since the war. Now they are our friends, more or less, while China, whom we helped, is now our economic and increasingly formidable enemy. So much for condemning one of tools of war that all nations have made and used. It may be one of the weapons, but it doesn't kill anyone.As for the film as an art form, like most propaganda films it is full of nearly every cliche available. The story itself is basically true. A formation of B-17's took off from California in peace time, and landed during the Pearl Attack. I was a military pilot, and would give any film with airplanes at least 3 stars. But hardly any film about flying is a real work of art. My recommendation is skip this one, unless you like seeing historic aircraft.

Lies to stir fear and hatred

Raymond Takashi Swenson

3/5/16

This is typical of the films of that time, like the Humphrey Bogart movie "Across the Pacific" which featured him as a US Army officer working under cover to foil a Japanese plot to blow up the Panama Canal locks, featuring a zoot suited Japanese American who is the active enemy agent. These stories told white Americans that they should be glad that 100,000 Americans, men, women and children, were put in concentration camps in the desert without any trial, and without any evidence of subversive actions, just because of their ancestry. Meanwhile, in Hawaii, the Japanese Americans were NOT rounded up and did NOT commit acts of espionage or sabotage. They worked in essential civilian roles supporting the Army, Navy and Air Force. Out of that population, the 100th Battalion was recruited, which formed the core of the 442nd Regimental Combat Team, including men recruited out of the concentration camps to fight in Europe and become the most decorated unit of its size in the European theater, including Medal of Honor winners like future Senator Dan Inouye. TCM should play the movie "Go For Broke", about the 442nd, alongside these propaganda films. --Raymond Takashi Swenson, Lt. Colonel, USAF (Retired)

air force

Yes, it's full of racist propaganda (What? You expected a movie about Pearl Harbor, made in 1943, to be evenhanded and tolerant?) and the only two instances of even mild conflict among the crew, involving John Garfield and James Brown (who played the lieutenant on "Rin Tin Tin"), are neatly wrapped up about halfway through the movie, so there is zero dramatic tension, and the performances, even by such usually fine actors as Arthur Kennedy and Gig Young, are on the bland side, so what is there to like about this film? In one word, "action." And by that, I don't just mean good battle scenes, although there are a couple of those. What I mean is directorial pacing from Howard Hawks. Once the flying fortress takes off on its mission, we take off with it and are carried along on an intense ride through darkness, fog, smoke, gloom, chaos, destruction, and eventually victory, with stops along the way in Maui, Hickam Field,, Wake Island, and Clark Air Base in the Phillipines. And unlike other war films, like say "30 Seconds Over Tokyo" or "They Were Expendible," there are no prolonged love scenes with girlfriends and/or wives to slow things down. Just Hawks' favorite stuff; men bonding while doing a tough job. Give it a solid B. P.S. A highlight of Dudley Nichols' merely ok screenplay is the scene where James Brown anticipates a robotized air force of the future, in other words, drones, and is of course laughed at by the rest of the crew.

Propaganda Without Comment, but Enorsement

My problem is not with this film but with the introduction to this propaganda film released in 1943 which stressed the truthfulness of this film. The film is alleged to be the true story of the B-17 C, Mary Lou. The film has several propaganda lies, including the landing on Maui, where the plane is attacked by Japanese field hands. When the plane lands at Hickham, the pilots are told that several fruit trucks driven by "Japs" entered the field and drove down the lines of P-40s knocking off their tail. Additionally we are told that the bombardier's sister was shot with a shotgun by the Japanese driver of a fruit truck blocking access to the field. I had not watched this film for many years and I knew it was full of lies about Pearl Harbor, but I had forgotten how outrageous they were. I quit watching the movie at the shotgun story. What I object most about this presentation of "Air Force" was the failure to warn the people who were going to watch the movie that it will be full of lies and propaganda. Even worse was the endorsement of the film as the "true" story of a specific B-17 as alleged by the studio in 1943. Since no B-17 was ever attacked by field hands on Maui, this is not the true story of the "Mary Lou".

AIR FORCE

I was young at the time and living in Tampa ,Fl. I saw Air Force at the VICTORY theater when it first came out.I lived near Drew Field,and later worked there in the post exchanges.Mc.Dill Field was on an island in the Tampa Bay.The film ran at the same theater [VICTORY] for months,so I saw it again.A good film and a timely one.I look forward to watching it again.F.D.C.

Exciting Excellent Propaganda Film.

At the time it was made, did they really believe that hawaiian Japanese 5th columnists were part of the problem on Dec 7 1941? Or did the film makers make that up for propaganda? Also the Japanese enemy were generally characterised as sneaky fighters lacking real courage or manhood. The "ethnic melting pot" theme in these old movies is so cliched. There is *always* an irishman, a jew, a cynic, and a guy from the Bronx or "Joisy" in these movies. The pilot or commanding officer is always a middle America stalwart WASP. The bitter cynic is almost always John Garfield. That was his stock in trade.But those are the cliches that make a classic propaganda film. Hawks always delivers on great action, teamwork and patriotism.And while some people might complain about the unpleasant stereotypes which US film makers used to portray our enemies, have you seen how the enemy portrayed the USA or Britain in their propaganda? Be assured, just as unpleasantly! Everyone played the same game. Most movies made by any country during WW2 have much the same plots.Some people dismiss these old propaganda movies with smug political correctness, but the movies are usually fascinating in their own right and usually cracking good tales.

Sea Battles in Air Force

This film was made before much in the way of stock battle footage was available (1943). My father was a special effects/ miniature builder at Warner Brothers during production. They built all the naval ships at the Burbank studio then hauled them by rail to Santa Barbara. The miniature ships varied in size up to twenty plus feet and were powered with small gas engines. Each ship had an operator on board hidden under the super-structure. The battle scenes were choreographed and staged in Santa Barbara Harbor. My Dad skippered a cruiser (I have photos of him in his ship). Battle effects were staged with live explosives and compressed air. The effect of torpedoes streaking towards a ship was achieved by dragging air hoses through the water toward the targeted ship. Full size aircraft flew in the distant background to maintain proper scale. Paul Mantz piloted. The battle scenes appeared in other films one being Action in the North Atlantic. Amazing effects before the days of CG.Following filming the armada of ships was returned to the Burbank studios and stored in the prop sheds until they were destroyed by a studio fire in the early 50's.

Leonard Maltin

Maltin's snide review of this Movie is offensive to me calling it archetypical and his referring to the fried Jap remark.How can you be PC 70 years after the fact.This is 1943 when the Japs were murdering people all over the Pacific and had been since 1933.Today is pearl Harbour day as Roosevelt said this day will live in infamy!Thanks for your time.

america need unity

I first saw this movie as a kid in the 1950's. I thought it was one of the best movies of all time. Now as a 61 year old I still love it. Most of all it just show me the unity of the men in the movie to get through tuff situation. We need that unity now in America real bad! Mary E.

Air Force (1943)

We've seen this movie too many times to count; however it just dawned on us after viewing it this morning that it being made in 1943, where did the Japanese in the film come from? Were they Japanese-Americans from interment camps, were they Japanese-Americans that were in the U.S. Armed Forces that weren't allowed to fight and might be in the "media corps?" Anyone have any insight into any of these, and I'm assuming they are Japanese-Americans, that appeared in any of the war movies put out while there was actual war going on? It is a very good war propaganda film; a few military gaffes (we are both veterans), but what do you expect for the time frame it was made. It is an entertaining film.

Air Force

Your prayers are answered! On this page DVD; $14.99. I first saw AF while babysitting at neighbor's house on "late night TV", and watch every TCM screening. I must look through VHS library, if no copy, buy DVD. Maybe "Japanese vegetable trucks knocked the tail off every fighter on the line at Hickam" made Yanks feel better about locking up loyal citizens & taking their homes and businesses. I read copy of book from high school library. In early internet days I find dozen copies in North Carolina book sellers' consortium, some signed by REAL Mary Ann crew. I got copy from Amazon for $15. I enjoyed some details like "The peanut butter is running down the Jap's leg who's boring in on me" I think veggie trucks & little dog were not. This film is OUTSTANDING because like They Were Expendable (another WLWhite great read), Band of Brothers, Longest Day, Tuskegee and Tora were mostly REAL guys. "Pearl Harbor" is really crappy.

Air Force (1943)

Excellent story with a terrific cast, with John Garfield standing out the most. One of the best World War II films, although the story has the usual propaganda angle to it, but it was typical of the time. The story is excellent, and it's rousing with a great score.

classic WWII movie.

Good story and great cast. The scenes have a gritty real feel of the Pacific war. Special effects are good for 1943. The only better war movie made during the war is "They Were Expendable". Reference to sabotage by Japanese-Americans very unfortunate and of course, untrue.

Passion to live.

What a movie, depicting courage and all the high values one can live for, and when you're down...just hang on....

Please put this movie on DVD

When my husband learned that TCM was showing this movie he calendared two months in advance. Unfortunately our church obligations on Sunday precluded him from seeing the entire movie and he had been bummed out since this morning. He told me it was one of the first war movies he saw as a kid and has never forgotten it. Please put it on DVD so I can buy it for him.Thanks,IrisPS Is there anywhere I can purchase this movie?

Please Show this again soon!

My Dad, flew in planes exactly like the ones in this movie. He was a Sargeant, Army Air Corp. he was a Rear Gunner and sometimes a Radio Operator. I was moved to tears when I saw this movie, I loved it. I have so many mementos of his years in Service "380th Bombardier Group" stationed in Australia. Wish I could purchase this movie, it is a tribute to all the men who took part in WW2, esp. the Fly Boys. Thanks for showing it.

Sadly a movie that is not shown often enough

For it's time a great morale builder for a country at one of it's lowest moments in history. Showing the can do spirit of men under the worst of conditions.

Baby Boomer must see!

For us baby boomers, whose fathers took part in or were part of the heroic efforts of those who fought in WWII this movie is classic. Unfortunately as time passes the younger generation will find no time or need to view this classic not to mention they will not even have heard of it!This was one of the first movies I saw as a youngster and it still gives me chills when I see it. As a history major I find it of particular interest in the context of the time it was made.It is a shame it has not come out on DVD.Please push to see it does!Thanks.

A "Stagecoach" of the air.

This film is, in many respects, like Ford's "Stagecoach", with disparate characters thrown together at the beginning of what appears to be a routine trip but which ultimately turns into a struggle for survival. Despite the historical liberties taken, I think the film shows great craftsmanship by the crew and cast.

Get it on DVD

This movie is a classic. The crew of the plane are what makes the movie.I hope this gets put on DVD real soon.
*We protect your personal infortmation and will not provide it to anyone without your consent. For a complete explanation, please refer to TCM's Privacy Policy. By submitting your contribution, you agree to TCM's Terms of Use.