DVDs from TCM Shop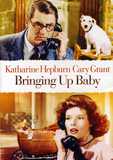 Bringing Up Baby A madcap heiress upsets the... MORE&nbsp> $11.21 Regularly $14.98 Buy Now
USER REVIEWS
See Detailed Ratings
Acting of Lead Performers

Acting of Supporting Cast

Director

Music Score

Title Sequence

Screenplay

Cinematography

Historical Importance

Would You Recommend?

0 Member Ratings
Rate the acting of the Lead Performers

Rate the acting of the Supporting Cast

Rate the Director

Rating of the Music Score

Rating of the Title Sequence

Screenplay

Creatively uses the camera to tell the story

Importance in Cinema history

Would you recommend for fans of this genre
Submit Ratings
Cancel
Write a Review
Read Reviews
NO REVIEWS AVAILABLE
The title has not been reviewed. Be the first to write a review by clicking here to start.
Screwball Comedy Over Done

As far as screwball comedies go this one is too much for me. Over done.grade B-. Now His Girl Friday was perfection.....A for that one.

Just Dumb

I really don't like this movie. I gave it a chance just now, but find it not funny at all. Hepburns character is a real clingy pain in the ass. I guess people found this sort of thing funny in the thirties. But it wasn't a hit when it came out. Just don't get how this movie is funny at all. I didnt laugh once! Hard for a screwball comedy to be really funny. Hubby doesn't care for the movie either.....so many better Hepburn movies!

Skippy=Asta=George

Some say Lassie, some say Rin Tin Tin, some say Benji!? But I say Skippy,(most famously known as Asta) is the greatest canine actor in film history. In "Bringing Up Baby" he plays George, the dog that really buries the bone! In 1930's Hollywood, Skippy commanded ten times the money that other animal actors received. He stole countless scenes in "The Thin Man" series, as well as many other movies. According to articles I've read in the past, he was remarkably intelligent and learned his "lines" and stunts very quickly. Whenever I see him in a film, I instinctively chuckle before he does anything! I know it sounds funny for someone to gush about an animal actor, but Skippy was really special.

tagteam turmoil indeed.

case to say that her greatest onscreen co star was grant and not the guy she is most famous working with.

Hilarious and a must see film

I first saw this perfect comedy in the 70's on late night broadcast tv and laughed thru the entire movie. So many wonderful moments and Katherine Hepburn was so adorable,sexy and funny that I became a lifelong fan. Hepburn and Grant made a wonderful couple on screen. So many moments in this true classic screwball comedy and fast hilarious dialogue....you know....dog...bone...dog...bone. Swinging door Suzy hooked me that night in the 70's. One of the 20 best films ever made.

Endlessly funny!

I understand that, when it was first released, this film bombed at the box office. Today, many consider it to be the very best of all so-called screwball comedies. It is truly hilarious. I love every moment of this film. I don't have any idea how Katherine Hepburn found all the energy she displays throughout the movie. She demonstrates remarkable physical comedy and non-stop verbal humor. And Cary Grant, the poor confounded paleontologist, is absolutely wonderful as Hepburn takes him on the ride of a lifetime. Every supporting actor and actress is like an old friend crossing the screen and they all combine to create some of the funniest scenes ever put on film. Made over 70 years ago, this film is the perfect escape from a 2015 world that is, all too often, very unpleasant. I hope that Katherine Hepburn realized by the end of her long, rich life that this film has become a beloved part of American movie history.

First use of the term "gay"? Or not?

Hm. "Bringing Up Baby" (1938) with Cary Grant and Katharine Hepburn is widely credited with the first use of the word "gay" referring to homosexual. Last night I was watching "Bachelor Apartment" (1931) with Irene Dunne, on TCM. One man asks a friend about another man, "Is he a gay?" and the reply is "No, he's an adagio dancer." It seemed pretty apparent it was not being asked if he was happy or carefree. I think "Bachelor Apartment" wins.The adagio dancer was played by Ivan Lebedeff. He kept clicking his heels, bowing deeply, and saying "Ciao," a running gag. "Bringing Up Baby" remains one of my all-time favorites.

HAIL HOWARD HAWKS !

As any serious scholar or student of the studio system in Hollywood's heyday knows, Howard Hawks is in the top 3, of the most successful directors. Intelligent people worldwide are still fascinated by John Ford's westerns. Alfred Hitchcock's suspense-filled mysteries intrigue five-generations of the intelligencia. Rivaling these two aces, is the ace of aces among world-class film directors, Howard Hawks. He created more 4-star films (the highest of ratings among most critics) in many more genres than any other director in the history of film. Howard Hawks is famous as a movie-making maverick with a distinctive talent for creating sassy female characters that enchant male bosses. Please consider his hits: "A Girl in Every Port" (1928), "The Dawn Patrol" (1930), "The Crowd Roars" and "Scarface" (1932), "20th Century," "Barbary Coast," "Bringing Up Baby," "Only Angels Have Wings," "His Girl Friday," "Sergeant York," "Ball of Fire," "Corvette K -255,", "To Have And Have Not," "The Big Sleep" (1946), "Red River" (1948), "A Star Is Born," "I Was A Male War Bride," "The Thing From Another World," "The Big Sky," "Monkey Business," "Gentle Prefer Blondes," "Rio Bravo" (1959), "Hatari" (1962), and "El Dorado" (1967). Twenty-three successes. Who else compares to this heroic champion, across so many different genres, among film directors? Hail Howard Hawks!

BBRINGING UP BABY

I am a huge fan of screwball comedies and have been so for years. The more ridiculous the better. Cary Grant and Catherine Hepburn manage to blend their acting talents to give an unlikely set of events a smooth enough comedic flow. I love May Robsons character and Charles Ruggles who I think really make the film for me. Hepburns character of a spoiled but endearing heiress and truly loved by her aunt and friends is great and it's all because she is "trying to be helpful". This seems to be a recurring theme in romantic comedies. This is how she gets into this mess with Grant who needs to be freed from his staid existence and of course to get a grant for the museum. Of course, she has selfish reasons too. There is one thing that is really bothering me more and more though and that is the treatment or mistreatment of this marvelous seemingly tame leopard in the end when they thought he was the man-eater. After all he does not know why he's being treated that way. I'm glad that there are better conditions for animals on sets today.

My #1 Favorite Movie

Not too many years ago I was a casual TCM viewer and didn't really care one way or the other about Cary Grant. Bringing Up Baby changed all that!! It is, hands-down, the best, craziest, insanely funny, madcap slapstick comedy of all time. In my opinion, that is. There are those of us who love it and those who can't stand it. The rapid-fire banter, Cary's exasperated demeanor, Katherine's obnoxious behavior and the non-stop totally unbelievable action is perfectly blended in this wacky romp. And the wonderful supporting actors - - wow! What more can I say? Thank you, TCM, for opening up the beautiful world of classic black-and-white movies to me. Like I've said to my wife many times; "They sure don't make 'em like that anymore!"

The Epitome of Screwball Comedy

Grant hit superstardom with the prior The Awful Truth. He consolidates it with this movie. A great performance, a characterization that is the polar opposite and equal of his Walter Burns in His Girl Friday. There he was a conniving manipulating SOB, who's hilarious; here he's put-upon milquetoast, who's hilarious. As his abuser and stalker Hepburn is surprisingly wonderful. I didn't expect her to be able to play a ditzy heiress on the prowl. She's going to get her man, one way or the other. The only question is will he survive her big game hunt. The plotting, direction, writing, supporting cast--all top notch.

All You Need To Know

Good movie, great cast!

Bringing Up Baby

Overall-4/5Lead Performers-5/5Supporting Cast-4/5Director-2/5Score-3/5Screenplay-4/5Cinematography-3/5Importance-3/5Recommendation for fans of the genre-4/5

It Hooks You

Bringing Up Baby was the very first Katharine Hepburn film I have ever seen, (shocking, I know) and I loved it, and her in it. I didn't know much about her at the time other then she was this great actress that has withstood the test of time. I was a cinic and thought that nobody could ever be that renowned, or that if they were it was undeserved. Now I humbly eat my thoughts, she is all that they say and more. She was very fun in this movie, cute, nervous, a total wreck, but still with that quintessential sure-of-herself attitude that we love about her. This is a Katharine Hepburn that I don't see often but one that I enjoy wholly. Some say that she was over-the-top and shrill but that's what was so endearing about the character. She embraced her "annoying" quality and made it work. Cary Grant I had known and had seen in a couple of other films and he didn't disappoint. He was in his element as the uptight scientist who couldn't help but fall in love with the scatterbrained girl who turned his world upside down. I think that this movie is very funny and charming in an off-beat kind of way, but it shouldn't be watched in excess. Seen every once in a while this movie is the treat it is meant to be, but seen too often it can become annoying od irritating. I give this movie four out of five stars for its story and characters.

Bringing up Baby

This initial flop is the best screwball comedy of all time. Grant & Hepburn are excellent as a stuffy paleontologist & scatty socialite, respectively. The scene-stealers are unquestionably the leopard's who bring so much humour & chaos to the film. Greatly combines screwball ingredients like double entendres & slapstick with Hawksian elements like the women destroying a man's composure & fast-paced dialogue. The best comedy made by Hawks, Grant & Hepburn. I give it a 5/5.

Too Much

Like many of his comedy attemepts, Cary Grant is just too much of a not so good thing. His mugging and overacting become irritating as it often does. I didn't look at the time, but it seemed like a very long movie to me.

Too Over The Top

I liked this when I was a kid, but now it's too much. Hepburn's character is too shrill and frankly annoying. I felt like slapping her. Cary Grant mugs too much. Great supporting cast. There are a few funny scenes, but mostly they just go a little too far and it becomes annoying. Maybe it wasn't so successful in it's day because people felt the way I do.... I don't get the fuss over this one.IMHO, "Twentieth Century" is the quintessential screwball comedy. When the character are over the top, it's OK because they are theatrical hams who thrive on it. It's screwball yet makes sense.

Oddly miscast, woefully overrated

Silly fluff about wealthy, misguided young heiress Hepburn who falls in love with an uptight scientist. Grant is out of his element as a stiff, introverted professor. There is never any romantic chemistry between the two. I never understood why Grant fell for Hepburn in the end, because quite frankly her character was a complete train wreck. Neither character was particularly likeable, because they were more caricature than real. Baby was also overlong and overly complicated, especially the leopard chase scenes and the dog chase scenes, which were not particularly funny. There is nothing fresh or exciting here and no memorable punchlines. There's really only one funny scene in the entire movie, and that's when Hepburn tears her dress in the middle of a restaurant and Grant tries to cover her behind as she tries her best to ditch him.

Bringing Up Baby

Amusing film with good comedic work by Grant and Hepburn. Grant plays the bookish professor quite well, and the scene with Hepburn raking the phone across the fireplace grill is quite funny. The film lags during the part where they are trekking through the bushes looking for Baby long into the night but other than that it is a pretty enjoyable comedy.

Bringing Up Baby!

This movie is one that first enchanted me and made me love classic films. It never ever gets old. After seeing it, my ribs usually ache from laughing so hard. Carey Grant and Kathrine Hepburn are genius in this film. I could watch it again and again. I'm 20 and It makes me sad that kids my age don't often open themselves up to watching these classic films.

Bringing up baby

The greatest screwball comedy!!!

Masterpiece.

Just superb, every scene, every star. One of my favorites.

Fun but........

This movie is a lot of fun with a great cast, but as often happened in this type of movie, Cary Grant always seems to over act badly. Still worth watching.

Bringing Up Baby

*****

Bringing Up Baby

This is my all time favorite Classic Movie.Each time I see this film, I laugh at the zaninessof the characters; they are brilliant! Cary Grant & Katherine Hepburn are quite thepair in this movie! I loved him in her night gown;that whole act was hilarious. Classic ending thatseemed just the perfect fit. Of course I thoughtbaby was a beauty and loved that jail act.Heck I loved it from beginning to end and willwatch it each time it comes on air.I recommend this movie to any one who justenjoys a good classic comic film. This one haseverything a classic needs!!

madcap fast paced fun!

I love this movie too! Hard to believe that the box office failure of this GREAT MOVIE got Howard Hawk (the director) FIRED! He did very well after, thank you...and time has born out that his comedic direction was dead on! (and he really directed one of my fav. Sci-Fi thrillers.."The Thing, From Another World!!!)A suggestion for my fellow viewers...don't give away so much of the key plot points!.....and, if you want to catch a "favorite" movie...review TCM's schedule..check the top right under playing on TCM and note the screening times..click "remind me." and TCM will REMIND YOU! you will have a better chance to see your favorite films! Gary Holt

BRINGING UP BABY

I LOVE THIS MOVIE!!! I FIRST SAW THIS MOVIE 14 YEARS AGO PREGNANT WITH MY SON I'M GLADE HE WAS KICKING THAT NIGHT. LOVE HEP AND GRANT TOGETHER GREAT SIDEKICK, CAN'T WAIT FOR THE NEXT SHOWING

Bringing Up Baby (1938)

This is certainly one of the funniest and wackiest comedies of all time. The cast is unforgettable, right down to the smallest roles. Lightening fast pace, incredibly well directed and written. A classic gem I could never tire of watching.

My favorite movie!

Its so refreshing to go back and watch the old movies. They just don't make um like that anymore! No Sex, No Violence, No Bad Language. Just hilariously funny!! Cary and Kate are delightful romping around the rural woods of Connecticut chasing George(the wirefox terrier) and Baby(the leopard). I love to watch George, who was also "Asta" in "The Thin Man" movies. George/Asta's real name was "Skippy." Such a great movie! I never miss it when TCM is playing it. Thanks for the laughs and this super movie!!

Watch Over and Over!

I never miss an airing of "Bringing Up Baby". It is the definitive classic Madcap Comedy. The cast is fantastic, including the multi-talented Asta.Grant and Hepburn are at their comedic best and the supporting cast is icing on this fun and endearing cinematic cake. As usual, I'll be tuning in tonight!

great movie

I just watched bringing up baby, and just loved it, and could'nt beleave that at the time it was'nt a box office hit, it was very very funny.

Funniest Movie Ever Made!

I love this movie! It's my very favorite movie of all time! "George" the wire fox terrier (who also plays Asta in "The Thin Man" movies is truly hilarious!!

Where hilarity and comic artistry meet!

The first "classic" I ever watched and the best example of a comedic pariring you will ever see! Kate and Cary bring you to places you've never dreamed of going. In less than 2 hours, you will be throughly entertained for life. This one's a keeper.

"Bringing Up Baby" is a Classic

This is the absolute best movie that was ever made!! Katharine Hepburn and Cary Grant do so good together in this movie! I'm a huge Katharine Hepburn fan and now I have all of my close friends watching her. I LOVE how Ms, Hepburn talks and acts. That is what made this movie so great!

bringing up baby is a classic jewel.

bringing up baby is my all time fav, classic movie ever,i love it . i laughed so much . cary grant and katherine hepburn are halirous together. i watch it over and over again i hope its around for my furture children see..

bringing up baby..

it's a halirous movie with katherine hepburn and cary grant. it is the most amazing movies in years that i've watch. good combonation with katherine and cary, together they lighten things up and a marvalous movie on classic movies nowadays. thank you for airing it on jan. 18,06 at this very moment i'm watching it hawaii pacific standard time. thank you tcm.... i just love your program. that's all i'm in tune in lately is tcm.... once again, thank you very much!!!!!!!! john o'connor......
*We protect your personal infortmation and will not provide it to anyone without your consent. For a complete explanation, please refer to TCM's Privacy Policy. By submitting your contribution, you agree to TCM's Terms of Use.