DVDs from TCM Shop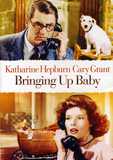 Bringing Up Baby A madcap heiress upsets the... MORE&nbsp> $11.21 Regularly $14.98 Buy Now
Trivia
Susan pretends that she and David (Cary Grant) are gangsters. The underworld nickname she gives police for David is "Jerry the Nipper", a nickname that Jerry (Grant) had in Awful Truth, The (1937). David protests to the police, "Officer, she's making it up from motion pictures she's seen!"
This movie did so badly at the box office that Howard Hawks was fired from his next production at RKO and Katharine Hepburn was forced to buy out her contract.
Co-screenwriter Dudley Nichols based the madcap romance on Katharine Hepburn's affair with director 'Ford, John' at the time.
Director Howard Hawks modeled Grant's character, David, on silent film comedian Harold Lloyd.
Skippy the terrier (George) also played Asta in The Thin Man and Mr. Smith in The Awful Truth.
Contributions
Holz (2009-06-15)

Source: not available

The scene in which Susan's dress is ripped was inspired by something that happened to Cary Grant. He was at the Roxy Theater one night and his pants zipper was down when it caught on the back of a woman's dress. Grant impulsively followed her. When he told this story to Howard Hawks, Hawks loved it and put it into the film.

Holz (2009-09-25)

Source: not available

Christmas in Connecticut (1945) uses the same Connecticut farm as the one used in Bringing Up Baby (1938).