DVDs from TCM Shop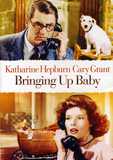 Bringing Up Baby A madcap heiress upsets the... MORE&nbsp> $11.21 Regularly $14.98 Buy Now
NOTES
Hollywood Reporter news items provide the following information about the production: Robert McGowan was hired by RKO to write gags for this film. His contribution to the final film has not been confirmed, however. Director Howard Hawks began "preliminary" shooting, which included tests and process photography, on August 16, 1937. Although the principal photography was scheduled to begin two weeks later, the actual start date was September 23, 1937. Robert Montgomery and Leslie Howard were considered for the role of "David." M-G-M refused to loan Montgomery to RKO, while Howard turned down the part in favor of the title role in Alexander Korda's production, Lawrence of Arabia. (Modern sources state that Ronald Colman, Fredric March and Ray Milland were also approached about the part.)
RKO borrowed Charlie Ruggles from Paramount for the film. Hollywood Reporter production charts add Wesley Barry and Marek Windheim to the cast, but their participation in the final film has not been confirmed. According to RKO production files, exteriors were shot at the Bel Air Country Club in Los Angeles and at the Arthur Ranch in Malibu, CA. The exterior of the "Peabodys'" house, which previously had been seen in Frank Capra's Mr. Deeds Goes to Town, was shot at the Columbia Ranch. Connecticut country road scenes were filmed at Oakgrove Park in Flintridge, CA, while New England street scenes were filmed at the Twentieth Century-Fox Studios. According to modern sources, the museum scenes were shot at the Los Angeles Museum of Natural History.
Modern sources provide the following additional information about the production: In a modern interview, Hawks said of the film script: "I bought a short story written by a girl. I got the girl to come over, and she didn't know anything about pictures. But I wanted to keep exactly the same thought, that method of treating it. She had the characters for both Hepburn and Grant so well. So Dudley Nichols worked with her on the script." In the same interview, Hawks described his experiences with Hepburn: "We had trouble with Kate at first. The great trouble is people trying to be funny... I couldn't do any good with her, so I went over to an actor who was a comic for the Ziegfeld Follies and everything, Walter Catlett, and I said...'Will you tell her?'... She came back from talking with him with him and said, 'Howard, hire that guy and keep him around here for several weeks, because I need him.'"
Because of his critically praised work with Hepburn on Sylvia Scarlet, RKO executive Pandro S. Berman convinced Grant to join the cast of Bringing Up Baby. Hawks helped Grant with his part by telling him to recall images of one of his favorite comics, Harold Lloyd, and to contemplate a man imitating a whinnying horse when extreme nervousness was needed in a scene. Madame Olga Celeste, Nissa's trainer, advised Hepburn, who unlike the other actors was not afraid of Nissa, to wear a certain perfume that the eight-year-old leopard liked and to apply resin to the bottoms of her shoes to avoid slipping in front of the excitable animal. According to a documentary about RKO, photographers Russell Metty and Vernon Walker filmed many of Nissa's scenes by shooting two separate takes of the same action, one with the animal alone, and the other with the actor(s) alone. The takes were then combined in the laboratory to create the impression that the leopard and the actors were in the scene at the same time. Just before performing in Bringing Up Baby, Asta, who plays "George" in the film, had performed in The Awful Truth with Grant.
Bringing Up Baby cost RKO $1,200,000 to produce (Cary Grant received $120,000 for his performance). While the film was still in production, the Independent Theatre Owners Association published a list of actors who had been deemed "box office poison," and Hepburn, along with Joan Crawford and Marlene Dietrich, was on it. Concerned about Hepburn's bad press, RKO decided to shelve the project before spending any additional money on editing, scoring and advertising. Multi-millionaire Howard Hughes, who later bought RKO, purchased the film from RKO and had it booked in the Loew Circuit. In spite of Hughes's help and good reviews, the film lost more than $350,000 at the box office. RKO subsequently forced Hepburn, who refused to play the lead in the low-budget programmer Mother Carey's Chickens, to buy out her contract for $220,000. Hepburn then teamed up with George Cukor and Grant and made Holiday for Columbia.
Modern sources credit Mel Berns with make-up. Although not truly a remake, the 1972 film What's Up Doc?, starring Barbra Streisand and Ryan O'Neal, was inspired by Bringing Up Baby, according to interviews with its director, Peter Bogdanovich.