DVDs from TCM Shop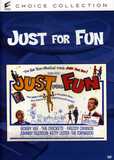 Just for Fun MORE&nbsp> $17.95 Regularly $20.95 Buy Now
Home Video Reviews
Before changing business models and making their reputation as a rival to Hammer Studios with a catalogue of anthology horror films (
Dr. Terror's House of Horrors
[1965],
Torture Garden
[1967],
The House That Dripped Blood
[1971]), Amicus Films marshaled pop talent from both sides of the Atlantic for this extremely frivolous but highly entertaining youth picture. Written and directed by Amicus co-founder Milton Sobotsky,
Just for Fun
(1963) offers about eleven minutes of actual plot shoehorned in between musical vignettes from the disparate likes of The Crickets (four years out from the death of Buddy Holly), Johnny Tillotson, Freddy Cannon, Bobby Vee, The Tornadoes, and Dusty Springfield (with the Springfields). Anticipating American International Pictures'
Wild in the Streets
(1968) by half a decade, Subotsky's script posits an imperiled England whose rival political factions conspire to court the youth vote by lowering the voting age. When the same powers that be reduce the quota for youth-oriented TV fare, a plucky teen (Mark Wynter, later in the Tigon-AIP joint venture
The Haunted House of Horror
) decides to run for office.
Episodic in the extreme,
Just for Fun
plays like an evening of Vaudeville, with the various singing acts punctuated by broad comic bits that are more miss than hit but retain, at least at this distance, an undeniable vintage charm. Here, Prime Minister Richard Vernon (
Village of the Damned
[1960],
The Tomb of Ligea
[1964]) and opposition leader Reginald Beckwith (
Burn, Witch, Burn/Night of the Eagle
[1962],
Night of the Demon
[1957]) find common cause in first exciting voter interest among young adults and then, when London youths prove a demographic with which to be reckoned, contrive to sabotage TV signals bearing pop music from country to country (from attempting to cut the trans-Atlantic cable to shooting down Telstar). Popping up in bit roles are a host of familiar British character actors, among them John Wood (twenty years pre-
WarGames
[1983], Edwin Richfield (
Quatermass and the Pit
[1967]), Hugh Lloyd (
Quadrophenia
[1979]), and Dick Emery (
Yellow Submarine
[1968]) as well as such then-popular TV personalities as Alan Freeman (who later turned up in
Dr. Terror's House of Horrors
) and
Top of the Pops
host Jimmy Savile.
If Subotsky's comic gags try the patience of viewers not presold on the idiom, sweet relief comes in the form of the assembled musical talent, whose contributions are well-staged by director Gordon Flemyng (whose extensive credits in television were broken up over the course of a long career by the occasional feature, such as
Daleks' Invasion Earth 2150 A.D.
[1966] and
The Last Grenade
[1970]). Freddy Cannon, The Crickets, The Tornadoes, Bobby Vee (who sings "The Night Has a Thousand Eyes"), Dusty Springfield and Kenny Lynch (often mistaken for Muhammad Ali on the cover of Wings'
Band on the Run
album, where he and Christopher Lee flank James Coburn) all acquit themselves well in their respective vignettes but it's the lesser-known acts that really impress, from the Swedish instrumental group The Spotnicks and Irish singer Clodagh Rogers to British bassist Jet Harris (formerly of The Shadows) and American singer Ketty Lester; a decade later, Lester contributed a memorable cameo as a Los Angeles cabbie turned vampire in AIP's
Blacula
(1972) and her 1962 hit "Love Letters" figured prominently in David Lynch's
Blue Velvet
(1986).
Released as a movie-on-demand DVD-R by Sony Pictures (via their Choice Collection subdivision),
Just for Fun
looks surpassingly fine, with a clean widescreen black-and-white image (letterboxed at 1.85:1, 16x9) and extremely satisfying contrasts (particularly of value during Jet Harris' shadow-cloaked "Man from Nowhere" number and Kenny Lynch's "Monument"). The mono sound is on par with the picture, resulting in a disarmingly satisfying viewing experience. As is customary for M.O.D. discs, there are no extras.
For more information about
Just for Fun
, visit
Sony Pictures
. To order
Just for Fun
, go to
TCM Shopping
.
by Richard Harland Smith