DVDs from TCM Shop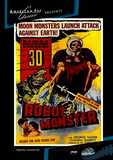 Robot Monster The Robot Monster has been... MORE&nbsp> $10.95 Regularly $10.99 Buy Now
Quotes
Carla


Is Alice going on a date with Ro-Man?

Johnny


You look like a pooped out pinwheel.

Ro-Man


I cannot - yet I must. How do you calculate that? At what point on the graph do "must" and "cannot" meet? Yet I must - but I cannot!

Great One


Earth Ro-Man, you violate the laws of plans. To think for yourself is to be like the hu-man.

Ro-Man


Yes! To be like the hu-man! To laugh! Feel! Want! Why are these things not in the plan?

Great One


You are an extension of the Ro-Man, and a Ro-Man you will remain. Now, I set you into motion. One: destroy the girl. Two: destroy the family. Fail, and I will destroy you!

Great One


Have you made the correction?

Ro-Man


I need guidance, Great One. For the first time in my life, I am not sure.

Great One


You sound like a hu-man, not a Ro-Man. Can you not verify a fact?

Ro-Man


I meshed my LIP with the view-screen auditor, and picked up a count of five.

Great One


Error! Error! There are eight!

Ro-Man


Then the other three still elude me. Is it possible they have a counterpower?