DVDs from TCM Shop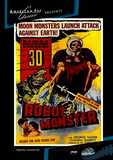 Robot Monster The Robot Monster has been... MORE&nbsp> $10.95 Regularly $10.99 Buy Now
NOTES
The working title of this film was Monsters from the Moon. According to NYSA, another alternate title for the film was Monster From Mars. No official release date has been found for this film, however, the Los Angeles Times review noted that Robot Monster opened on June 25, 1953. According to reviews, the film was released in both 2-D and 3-D formats. Although a copyright statement appears onscreen, the film was not registered for copyright at the time of its release. However, according to copyright records, the film was registered by the original producing company, Three Dimension Pictures, Inc. on November 10, 1980, under the number PA-97-629.
Actress Selena Royle's surname is listed incorrectly in opening cast credits as "Royale." According to Hollywood Reporter news items, special effects were created at Complete Film Enterprises, owned by Jack Rabin and located at Eagle-Lion Studios. In addition, a June 29, 1953 Hollywood Reporter news item noted that executive producer Al Zimbalist owned Tru-Stereo Corp., the company which produced the 3-D process. A May 10, 1953 article in New York Times about the film's budget for the 3-D format indicated that the film ran at a length of 75 minutes, however, all reviews list a 62 minute running time.
Although the SAB credits Guy Reed Ritchie as co-writer of the screenplay, notes on the AMPAS Awards card indicates that the production company refuted Ritchie's contribution. This film marked Phil Tucker's directorial debut. A Los Angeles Times article dated December 16, 1953 reported that Tucker, then twenty-six years old, attempted to commit suicide on December 15, 1953 at the Hollywood Knickerbocker Hotel due to his failure to secure work following the release of Robot Monster. Tucker, who had sent a letter about his plight to a newspaper, was allegedly saved when the paper sent a reporter and a detective to the hotel, where Tucker was found unconscious. Tucker's film career resumed in 1954; please consult the Index for a listing of other film titles relating to Phil Tucker. Tucker died in November 1985.
Modern sources add the following information about the production: Although production costs were reported in contemporary news items as $50,000, a modern interview with Tucker set the budget at approximately $16,000. Robot Monster includes film clips of dinosaurs from the 1940 Hal Roach film One Million B.C. (see AFI Catalog of Feature Films, 1931-40), and scenes of meteors from the 1951 Monogram Pictures film Flight to Mars, directed by Lesley Selander. The film, shot entirely on location, was filmed in part at Bronson Caves in Griffith Park, Los Angeles, CA.