DVDs from TCM Shop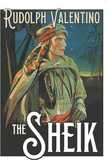 The Sheik An Arabian sheik kidnaps a... MORE&nbsp> $15.95 Regularly $19.95 Buy Now blu-ray
NOTES
DVDs from TCM Shop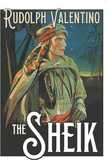 The Sheik An Arabian sheik kidnaps a... MORE&nbsp> $15.95
Regularly $19.95 buy now
The opening credits of this film end with the following quotation from an unidentified poem by a writer listed only as "Holmes": "Mohammed's land-Where saint and sinner chant as one/Their praise to Allah-bowing low Beneath a desert sun." Actor George Waggner's surname is misspelled "Waggener" in the film's intertitles. Although the film was copyrighted at 8 reels, contemporary reviews list it as running 7 reels.
According to modern sources, James Kirkwood was originally considered for the role of "Ahmed Ben Hassan." Modern sources add Loretta Young and her sisters, Polly Ann and Elizabeth Jane, as well as her brother Jackie, who were children at the time, as extras in the film. As noted by modern sources, Edith M. Hull's novel, upon which the film was based, was considered daring for its time, due to its sexually provocative nature. In a August 21, 1921 NY Morning Telegraph article, director George Melford addressed concerns about potential censorship problems surrounding the film adaptation by stating: "We have handled the frank scenes in The Sheik so delicately that I think the censors will be the only disappointed viewers." In its review, Wid's commented that the story had been "rearranged and 'tamed' to spare the scissors of the censor board."
A November 10, 1921 Wid's news item reported that the picture had "smashed all attendance records at the Rivoli and Rialto theatres" in New York during the first three days of its exhibition. The article reported that it was "estimated that by Saturday night the total attendance at the two theatres will be 120,000 persons-a new record in Broadway entertainment history." The film, which was very successful, influenced popular culture in numerous ways, including propagating Arab-inspired fashions, dances and songs, introducing the word "sheik" into American slang and cementing Rudolph Valentino's image as a forceful, sexually aware yet gentlemanly hero.
In 1926, United Artists released a sequel to The Sheik, entitled The Son of the Sheik. That film, in which Valentino played a dual role of father and son, was his last picture. After Valentino's death on August 23, 1926, at the age of 31, thousands of fans crowded the streets during his funeral. In subsequent years, a legend arose about "the lady in black" who mourned by his grave every year on the anniversary of his death. Valentino's acting style was frequently copied and often spoofed in the years since his death. Two film biographies, both entitled Valentino, were produced about the actor. The first, directed by Lewis Allen and starring Anthony Dexter, was released in 1951, and the second, directed Ken Russell and starring dancer Rudolf Nureyev, was released in 1977.
In November 1958, Daily Variety reported that Paramount was considering adapting The Sheik for television by adding sound effects, music and narration. An original music score by Roger Bellon was added to a video and television re-release of the picture.