DVDs from TCM Shop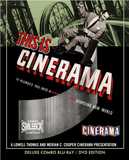 This Is Cinerama Cinerama Productions Corp. vice-chairman Lowell Thomas... MORE&nbsp> $32.85 Regularly $59.98 Buy Now
NOTES
DVDs from TCM Shop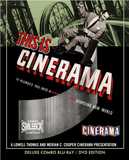 This Is Cinerama Cinerama Productions Corp.... MORE&nbsp> $32.85
Regularly $59.98 buy now
According to the New York Times review, the word "Cinerama" is a combination of the words "cinema" and "panorama." The process, developed by Fred Waller, uses three specially adapted, synchronized 35mm cameras linked together in an arc to photograph a panoramic image simultaneously. Three projectors then cast the image onto a screen made of thousands of strips of louvered plastic tape, which spans a 146-degree arc. The resulting picture, projected onto a screen 75 feet wide and 26 feet high, is three times wider and almost twice as tall as a standard 35mm image.
A 1999 article in Film History written by Hazard E. Reeves, the creator of the sound system for This Is Cinerama, adds the following information: Waller, who also invented water skis, introduced an early form of Cinerama at the 1939 World's Fair in New York. That system used seven lenses and was called Vitarama. The exhibition sparked the interest of the Rockefeller Group, who financed further experiments. After a 1949 demonstration, however, the financiers backed out of their arrangement, allowing Reeves to purchase the company. He and Waller named the company Cinerama, Inc. and signed an exclusive partnership with Lowell Thomas and Mike Todd's company, Thomas-Todd Productions, to make five films in five years. Todd hired legendary documentary filmmaker Robert Flaherty to produce This Is Cinerama, but Flaherty died soon after shooting the Niagara Falls sequences, prompting Todd and his son, Mike Todd, Jr., to take over producer chores and much of the directing. During production in Europe, however, the Todds far exceeded their budget, and as a result were fired by Thomas-Todd. Thomas then hired his friend, Gen. Merian C. Cooper, who made the decision to treat the film as a theatrical experience with an intermission.
Although there had been previous three-screen experiments (notable among them was the French-made Abel Gance epic Napoleon in 1927), Cinerama strove to be the most naturalistic form of cinema to date. The process was the first to offer the illusion of peripheral vision (in which some images can be glimpsed out of the corner of the viewer's eye) and simulate three-dimensional depth. In addition, as noted in a April 30, 1953 New York Times article, Reeves's stereophonic sound system imitated natural, multiple-origination sound by recording sound magnetically onto a separate strip of 35mm film and then playing it back to seven banks of speakers around the theater. According to the press book, seven separate sound tracks were prepared, the seventh of which served as a control track to guide the movement of sound from one bank of speakers to the next.
The film had its premiere on September 30, 1952 in New York at the Broadway Theatre, which was rebuilt to accommodate the screen and projection booths, and rewired for the elaborate sound system. Audience members included Gov. Thomas Dewey, William S. Paley and Louis B. Mayer. As noted in the New York Times review, although Waller attempted to conceal the seams between the three parts of the image, "the merging of the three images at the margins was...occasionally perceptible." In its first release, the film ran for 133 weeks, and was followed by several re-releases, including those on November 2, 1960 and February 15, 1973. The picture's unprecedented success prompted the filmmakers to release a succession of other Cinerama productions, including Cinerama Holiday in 1955, The Seven Wonders of the World in 1956, South Seas Adventure in 1958 ( for all) and How the West Was Won (1963, see AFI Catalog of Feature Films, 1961-70).
Waller won a 1953 Academy Award of Merit "for designing and developing the multiple photographic and projection systems which culminated in Cinerama," while Reeves Soundcraft Corp. won a Scientific and Engineering Academy Award "for their development of a process of applying stripes of magnetic code to motion picture film." Cinerama's revolutionary technique inspired the development of other large screen processes, such as CinemaScope, VistaVision and Todd-AO.
The Cinerama Dome was built in Hollywood in 1963 to showcase the United Artists Cinerama-process film It's a Mad, Mad, Mad, Mad World (see AFI Catalog of Feature Films, 1961-70). By this point, the three-screen process had proved too unwieldy and expensive to catch on in popular use, and so had evolved into "single-strip Cinerama," a simpler, less spectacular 70mm process. According to press notes, William R. Forman, the founder of Pacific Theatres, gained control of Cinerama and its assets and stored them for nearly forty years. In 2001, the Cinerama Dome Theatre was refurbished, and a restored print of This Is Cinerama was re-released in October 2002. This screening marked the first time three-strip Cinerama was shown in the Dome.